Storm Gets a Promotion in Next Week's Uncanny X-Men #9
Storm has had a lot of ups and downs over the years. Losing her powers, gaining a mohawk, beating Cyclops in a duel for leadership of the X-Men, regaining her powers, losing a mohawk, married to Black Panther, dumped by Black Panther during a stupid super-mega-crossover event, and even getting her own Asgardian hammer that grants her the powers of a god. But in next week's Uncanny X-Men #9, Storm gets a promotion that she wasn't looking for, making her more powerful and dangerous than ever.
Unfortunately, she's no longer on the side of the X-Men, as X-Man, now inhabiting the body of Legion, has turned her into one of his Horsemen of Apocalypse, replacing the recently freed Angel.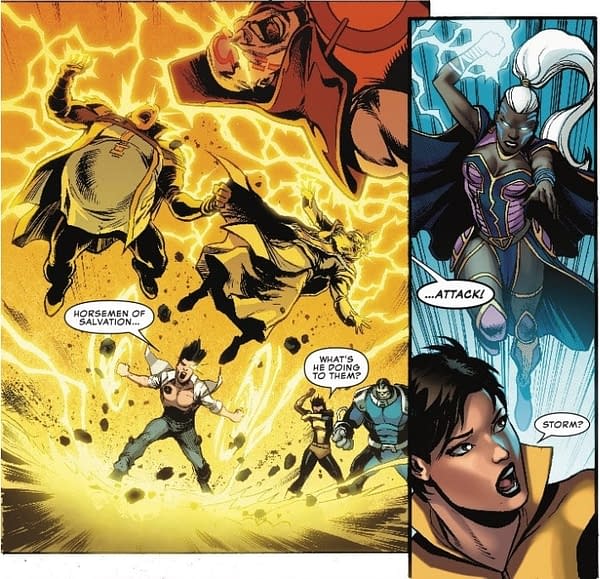 If you liked it, X-Men, you should have put a ring on it. Presuming Forge can make some kind of ring that prevents villains from mind controlling you, of course.
Uncanny X-Men #9, the penultimate issue of X-Men Disassembled, hits stores next Wednesday.
Uncanny X-Men #9
(W) Ed Brisson, Kelly Thompson, Matthew Rosenberg (A) Yildiray Cinar (CA) Giuseppe Camuncoli
From the Age of Apocalypse to the end of the X-Men…and the dawn of the AGE OF X-MAN???
Rated T+
In Shops: Jan 09, 2019
SRP: $3.99