Leah Moore, writer of Swords of Sorrow: Dejah Thoris & Irene Adler #3, talks with writer Victor Gischler about Red Sonja/Conan #1, both on sale now. Cover art by Ed Benes and Roberto Castro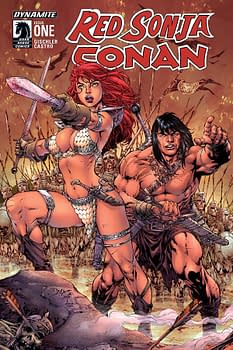 LEAH MOORE: Victor, great first issue! I love the dynamic between Conan and Sonja, it looks like this is a world you are totally at home in. I know you wrote Conan before for Dark Horse, was it nice to get back in the saddle? Feel the icy wind of the steppe in your hair?
VICTOR GISCHLER: Well, I don't have so much hair these days so … But I love almost all forms of fantasy, Sword & Sorcery, Epic, etc. Anything with sword stabbings and wizards spelling gets my blood pumping. As you mentioned, I got my feet wet with Conan over at Dark Horse, and I think that was a good learning experience for playing in that world. I think I did an even better job this time around, and when you add Red Sonja to the mix it's nothing but win.
LM: When I wrote a Sonja story, I was quite concerned about having my work held up next to the original, that mine wouldn't act or sound quite like her. Did you suffer from pointless worries with this, or just dive in and enjoy it? (If so, can you teach me how please. Thanks.)
VG: I wouldn't say pointless. Being respectful of how a character was originally depicted is a legit thing. We didn't invent these characters, and readers have certain expectations. Having said that, I did take it easy on myself. My Red Sonja/Conan mini follows directly on Simone and Zub's mini, and since there is some connective tissue between the two arcs, I decided to take my cue from them and try to capture the same vibe. I don't know if I did that or not, but I felt pretty comfortable the whole time and hopefully the fun I had writing it translates into a fun time for the reader.
LM: When you write sword and sorcery type fantasy there is a very urgent need for huge drama and spectacle, and armies, and castles and sweeping plains etc. How do you script that so your artist
A. doesn't hate your guts
B. Actually draws it all in, and
C. Doesn't get Carpal Tunnel and have to be replaced half way through.
(Asking for a friend.) VG: As you suggest, there's that expectation … spectacle, armies, castles. I think (hope?) artists know what they're in for when they sign up for this sort of gig. Basically, I put into the script whatever I think the scene or the story needs, and trust the artist to do what he/she thinks best. Sometimes I'm assigned an artist I've never worked with before so I don't automatically know what the artist considers routine or what the artist considers a challenge. I just trust that these folks are professionals and that they're going to do they're best. Especially with something like Red Sonja/Conan, we count on artists to bring that world to life. So hopefully they are popping anti-carpal tunnel pills or whatever they need to do. Maybe I've been lucky so far because 99% of the time the artists come through like gangbusters.
LM: You seem to have written a lot of very cool series over the years, is there one that still evades you, one character you are aching to write?
VG: A very appropriate question. A couple years ago I told Nick [Barrucci, Dynamite publisher] I'd love a crack at Red Sonja if the right opportunity came along, and BOOM here we are. Beyond that, I always thought it would be cool to write a run of CHALLENGERS OF THE UNKNOWN for DC and I've always wanted a crack at DR. STRANGE. Having said that, I feel myself pulled more toward creator-owned stuff these days, and I'm really hoping to arrange my schedule to accommodate that.
LM: Writing comics can at times be a lonely and thankless task, where you labor for weeks in a darkened room, with only your crushing insecurities for company. What propels you to the keyboard each morning, ready to attack that empty page?
VG: The pride of a job well done. Ha. Kidding. It's money. Well, okay, both actually. I mean, there are those days when this really feels like work, but honestly I know it's a pretty cool way to make a living. So when I'm looking at that empty page, I remind myself this is a damn cool job and I'm very fortunate.
For more on Red Sonja / Conan #1, click here.
Enjoyed this article? Share it!