John Erik Carter writes;
Comic veteran and writer/illustrator of Teenage Mutant Ninja Turtles for over twenty years, Jim Lawson, wants your help. Mr. Lawson has started a crowd funding project on Kickstarter for his newest creation, Dragonfly. No, not the terribly received 2002 film staring Kevin Costner. Having about as much to do with that movie as mung beans do with candy coated chocolates, Jim has promised a comic series with a fun, lighthearted adventure…with dinosaurs! And who in their right mind doesn't love dinosaurs!? Jim sure does. In fact, anyone who is familiar with Jim Lawson knows two things aside from his "turtle" renown, he loves dinosaurs and he's damn experienced with drawing them, as evidenced by his Paleo series.
Coming from, and spending nearly your entire working career on one of the most successful independent comics ever is no small feat. Mr. Lawson has built a loyal indie following of comic enthusiasts over the years. This is a man who creates for pure enjoyment. Someone who is thrilled by a sense of adventure and whimsy (yeah, I said it) over mindless killing and brooding antiheroes. Well, with Dragonfly, you're getting just that. You're getting a trifecta of main characters. Dragonfly, the buxom lady whom the series is named. John, an anthropomorphic turtle-man. And Ketch, an awesome dog, cause lets face it, dogs don't have to do much to be considered awesome in any medium. Their journey together will have them developing relationships, meeting aliens, bumping into robots, surviving in a dinosaur infested land, and even post-apocalyptic vehicles.
But, as fulfilling as creating an intellectual property is, what good is it if not shared? That's why Jim has Kickstarted his new project. For you. Seeking a meager $5000, his project is halfway there. Why does he need the money? Printing and shipping of course! What does your money get you? Well, that all depends on your contribution. Ranging from the super affordable "surely you have a dollar" to the temptly awesome "I can be in a comic for $750!" $15 will net you a digital copy of the first 90 page graphic novel. $25 and a signed physical copy is yours for the taking. $45 and you also get Paleo, his renowned dinosaur series. My personal favorite at $60, your physical copy will include a hand drawn sketch. The prices and rewards go up from there, like the fantastic and creative chance to help Jim create one of five pin-up drawings for Dragonfly, original artwork from the book, and the elusive and spectacular five-page comic story featuring the one backer who donates $750 to this genre bending cause!
Now let's see if we can't help Jim Lawson, the Duke of Dinosaurs, get this adventure funded!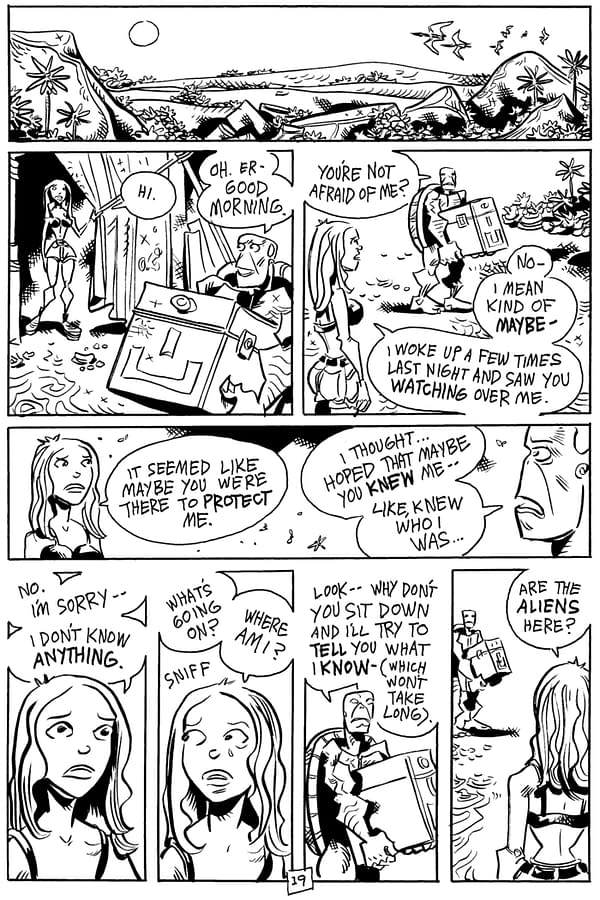 Enjoyed this article? Share it!