Ten Brilliant Comics You Can Read on the Graphite App For Free Right Now
I would like to point out right here, right now, that I have not been paid by Graphite Comics for this article. Even though it is going to look a lot like I did. Because I have been playing with the app on my iPad since it launched last night. I understand that the Android version is not quite as wonderful yet – lots of crashing and slowing down. But the Apple version is smooth as silk. And here are ten among the ten thousand comics that you can read right here, right now, totally for free. Yes you can pay $4.99 for the ad-free version, I haven't seen any ads yet, so I'm fine with free so far. And yes, these reflect my tastes more than anything. Do your own list in the comments below… and maybe I'll do a Ten More Brilliant Comics list tomorrow.
10. The Flying Friar

I mentioned that I could read the Royal Wedding comics I did a few years ago, when I searched for my name. Well the search fuction isn't that great as it didn't bring up something else I'd done for the same publisher, The Flying Friar. By me, Thomas Mauer and Thomas Nachlik. But there it is, large as life. I still really like this one. ased on the true story of St Joesph of Copertino, Italy, and given a bit of a Smallville spin, it's the tale of religion versus science with everyone on the wrong side. Oh and Joseph, the Flying Friar, growing up in small town Italy in the 17th century with his best friend and grand-nephew of Martin Luther, Lux Luther. Look, I bet Geoff Johns will like it. And hey, it's free. Alright, all right I'll start again. Properly this time.
10 properly this time. Love Is Love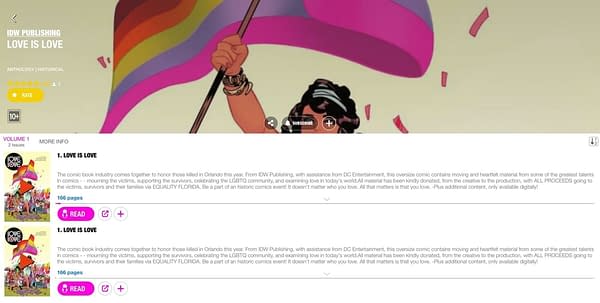 The anthology published to commemorate and fundraise after the shooting in Orlando in a gay nightclucb. 166 pages from the best and the brightest in the comics industry. And it includes content that was only made available digitally.
9. Mouse Guard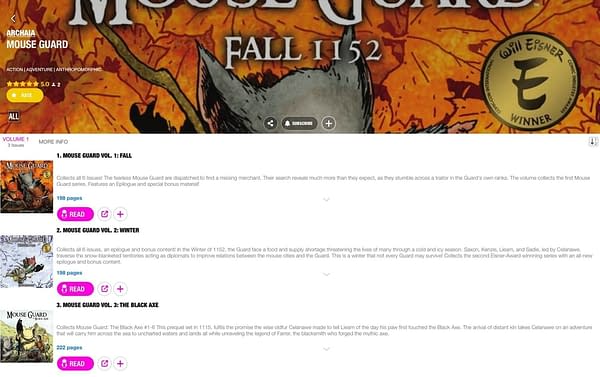 Three volumes, of around 200 pages each, Vol 1: Fall, Vol 2: Winter and Vol 3: The Black Axe, all available for free. And the Legends Of The Guard three volumes too, another 450 pages worth. This sensational fantasy comic by David Petersen tells slow, beautiful, bloody tales spread across the seasons, transforming the smallest of us into those with the most to lose – and gain. If you are missing out on Game Of Thrones, go right here, right now.
8. Gaiman, Morrison, Moore and Ellis
The big boys. Blimey, here's a good one. Alice Cooper's The Last Temptation by Neil Gaiman and Michael Zulli. 170 pages of Gaiman and Zulli goodness, taking on the world of magic, mystery and mayhem of Alice Cooper, but also including all of Neil Gaiman's scripts for the comic book series. It's not one of Neil's best works, but it is one of Zulli's best and that lifts it into something spectacular.And, yes, it's free. And then there's also Klaus by Grant Morrison and Dan Mora, the first seven issues of this recreation of the Santa Claus myth. And no one does war comics like Garth Ennis. Not these days anyway. And the first two volumes of his Complete Battlefields run are right here, around 250 pages each, for free, followed by its followup Battlefields: Night Witches, another 160 pages worth, and the first half of Battlefields: The Green Fields Beyond, another 75 pages or so. And while you are waiting for that one to finish, there are also his Red Team stories, with Season One Vol 1 packing in 200 pages worth, as well as another 250 pages in Red Team: Double Tap Center Mass. As for Alan Moore, his Mr Monster short with Michael T Gilbert is reproduced in the A1 Anthology, including work by Dave Gibbons, Bill Sienkiewicz, Rian Hughes and more. There are no comics by Mark Millar that I can find. We'll get to Peter Milligan later….
7. 30 Days Of Night

The comic that inspired the movie, the Alaskan vampire story created by Steve Niles and Ben Templesmith. With four volumes, 450 pages worth. And the zylophone Files crossover too. And if that's not enough Templesmith, check out 100 pages of Wormwood: Gentlemen Corpse. And if you want more numbr-based horror, there are the 28 Days Later zombie comics by Michael Alan Nelson, Declan Shalvey and Alejandro Aragon too… 500 pages of those.
6. Sunstone and Swing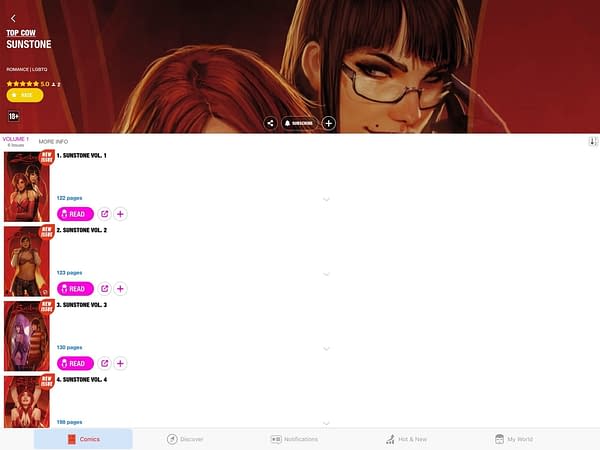 Astounding work here, the BDSM sex-positive comic book, 6 volumes of the first by Stjepan Sejic totalling over a thousand pages, with Swing as an aperitif for a mere hundred additional pages. 50 Shades done right. And free.
5. Infinite Kung Fu

465 pages of the most amazing comic book fight scenes ever published, by Kagan McLeod. I'm sure I mentioned this was free. Following this with Curb Stomp wouldn't be inappropriate either.
4. Everything Black Crown Has Put Out

Oh here's the motherlode. The mini-Vertigo-crossed-with-Deadline Magazine that former Senior Editor Shelly Bond set up. The first volume of Kid Lobotomy from Peter Milligan and Tess Fowler. Punks Not Dead by Martin Simmonds and David Barnett. Assassinistas by Gilbert Hernandez and Tini Howard. And the first Black Crown Quarterly. There's nothing to link these series on Graphite, you have to seek them out individually. But well worth it, the lot of them. Did I mention it was free?
3. Locke And Key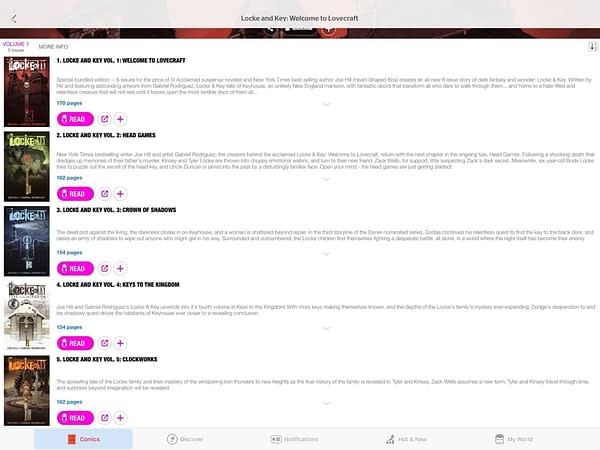 Five volumes around 800 pages worth, free, with this haunting tale by Joe Hill and Gabriel Rodriguez of children, power and history. Stranger Things wishes it was this good. Once you're done with that, how about Walt Simonson's Ragnarok. Two volumes, 380 pages worth.
2. Essex County by Jeff Lemire

All five hundred pages of this most impressive almost-debut by Jeff Lemire, Essex County remains his masterpiece of small town horror, ennuii and despair, woth just enough chinks of hope and light to keep you going? And when that's done there's two hundred pages of its thematic sequel, The Underwater Welder, also from Lemire. What more do you want, you're done. And when you are finished with this, try Swallow Me Whole, by Nate Powell, 211 pages.
1. Sleaze Castle: The Directors Cut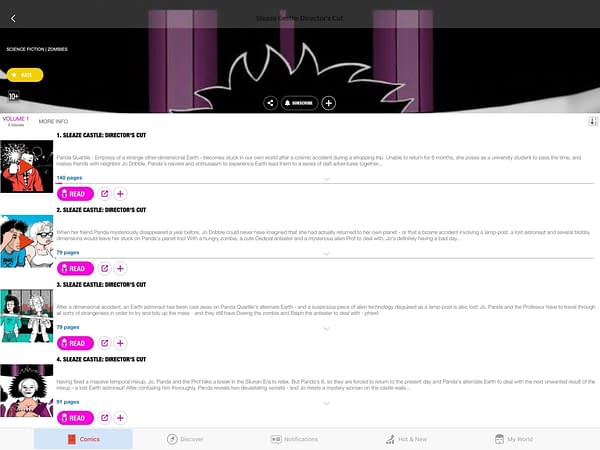 The four Directors Cut editions of Sleaze Castle by the late, great Terry Wiley and still-alive Dave McKinnon are all available right now, for free. This is insane, but there you go. One of the finest comics created, what begins as a very silly sci-fi comedy reminiscent of Hitch Hiker Guide To The Galaxy, and goes from student accomodation in the North of England to the far corners of the multiverse, ended up as a character study, and a comic art masterclass, closer to the work of Posy Simmonds. Funny, moving, utterly brilliant and now you get to see what I've been going on about for decades, for free. What the hell are you waiting for? When you are finished with this, you can die happy. And tell Terry how much you enjoyed it.
The biggest disappointment: From Hell.

It lists as the entire graphic novel, one of the best comic books ever published. But it's a 20-odd page preview of prints and a couple of pages from Eddie Campbell. Given the generousness of previous volumes, I was rather disappointed. Ah well.
This is just my run through what Graphite is offering, for free, right now, They are adding titles, and I am most intrigued to see where that will go. But for right herem right now, there is no ezcuse, especially if you are on Apple iOS. I am sure they will get round to sorting out that Android experience soon – maybe they already have.