And there must be a lot of hats at Emerald City Comicon this weekend. I mean, think of the number of cosplayers alone. Still, you have to admit these are contenders.
Comic writers and frequent writing team players D.J. Kikbride and Adam P. Knave, authors of Amelia Cole from IDW (in print, Monkeybrain on Comixology digitally) and Never Ending from Dark Horse appear to be wearing shriner-style Amelia Cole fezzes (because fezzes are cool, though disclaimer: I've never had to type the word "fez" in the plural before) and what's more, they really pull it off. They do. Go and take even more pictures of them at their booth, #C-08, at ECCC.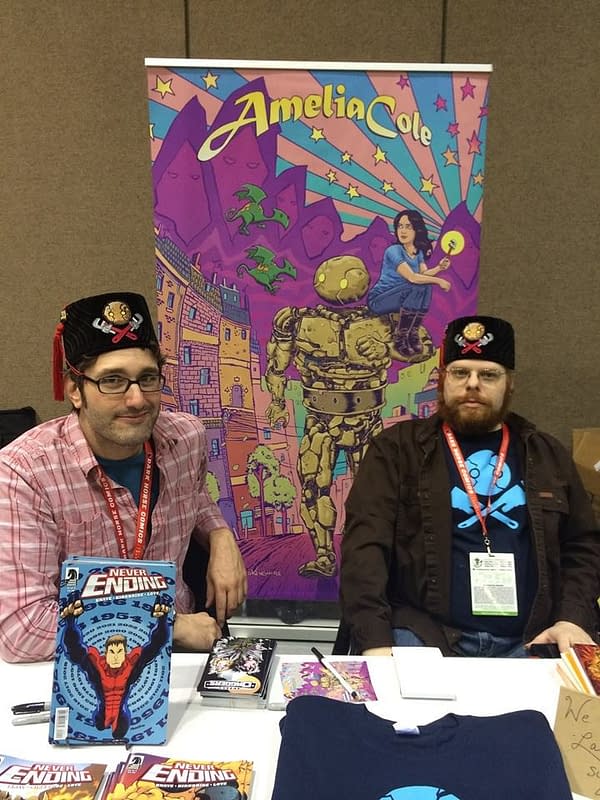 Newsflash: a little googling has supplied me with the info that this is actually a "Lemmy Fez" depicting Lemmy the Golem in Amelia Cole, and that Kirkbride and Knave's character was celebrated, nay enshrined, in such high fashion by their friends Fez-o-Rama, who are actually at ECCC also, at booth #807.
Fez-o-rama produces "finely embroidered velvet Fezzes" and this is their "fez of the week". But also, ohhhh–there was a limited edition Hellboy 20th Anniversary fez recently too. Might want to check that out.
Here's Fez-o-Rama's description of the "Lemmy" Amelia Cole Fez:
Fez of the Week #118 celebrates our friends' excellent comic book Amelia Cole written by Adam P. Knave and D.J. Kirkbride. This low-profile black fez features Lemmy's head above crossed plumber's wrenches… let me explain.
Please do…
In Amelia Cole, Lemmy, her trusty golem, is always there to punch through a wall. But more importantly, he's an innocent. A sweetheart, in a body made of rubble. Lemmy focuses on butterflies, not battle, whenever he can.

The wrench, of course, is Amelia's wand. It's what she focuses her magic through, an extension of herself and her abilities. It's never far from her side and though enemies may think it's just a wrench at first sight, pretty soon they have to deal with all of the power it really contains.

Now, since we are headed out of town to attend the Emerald City Comicon, we're going to extend this Fez of the Week and accept orders through April 5th. If you place your order by March 23rd we might be able to send it out before we leave, otherwise we will make them as soon as we return from Seattle.
So there you have it, when Fez-o-Rama return from ECCC you can get your Lemmy fezzes. Or go to the booth and try to order them, presumably? But from this picture of Kirkbride and Knave, there also appear to Lemmy-style natty blue t-shirts for sale, too. Comics are so fashionable these days.
[*NOTE: Readers have suggested that we do a whole Gallery of the best hats at ECCC, but we'd need your help to do that. If you have hat photos you are taking this weekend at ECCC feel free to tweet them @hannahmenzies or @bleedingcool and we'll see what we can do.]