Welcome to the Fourth Bleeding Cool Top 100 Power List for the next Bleeding Cool Magazine, being serialized right now on the Bleeding Cool website.
It's an attempt to list the most powerful people working in the English speaking comic book marketplace. It's judged by all manner of attributes, the ability to influence what comics exist and sell, but also the willingness to use that power and the ability to retain said power if one aspect is taken away – a job, a gig or a prominent role. Which is why you will see a number of people on a higher spot than their bosses.
The Power List rewards those who combine roles, those who are double and triple threats and also where power is concentrated in one person or perceived identity. But it also notes certain teams who work together, who've built up a joint identity, a gestalt more powerful than the sum of their parts. Some powerful organisations or groups, where power is diffused amongst many, drop down or drop out altogether.
It does not measure talent or likeability and also does not intend to represent diversity. All it does is note power, used for the betterment – or the detriment – of comics.
The list has been created in consultation with a number of senior figures in the comics industry. However, I'm aware the one thing that can be guaranteed is that everyone will think it's wrong and prefer their own take. Including all of those who were consulted.
There will be a new post every day on Bleeding Cool. This is the fourth. We'll run the previous ones below as well, so, in reverse order…
64. Alan Moore – DOWN
The man who constantly announces he is leaving comics, but keeps on failing to. With League Of Extraordinary Gentlemen, Crossed +100, Big Nemo and Providence out this past year, and Bumper Book Of Magic on the way, as well as The Show films, he's busier than he ever has been.
His work on V For Vendetta gives him annual publicity bump courtesy of Anonymous, people keep adapting his past works and asking him what he thinks of it all and there is very little he does that can't be – and isn't – turned into a headline. He may want to leave, but it's a lot harder than he may have thought.
Position next year depends upon: People leaving him the hell alone.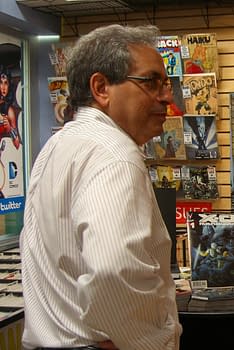 63. Fred Pierce – NEW ENTRY
Radical student activist-turned-banker, Fred Pierce married the two to help form Voyager Communications, the original publisher of Valiant Entertainment. With a fourteen year gap as President and COO of Wizard Magazine in their glory years, he returned to the new Valiant Entertainment as Publisher.
He brings decades of comics experience and wise financial acumen, and a Rolodex that can make grown men weep and helped mastermind one of the biggest commercial deals in comics since Disney bought Marvel, getting Chinese funding for both Valiant's comics and a slate of movies on their way,
Position next year depends upon: Not spending all that Chinese money on a round of drinks for the entirety of New York. 62. John Wurzer – NEW ENTRY
Replacing Cindy Fournier at Diamond after she retired, John Wurzer took the position of VP Operations at Diamond Comic Distributors after previously replacing Bill Schanes on his departure. Which means he's taken a number of senior roles during his 25 years at the distributor as it has entrenched and extended its monopoly on selling the biggest selling comics to comic book stores.
And he's been cracking down on some retailers he feels may be abusing their relationship with Diamond, looking at those with suspiciously high damage reports. He holds their ability to order in his hands…

Position next year depends upon: Someone else retiring…
#100-#98 – Dennis Barger, Janelle Asselin, Matthew Rosenberg
#97-#95 – Rich Johnston, Marc Silvestri, James Killen
#94-#92 – Jim Demonakos, Tim Buckley, Gahl Buslov
#91-#89 – Rob Liefeld, Peter Dolan, Catlin DiMotta
#88-#86 – Ken Levin, David Alpert, Kate Leth
#85-#83 – Jason Aaron, Stephen Christy, Jon Goldwater
#82-#80 – Stan Lee, Lorelei Bunjes, Marc Toberoff
#79-#77 – Jason Kingsley, Fiona Staples, Neal Adams
#76-#74 – Jim Sokolowski, Robbie Robbins, Corey Murphy
#73-#71 – Greg Capullo, Neil Gaiman, Art Baltazar & Franco
#70-#68 – Nemesis 43, Chris Powell, Mike Armstrong
#67-#65 – Hank Kanalz, Chuck Parker, John Rogers
And catch up on previous years, here:
2014:
#100-#81
#80-#61
#60-#41
#40-#21
#20-#11
#10-#1
2013:
#100-#81
#80-#61
#60-#41
#40-#21
#20-#11
#10-#1
2012:
#100-#81
#80-#61
#60-#41
#40-#21
#20-#11
#10-#1
Bleeding Cool Magazine #19 is out now in all good comic book stores. Bleeding Cool Magazine #20 with the full Top 100 Power List will be out in January.
Enjoyed this article? Share it!