Welcome to the Fourth Bleeding Cool Top 100 Power List for the next Bleeding Cool Magazine, being serialized right now on the Bleeding Cool website.
It's an attempt to list the most powerful people working in the English speaking comic book marketplace. It's judged by all manner of attributes, the ability to influence what comics exist and sell, but also the willingness to use that power and the ability to retain said power if one aspect is taken away – a job, a gig or a prominent role. Which is why you will see a number of people on a higher spot than their bosses.
The Power List rewards those who combine roles, those who are double and triple threats and also where power is concentrated in one person or perceived identity. But it also notes certain teams who work together, who've built up a joint identity, a gestalt more powerful than the sum of their parts. Some powerful organisations or groups, where power is diffused amongst many, drop down or drop out altogether.
It does not measure talent or likeability and also does not intend to represent diversity. All it does is note power, used for the betterment – or the detriment – of comics.
The list has been created in consultation with a number of senior figures in the comics industry. However, I'm aware the one thing that can be guaranteed is that everyone will think it's wrong and prefer their own take. Including all of those who were consulted.
There will be a new post every day on Bleeding Cool. This is the fourth. We'll run the previous ones below as well, so, in reverse order…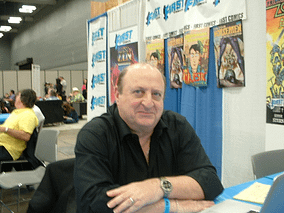 88. Ken Levin – NEW ENTRY
Publisher of First Comics, the brand that was relaunched this year after merging with another publisher to create Devil's Due/1First Comics LLC, with a bevy of new titles including a relaunch of The Badger from Mike Baron.
But it's a combination of this and Ken Levin's legal representation of major comic book creators, and putting the right people in the right room to get movies and TV shows made from their comics, especially the upcoming Preacher from AMC, that has seen him pushed further up the list.
Position next year depends upon: the growth and both sides of his business.
87. David Alpert – NEW ENTRY
Partnering with David Engel at production company Circle Of Confusion, they have their fingers in many pies. But while Engel concentrates on the work of Brian Michael Bendis, David Alpert does likewise with Robert Kirkman. Which has pushed him higher up the list.
And so, as a partner in Kirkman's Skybound, he finds himself executively producing The Walking Dead, Fear The Walking Dead and Outcast TV shows with many more to come. And while Alpert is part of Skybound, and Kirkman has a slice of Circle, Kirkman could be just the tip for Alpert – albeit it a big tip.
Position next year depends upon: A Fear The Walking Dead comic?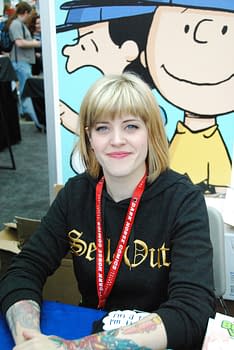 86. Kate Leth – NEW ENTRY
Webcomic creator to comic industry icon, Kate Leth has risen rapidly due to her talent, her presence on Comics Alliance, a willingness to take a prominent stand in her work, even with the likes of Adventure Time and Bravest Warriors, not backing down and not one to suffer fools gladly.
With a growing fanbase, especially in the LGBTQ community, she has become a shibboleth for some publishers, a signal of the kind of comics they're willing to create and support and a short-cut to establish their credentials. But Kate seems happy to take those opportunities and push at them to make real change. And with her new book for Marvel, Hellcat, AKA Patsy Walker being reflected in the Jessica Jones Netflix show, even more eyes are upon her.
Position next year depends upon: Who will blink first.
Read previous entries here.
#100-#98 – Dennis Barger, Janelle Asselin, Matthew Rosenberg
#97-#95 – Rich Johnston, Marc Silvestri, James Killen
#94-#92 – Jim Demonakos, Tim Buckley, Gahl Buslov
#91-#89 – Rob Liefeld, Peter Dolan, Catlin DiMotta
And catch up on previous years, here:
2014:
#100-#81
#80-#61
#60-#41
#40-#21
#20-#11
#10-#1
2013:
#100-#81
#80-#61
#60-#41
#40-#21
#20-#11
#10-#1
2012:
#100-#81
#80-#61
#60-#41
#40-#21
#20-#11
#10-#1
Bleeding Cool Magazine #19 is out now in all good comic book stores. Bleeding Cool Magazine #20 with the full Top 100 Power List will be out in January.
Enjoyed this article? Share it!