The Bleeding Cool Top 100 Power List 2018 Countdown: #31-35
Two-thirds of the way through… the end is in sight.
Every year, Bleeding Cool runs its Top 100 Power List of members of the comics industry. And every year we get told how wrong we are. Somehow, it's always for completely different reasons and from completely different directions. Why was X in when Y was not? Why is Z is high when W is so low? And neither U or T should be on this list after that incident involving V… and condemning us for being either infested with SJW virtue signalling or providing platforms for fascists – and sometimes simultaneously. Man, I don't know how Time Magazine manages.
But that's part of the process. This attempt to list the most powerful people working in the English-speaking comic book marketplace is, of course, flawed. It is judged by all manner of attributes, the ability to influence what comics exist and sell, but also the willingness to use that power in the industry to affect things, and the ability to retain said power if a job is taken away. Which is why you will see a number of people on a higher spot than their bosses.
The Power List rewards those who combine roles, creator, publisher, distributor, retailers, those who are double and triple threats, and also where power is concentrated in one person rather than being spread out among many. Some powerful organisations or groups, where power is diffused amongst several individuals, may drop down or drop out altogether.
It does not measure talent or likeability, respect or fairness, and it does not intend to represent diversity or balance. All it does is note power, used for betterment — or detriment — in the English speaking comic book world.
The list was created in consultation with a number of senior figures in the comics industry, and I thank them for their help. Although because they all disagree, they'll all think the final list is wrong, too.
If you really hate this list, then do the obvious thing. Write your own. Otherwise, watch for new batches every day…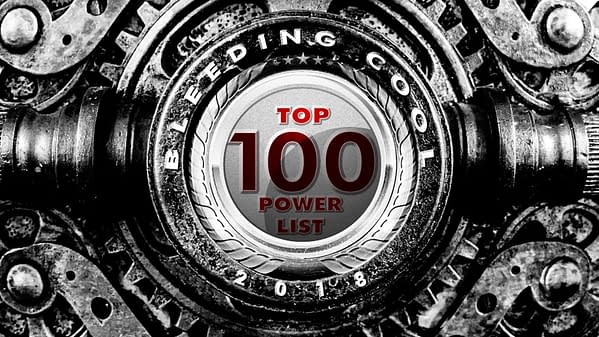 31. Grant Morrison, OBE. Editor-in-chief of Heavy Metal Magazine, with a TV adaptation of his Happy TV series airing, a Wonder Woman graphic novel and a revived The Green Lantern topping the charts, it's s a good time to be Grant Morrison. And he's finally topped Mark Millar on this list as well. A highly prized writer, he chooses his work sparingly and with care and with editors who know to get the hell out of his way. Magician, musician and marketer, each step he makes seems out of kilter with every other step, but when you look back there is just a straight line. Successfully and unpredictable, he is the very definition of the words commercial and artist.
32. Nick Landau. The owner of Titan Comics, the second largest comics publisher owned by one man, Nick Landau adds to this portfolio by also owning Titan Magazine and the Forbidden Planet chain of comic book stores. He has the reputation of a micro-manager at Titan Comics and is both the commissioner and gatekeeper of every comic book that goes through this publisher, with a range of licensed, creator-owned and translated comics work from Rivers Of London to Doctor Who to Robotech to Tank Girl. Losing the Games Workshop and the disappearance of Diablo may be dents in that reputation.

33. Sean Murphy. Writer/artist on the smash hit comic book series Batman: White Knight series which outperformed all expectations this year that has seen him given the DC Comics keys to sequels and spinoffs at his leisure. Basically right now he gets to do what he wants (as long as it doesn't include showing off Harkey Quinn's nipples.)
34. Jeff Lemire. Comic book writer/artist with a wide spread of work across publishers, is about to extend that with his DC Comics/Dark Horse crossover with Black Hammer and the DC Universe, coming in the light of the new TV series announcement and his work,m coming to an end on transdimensional comic book The Terrifics for DC, all while keeping his many other creator-owned comic book plates spinning as he steps in and out of other media. Well, he does have to keep Caitlin DiMotta busy…
35. Courtney Simmons. Senior Vice President of Publicity for DC, she survived the transition from Diane Nelson to Thomas Gewecke to Pamela Lifford. She was principal for Batman getting his wedding promoted everywhere (even if he didn't have one) and for Action Comics #1000 becoming a major media event, all the time while also dealing with various scandals breaking out across the publisher, leading the response to Batman: Damned.
See you again tomorrow. Happy Postboxing Day one and all. And keep up with this handy-dandy Top 100 Power List tag.