The Bleeding Cool Top 100 Power List 2018 Countdown: #4-6
So very close…
Every year, Bleeding Cool runs its Top 100 Power List of members of the comics industry. And every year we get told how wrong we are. Somehow, it's always for completely different reasons and from completely different directions. Why was X in when Y was not? Why is Z is high when W is so low? And neither U or T should be on this list after that incident involving V… and condemning us for being either infested with SJW virtue signalling or providing platforms for fascists – and sometimes simultaneously. Man, I don't know how Time Magazine manages.
But that's part of the process. This attempt to list the most powerful people working in the English-speaking comic book marketplace is, of course, flawed. It is judged by all manner of attributes, the ability to influence what comics exist and sell, but also the willingness to use that power in the industry to affect things, and the ability to retain said power if a job is taken away. Which is why you will see a number of people on a higher spot than their bosses.
The Power List rewards those who combine roles, creator, publisher, distributor, retailers, those who are double and triple threats, and also where power is concentrated in one person rather than being spread out among many. Some powerful organisations or groups, where power is diffused amongst several individuals, may drop down or drop out altogether.
It does not measure talent or likeability, respect or fairness, and it does not intend to represent diversity or balance. All it does is note power, used for betterment — or detriment — in the English speaking comic book world.
The list was created in consultation with a number of senior figures in the comics industry, and I thank them for their help. Although because they all disagree, they'll all think the final list is wrong, too.
If you really hate this list, then do the obvious thing. Write your own. Otherwise, watch for new batches every day…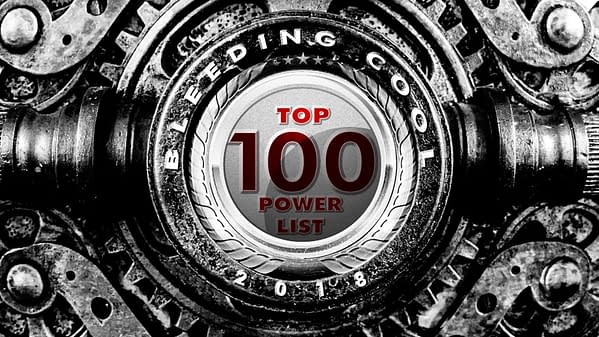 4. Eric Stephenson. Publisher of Image Comics, no one has quite the power – and willingness to use it – to take a completely unknown comic book creator and make them the talk of the town as well as pulling mainstream comic creators from their Marvel and DC teat. He is the go-to choice for the A-List creator looking to own their own work, as well as where Mark Millar took his Netflix imprint Millarworld. Stephenson is the bottleneck through which all comics are approved for publication or not, and he also seeks out new talent, keen for a diverse group of creators on the stage at Image Expo these days. This last year has seen prominent launches include Die, Die Die Die, Ice Cream Man, Man-Eaters, Farmhand, Unnatural, Flavor, Magic Order, Prodigy, The Dead Hand, Analog, Skyward, The Weatherman, Gideon Falls and Cemetery Beach and more, blossoming in a way they never could have elsewhere. But not even Eric can make new issues of Saga appear from thin air…
5. Isaac Perlmutter. Chair of Marvel, now owned by Disney, and even with Marvel Studios split off from his purview, he still wields extraordinary power at the comic book publisher. From both key appointments and publishing drives, his reputation for cutting anything that whiffs of not making money saw two books chopped this year before they were rapidly relaunched when the trade paperback figures came in. The spotlight on him from his association with Donald Trump and his criticised work regarding the Veterans Department, has brought new eyes on his dealings with other Marvel employees, putting them to use dealing with his personal legal spats. He also seems to have failed to fulfil Disney's desire to legislatively restrict more content from the 1920s falling into public domain in 2019.
6. Raina Telgemeier. The best-selling comic book creator in America, with her graphic novels constantly topping the bookseller lists as she owns Scholastic Book Fairs. Marvel and DC Comics don't come close to this comic book phenomenon. Printing presses are being reserved for her two 2019 volumes, a how-to-create-comics volume called Share Your Smile for April and her new comic book memoir Guts for September. This is the closest America comes to the Asterix phenomenon in the rest of the world.
See you again tomorrow for the final three. And keep up with this handy-dandy Top 100 Power List tag.