The Bleeding Cool Top 100 Power List 2018 Countdown: #65-61
The list keeps a-rolling, as I keep ducking and diving.
Every year, Bleeding Cool runs its Top 100 Power List of members of the comics industry. And every year we get told how wrong we are. Somehow, it's always for completely different reasons and from completely different directions. Why was X in when Y was not? Why is Z is high when W is so low? And neither U or T should be on this list after that incident involving V… and condemning us for being either infested with SJW virtue signalling or providing platforms for fascists – and sometimes simultaneously. Man, I don't know how Time Magazine manages.
But that's part of the process. This attempt to list the most powerful people working in the English-speaking comic book marketplace is, of course, flawed. It is judged by all manner of attributes, the ability to influence what comics exist and sell, but also the willingness to use that power in the industry to affect things, and the ability to retain said power if a job is taken away. Which is why you will see a number of people on a higher spot than their bosses.
The Power List rewards those who combine roles, creator, publisher, distributor, retailers, those who are double and triple threats, and also where power is concentrated in one person rather than being spread out among many. Some powerful organisations or groups, where power is diffused amongst several individuals, may drop down or drop out altogether.
It does not measure talent or likeability, respect or fairness, and it does not intend to represent diversity or balance. All it does is note power, used for betterment — or detriment — in the English speaking comic book world.
The list was created in consultation with a number of senior figures in the comics industry, and I thank them for their help. Although because they all disagree, they'll all think the final list is wrong, too.
If you really hate this list, then do the obvious thing. Write your own. Otherwise, watch for new batches every day…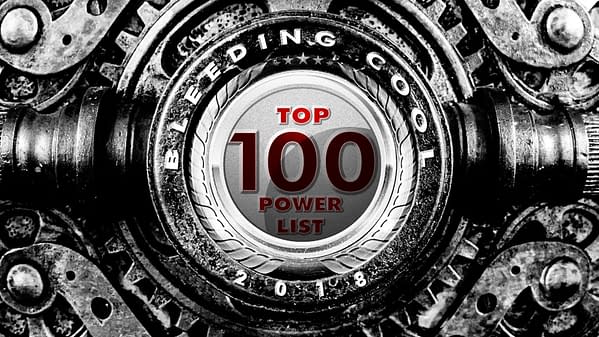 61. Shea Fontana. Lead creative on the DC Superhero Girls initiative at DC Comics, this repurposing of DC Comics icons for a new generation, has inspired DC Comics to spin off both Ink and Zoom imprints for Young Adult and Kids readers. The book continues to be a monster seller as it spins off across media. Her choices for the characters that get picked and chosen can revive the characters in the public mind and sow the seeds for success decades to come.
62. David Macho. Agents, especially for Spanish comic book artists working in the USA, he's the man who keeps many a book at Marvel and DC on the rails under challenging schedules. He's not alone in that game but he's the longest serving and most prominent.
63. Benny Potter and Rob Jefferson – YouTubers going under under the names Comicstorian and Comicsexplained. They have more YouTube subscribers than any other focused comic book video commentators (Benny pips it) and keeps the comic book commentary going even when other media tempt. Strong appreciation for comic books from these two can make a noticeable difference in the comic book stores.
64. Matthew Rosenberg. One of the writers of the new Uncanny X-Men series, he maintains a variety of comics across publishers, fingers in Black Mask Comics and innovative marketing techniques that make him a bit of a one man band when it comes to comics.
65. Pepe Larraz. A needle-mover for Marvel Comics, his comic style is the closest to a modern version of what the Image Comics guys did back in the day, a kinetic approach to action adventure with detail, direction, speed, pleasing features and innovative panel use. Just off Extermination for Marvel, he's currently being repurposed by them for cover duty, before he picks his next superstar project.
See you tomorrow, if I survive. And keep up with this handy-dandy Top 100 Power List tag.