The Bleeding Cool Top 100 Power List 2018 Countdown: #90-86
Day two and we seem to have survived. So far.
Every year, Bleeding Cool runs its Top 100 Power List of members of the comics industry. And every year we get told how wrong we are. Somehow, it's always for completely different reasons and from completely different directions. Why was X in when Y was not? Why is Z is high when W is so low? And neither U or T should be on this list after that incident involving V… and condemning us for being either infested with SJW virtue signalling or providing platforms for fascists – and sometimes simultaneously. Man, I don't know how Time Magazine manages.
But that's part of the process. This attempt to list the most powerful people working in the English-speaking comic book marketplace is, of course, flawed. It is judged by all manner of attributes, the ability to influence what comics exist and sell, but also the willingness to use that power in the industry to affect things, and the ability to retain said power if a job is taken away. Which is why you will see a number of people on a higher spot than their bosses.
The Power List rewards those who combine roles, creator, publisher, distributor, retailers, those who are double and triple threats, and also where power is concentrated in one person rather than being spread out among many. Some powerful organisations or groups, where power is diffused amongst several individuals, may drop down or drop out altogether.
It does not measure talent or likeability, respect or fairness, and it does not intend to represent diversity or balance. All it does is note power, used for betterment — or detriment — in the English speaking comic book world.
The list was created in consultation with a number of senior figures in the comics industry, and I thank them for their help. Although because they all disagree, they'll all think the final list is wrong, too.
If you really hate this list, then do the obvious thing. Write your own. Otherwise, watch for new batches every day…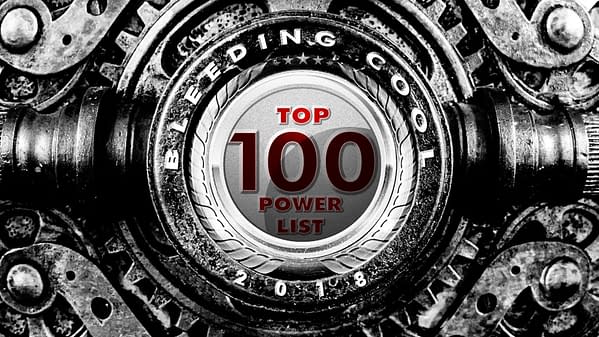 86. Dan Slott. He may have dropped off Amazing Spider-Man (with a soupcon of Spider-Geddon) but he relaunched Fantastic Four to acclaim (and a little initial frustration) and has found a freshness in Tony Stark. He remains a solid go-to guy for Marvel Comics and with the FF, he brought attention back to a book that was taken for granted until it was taken away. But even though he's a Marvel Man these days,m he has other ambition with a creator-owned comic book series Future Me expected to see publication in 2019.
87. Matt Smith. Editor-In-Chief of 2000AD, the sci-fi weekly comic published in Britain, the man who finds the talent that the rest of the industry pinch, especially with Brexit dulling down the pound and simultaneously making British comics creators suddenly far more affordable – and more expensive for 2000AD. Even recently, DC Comics found Suicide Squad's Rob Williams and Marvel found Immortal Hulk's Al Ewing there.
88. Kwanza Osajyefo. Creator of comic book shared superhero universe franchise BLACK and now the creative architect of another one over at Humanoids H1 Comics, Kwanza brings a history of innovation with new talent from the days of DC's Zuda, and is now set to play with some even bigger names.
89. Jeanine Schaefer. As an editor at DC Comics and Marvel she was a conduit for new talent into the publishers and left a legacy of work with creators that followed her into freelance editing on Jonesy and Motor Crush. Now she is Executive Editor of Boom Studios, where she is launching a new imprint with some old friends and new names. She has been around the block, she knows where the bodies are buried. And she plays hockey on top of them.
90. Andrea Tower. Geek journalist-and-news-editor-turned-Marvel Comics press relations co-ordinator, dealing with how Marvel is portrayed in the mass media. She is also the author of the upcoming Geek Girls Don't Cry: Real Life Lessons From Female Fictional Characters which is expected to shine a new light on comic book characters. I bet it will get great press as well.
More later today… and keep up with this handy-dandy Top 100 Power List tag.