The Braille Comic That Radically Reinvents The Medium
Well now, this is something. a comic book written in braille. That doesn't try to recreate comic book panel images as embossed lines but instead reinvents the very language of comic books to portray something symbolic, using shapes to represent changing emotional states.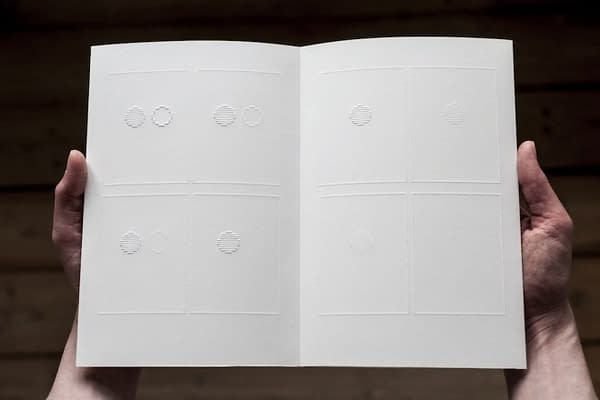 Wired reports;
Titled "Life," the comic tells a familiar story: Two characters meet, fall in love and have a child. That child goes off on its own, the parents grow old and then fade away. Only in "Life," there are no words, no colors and every character is represented by a simple, tactile circle. Meyer's goal was to make a comic that was equally translatable for sighted and blind people. Using a method similar to Braille, he embossed paper with circles of varying heights and sizes to represent different characters. For example, one circle fades to flat in the center, while the other is filled in; this helps to distinguish one character from the next. Similarly, each scene is marked by perforations in the paper, creating the same kind of paneling you'd find in a typical comic book.
It's not a world away from Shane Simmons' Longshot Comics -something that might as well work in this format.