Posted in: Comics | Tagged: Comics, liam sharp, madefire
---
The Comic Book Offices Made Of Fire
Matt Harding writes for Bleeding Cool;
Earlier in the month, I had the unique experience of visiting the studios and offices of Madefire, a digital motion comic production house in Berkeley, California, for their very first Q & A session, spotlighting their newest team member, Ben Abernathy. Ben stunned the comic industry last month when he officially left his editing job at DC Comics to join the up-and-coming Berkeley based studio, Madefire, where he claims the future is alive and growing. Ben's first day of work was September 4th.
The offices of Madefire made an awesome, yet comfortable impression as I first walked through the doors. From their insane collection of statues, to the programmer's loft upstairs, to the original art-filled walls, there was no lack of entertaining things to stare and drool at.
Page after page of original Madefire owned black and white inked artwork adorned the walls, mingled with classic pages created by artists like Liam Sharp, the CCO of Madefire. Liam had worked on some of the leading titles in the industry before settling at Madefire, such as Aliens, Batman, Superman, Hulk, X-Men, Spiderman, and Spawn. As if the artwork wasn't impressive enough, the technology pushed whatever nerd buttons had been left un-pushed with their massive Cintiq screens and custom-assembled programming studios.
If you haven't heard about the company Madefire, now would be a good time to get onboard. Their free app is available for the iPad, with many free comics available for downloading. Madefire founder, Ben Wolstenholm, is a friendly and passionate leader, intent on turning the Madefire experience into a whole new medium, beyond what anyone has seen before.
iPads were passed around, and everyone who attended can attest that Ben's efforts succeeded. This wasn't just your average comixology, digital comic book browser, but something entirely new. From the cover of every story, the motion begins when the reader rotates the iPad. The characters on the cover shift accordingly, creating an effect that makes it seem like the cover art is actually a 3D environment that can be explored. Once inside the comic, things got downright crazy! Music blends, with sfx on every panel, are introduced and the reading experience begins to guide you, adding a new dimension to how you experience the stories. Some dive deeper and deeper into the adventure, as the Madefire technology creates a more in-depth experience. It's like getting slapped in the face by the future.
The most impressive display of the Madefire technology, in my opinion, happens in the story "Mono" by Ben Wolstenholme and Liam Sharp on page 9. The reader is surprised by a scene of men marching to war, with an astounding 360-degree camera option. That's right! YOU control the camera to move 360 degrees around this grim nighttime world, zooming in and out on literally any interesting thing that you choose, with many an "Easter egg" to find. I personally played with this option for a good hour at home after the event.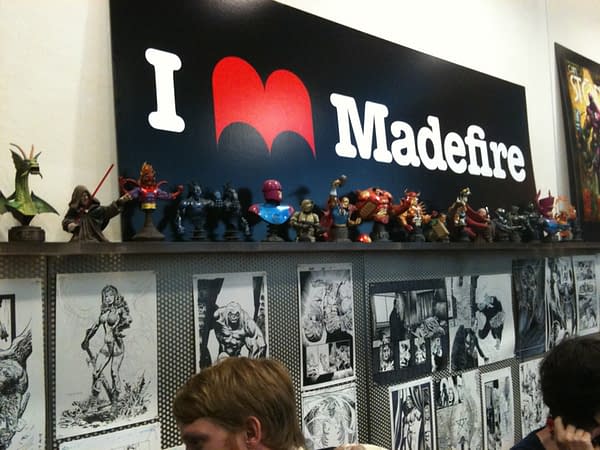 As we explored more of Madefire's app, we were introduced to a colorful set of stories offered for free within the program. Some top talent working on the stories –names that you should definitely recognize. The story "Cap Stone" is done by the creative team of Liam Sharp and Christina McComack, and starts off with a couple of kids shifting through a stack of old magazines, an option you control, until they (you) find an old, cheesy comic book about a character named Captain Stone. As you shift through the many magazines and comics in the stack, you discover a mystery far deeper than when you began.
Legendary comic's tradesman, Dave Gibbons, teams up with scribe, Robbie Morrison, and pencilers, Kinman Chan, Dougie Braithwaite, and Shepherd Hendrix, to create a series of stories called "Treatment," with chapters set in San Diego, Mexico City, and Tokyo. "Treatment is a televisual phenomenon. "Treatment" is a global franchise. It takes individuals cast in the heat and fury of lives spent on both sides of the law, and puts them on the front line in the battle against crime. In every major city on every major continent, if you are the sick and depraved underbelly of civilization, prepare to receive "Treatment."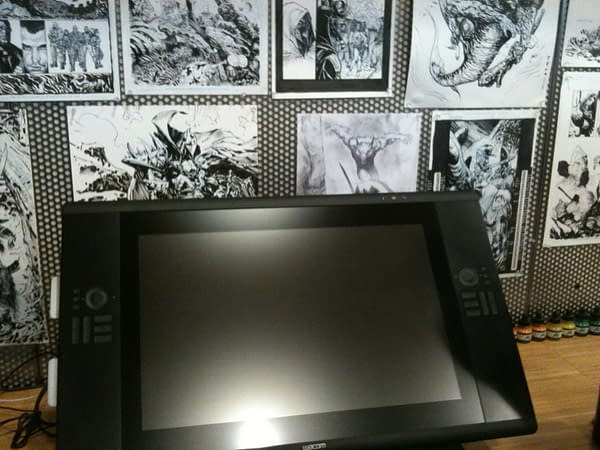 "The Irons" is a sci-fi depicting a quarantined planet where only the richest can escape the crime infested city called "The Irons." Leto is one of the few that chooses to investigate crime in hopes of earning enough money to escape. This story is written by Haden Blackman and drawn by Gary Erskine. Three monsters stalk 1930's Berlin in Mike Cary and David Kendall's "House of the Holy".
Forgotten robotic workers of 1930's Soviet Union are trapped in a mine collapse in a truly entertaining story created by Liam Sharp, Christina McCormack, Guy Adams, Jimmy Broxton, Kevin Wong, Cody Garcia, and Ali Powers.
After about an hour of mingling, pizza-scarfing, and beer-chugging, we all sat in a circle around Liam Sharp and Ben Abernathy to listen to an inspiring and motivational Q & A session. This was Ben's first since joining the Madefire team. Liam Sharp was the interviewer, but added many inspirational sound clips along the way, keeping us entertained and attentive, as he opened up to us about why he cares so much about Madefire and comics in general. "Comic books are a medium, and we've made the terms nerd and geek our own. We've embraced it, with what we're doing with Madefire for the iPad, explained Liam. "People are reading them. They're loving them. What we're doing is a new medium."
It didn't take long to see that Ben's reasoning for leaving the secure employment of DC Comics was a decision born of his passion for what he saw in Madefire. "To me, it's like seeing the future," confided Ben. "Madefire was that point. You aren't ahead of the curve. You are the curve! This is the kind of content I want to read, and be involved in."
Ben also offered words of advice for artists looking to break into the industry. "It's less about who the characters you draw are. It's your ability to draw things that aren't the muscular guy. Can you draw a tree? Go and sit in a park and draw." Liam also added, "Always try to apply an extra level of thought to everything you draw." For writer's, Ben suggested, "What do you think of the world? It's a bigger world than if Batman took the Riddler to Arkham."
The Q & A ended favorably, leaving everyone in attendance with the feeling that we were all involved in the beginnings of something truly extraordinary taking place. The after party moved to the bar down the street where Madefire's founder, Ben Wolstenholme, treated everyone to a beer. As their newest recruit put it, Madefire isn't ahead of the curve, they are the curve! I'll personally be watching for what comes out of that Berkeley-based studio with excitement and anticipation for content that will astound, surprise and maybe even shock the comic book industry.
---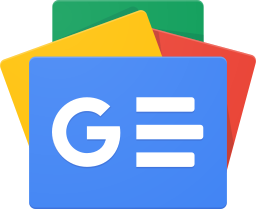 Stay up-to-date and support the site by following Bleeding Cool on Google News today!