The Expanse: Dragon Tooth Breaks Kickstarter Record, Hits A Million
The upcoming Boom Studios comic book sequel to The Expanse, has just raised a million dollars on Kickstarter with two weeks to go.
---
The upcoming Boom Studios comic book sequel to The Expanse, The Expanse: Dragon Tooth, has broken the Kickstarter week one record for comic book projects, raising $827,802 in seven days. And it has now just hit a million dollars any second now, currently at $1,012,963 with 8,594 backers.
The Expanse: Dragon Tooth is the first new story since the TV finale episode of The Expanse Season 6. The comic book, being dubbed The Expanse Season 6.5 has been developed under the direct supervision and creative guidance of The Expanse creator James S.A. Corey, and created by writer Andy Diggle and artist Rubine.
Pre-orders for the new comic book series began on Kickstarter last week, ending its first day as Boom! Studios' biggest Kickstarter launch day of all time, beating the record previously held by Keanu Reeves' megahit BRZRKR. Filip Sablik, Boom Studios President of Publishing and Marketing stated "The continued, enthusiastic response from The Expanse community has blown all of us away. Our high expectations for this campaign were surpassed on day one, and to be here haring with you all that you, the fans, have helped us break yet another record is truly the best way we could've hoped to start off this year. We cannot wait for you all to get your hands on this incredible story."
Boom Studios intends to continue to use Kickstarter as a successful avenue for pre-orders, with several more unannounced campaigns for 2023 yet to be revealed. The Kickstarter campaign will continue for another fortnight, with more stretch goals to be announced.
The Expanse: Dragon Tooth #1 will also be available through comic book shops, starting in April.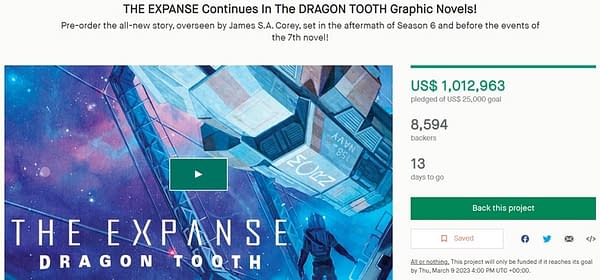 EXPANSE THE DRAGON TOOTH #1 (OF 12) CVR A WARD
BOOM! STUDIOS
FEB230275
(W) Andy Diggle (A) Rubine (CA) Christian Ward
Picking up after the final season of the acclaimed and beloved sci-fi series and filling in the missing years between The Expanse: Babylon's Ashes and The Expanse: Persepolis Rising, the secret history of your favorite characters are revealed for the first time!
Everything comes together in this epic 12-issue story, tying together the threads of the show and answering lingering questions that will bring readers and viewers alike far beyond the stellar horizon. Across this monumental maxi-series, superstar comics writer Andy Diggle (Green Lanterns, James Bond) and artist Rubine (Voltron: Legendary Defender) broadens The Expanse universe in ways that will change how fans view the entire series forever!In Shops: Apr 05, 2023 SRP: $4.99
EXPANSE THE DRAGON TOOTH #2 (OF 12) CVR A WARD
BOOM! STUDIOS
MAR230232
(W) Andy Diggle (A) Rubine (CA) Christian Ward
The stellar expansion and continuation of The Expanse continues in the only place fans will find new adventures! In a time of great strife and subterfuge, Sohiro, Roki, Avasarala, and other key players make their way in the breadth of cosmic colonialism and piracy. But, a long-hidden threat lurks in waiting… connected to threads from the past that will change the future forever. Superstar writer Andy Diggle (Hellblazer) and highly acclaimed artist Rubine (Astronaut Down) continue the epic, 12-issue continuation of the highly celebrated sci-fi franchise The Expanse!In Shops: May 10, 2023 SRP: $4.99