In 1966, Marvel comics published millions of mini-comics, just two centimetres, high and distributed in gum-ball machines throughout the US. The comics were also given away to members of Marvel's fan club and also sold as cake decorations. They entered the Guinness Book of World Records as the smallest comic books ever published and Superman (unofficially) even turned up in the Spider-Man mini-comic.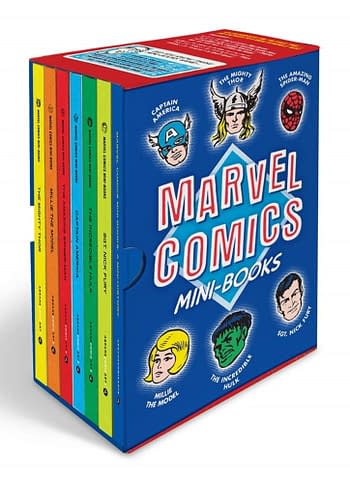 Originally selling for one cent each, they now sell for $50 plus, but are being reproduced many sizes larger in the Marvel Comics Mini-Books Collectible Boxed Set: A History and Facsimiles of Marvel's Smallest Comic Books Hardcover, courtesy of photographer Geoff Spear and writer Mark Evanier.
Reprinted for the first time, the world's smallest comic books—originally printed in 1966 and now enlarged to a more readable size—in a seven-book collectable boxed set

In 1966, Marvel printed what the Guinness Book of World Records certified as the world's smallest comic books. Smaller than a postage stamp, and sold in gumball machines across the country, these six books told the quirky origin stories of Marvel's most beloved characters at that time: the Amazing Spider-Man, the Incredible Hulk, the Mighty Thor, Captain America, Sergeant Nick Fury, and Millie the Model.

Marvel Comics Mini-Books reproduces facsimile editions of all six books in one affordable box set—along with a seventh book written by Mark Evanier that details the history and creation of these rare, vintage collectables.
On his blog, after the death of Dennis O'Neill, Mark Evanier shared the following;
The books carried no credits and while I could identify the artists from their handiwork, I wanted to identify the writers so I did some detective work. At one point, I realized Denny had a staff job at Marvel at the time they were done. He was writing Millie the Model so I figured he might have written the Millie the Model mini-book and called to ask him. It turned out he hadn't written the Millie one but he did vividly recall writing the Captain America one depicted above.

In fact, he said it was the first super-hero comic he ever wrote and he told me he did it in about two hours and loved writing it and that as far as he knew, I was now the only human being in the world who knew he'd done that. I was going to save that "scoop" to be divulged in the foreword but it seems more appropriate to give it up here.

I said, "Then you never autographed a copy?" He said, "Never. No one knows I did it." And then he offered, assuming he could find a pen with a fine-enough point, to sign the copy in the new replica set to me when it comes out and never sign another one for anybody. "You'll have the only autographed copy that ever exists," he promised. I'm sorry that's not going to happen, not because I wanted the collector's item but because I don't get to talk with Denny anymore. He was one of the brightest, nicest guys I've met in comics and maybe one of the most important writers the field has ever had.
Marvel Comics Mini-Books Collectible Boxed Set: A History and Facsimiles of Marvel's Smallest Comic Books Hardcover will be published by Abrams ComicArt on August 18th, 2020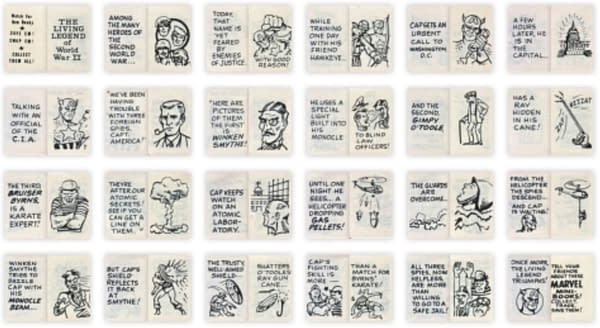 Enjoyed this article? Share it!