The New York Weekly Volume 15 #33 from publisher Street & Smith on July 12, 1860, is a relatively early appearance in print of the legendary James C. Adams — better known today as Grizzly Adams — who joined forces with P.T. Barnum for a period around that time, having previously established himself in California. As announced in May 1960 in newspapers around the country, Grizzly Adams wrote exclusively for The New York Weekly that year, in "A series of his most thrilling adventures and hair-breadth escapes during his pursuit of the savage grizzlies and other wild animals of the Rocky Mountains."
The Issue is a regular column about vintage comics and other vintage periodicals from throughout world history. The idea behind The Issue is simple: for each post, I'll choose something from my collection and talk about what's going on in it, and discuss the publishers and creators behind it. And essentially, I'm just going to end up stepping through comics history one issue at a time. There is only one rule in The Issue: No recent stuff. Everything will be from before 1940, and most of it will be from before 1920.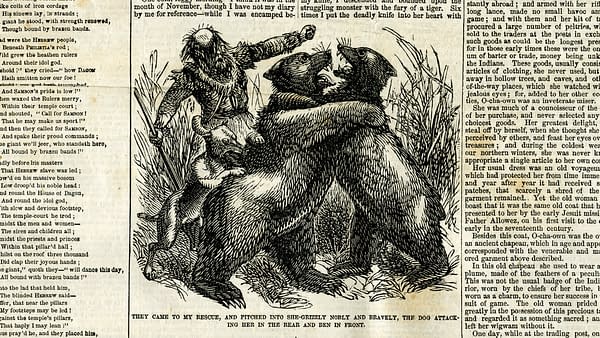 Grizzly Adams' serialized adventures in The New York Weekly were collected into an autobiography called Life of J.C. Adams, known as Old Adams, Old Grizzly Adams later in 1860. The New York Weekly serial appears to be a run-up to Adams bringing his bear and other animal exhibition from the West Coast to New York City. The initial exhibitions were quickly followed by "Old Adams' California Menagerie" being acquired by P.T. Barnum sometime around July 1860:
This most rare, unique, interesting and moral exhibition, which was visited by 200,000 persons in San Francisco and New York City, has been purchased by P.T. Barnum and his partners, and the whole is now united with Nixon's Colossal Star Circus.
The term "moral exhibition" in context here is meant to denote that the exhibition was legitimate and "family-friendly", and is not an indication as to the treatment of the animals. Of course, the notion of the ethical treatment of animals has evolved much since 1860 — as can be seen in the book Life of J.C. Adams, known as Old Adams, Old Grizzly Adams.
Grizzly Adams and Samson the Bear
James C. Adams is perhaps best remembered today for The Life & Times of Grizzly Adams 1974 film followed by the popular NBC television series of the same name which ran 1977-1978. Along with Adams as depicted by actor Dan Haggerty, the series featured a bear that Adams had named Ben, after Benjamin Franklin. But another bear associated with Adams has achieved an equally impressive degree of fame. And while almost everyone today is familiar with this particular bear, almost no one knows his name.
The current version of the State of California bear flag is based on a depiction of one of Adams' bears, named Samson. In his autobiography, Adams described his desire to capture the enormous animal in 1854, after having seen signs of him the previous winter. "If he was an animal of the magnitude I suspected, he was too superb a creature for such sacrifice. I wanted him alive — I wanted him for exhibition — I wanted to show him as a monster specimen of such of his species as inhabited that quarter of America."
Samson would ultimately move from the fame of his day to icon status over many subsequent decades. Another biographer and historian, Theodore H. Hittell, brought artist Charles Nahl with him when he visited Adams. Nahl made many drawings of Adams and his bears, some of which he turned into paintings. One of these paintings, an 1855 watercolor that featured Samson became the model for the bear on the current version of the California Bear Flag in 1911.
The skull fracture described in the installment in this The New York Weekly got Adams in the end:
The skull was fractured by the blow given me by the she grizzly, and pieces of the bone came out as the wound was healing. This is probably one reason why it healed no sooner. The pulsations of the brain are now distinctly visible beneath the granulated surface, which is about as large as the palm of the hand, and how I maintain my existence, under all the suffering it has ocassioned me, is equally a mystery to myself and the doctors. Probably "Old Adams" has not yet quite fulfilled his earthly mission. But it will soon be over…
Adams was correct in this last point. He was dead from these old injuries within months of writing this for The New York Weekly.
Enjoyed this article? Share it!