The Batman/High Moon Crossover That One Day May Be – 7 Questions With David Gallaher And Steve Ellis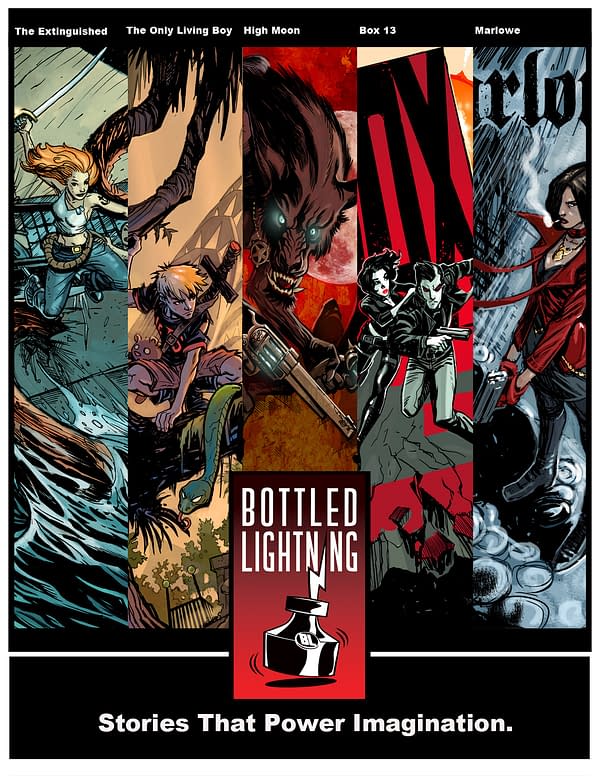 Jim Shelley Q&A'd David Gallaher and Steve Ellis of Bottled Lightning for Bleeding Cool;
1. What is Bottled Lightning?
DG: Bottled Lightning is the production studio that Steve Ellis and I founded mostly as a home for our creator owned properties. We do other stuff for other clients – design work, illustration, comics, digital consulting, advertising, video games – but mostly its a place for us to keep our stuff.
SE: Bottled Lightning is a way for David and I to keep doing what we have been doing as a creative entity, but also to pursue our projects in different ways and different media. It will be a home for us to create and promote our projects old and new as well as work with others together
2. The Only Living Boy is a cool title. What is that about?
SE: Simply put, it's a fish out of water story starring a runaway boy who stumbles into a strange alien patchwork world. As he learns the ropes of living in this new place, he needs to grow and change to fit the challenges. It's high adventure with a dark undertone. It's about growing to meet challenges and changing the world. A hidden theme is that sometimes the most dangerous things we fight are inside ourselves.
DG: It's loosely modeled off of the pulp stories of Flash Gordon, Jungle Book, John Carter, Planet of the Apes, and I Am Legend. It also reflects my work experience as an educator working with special needs, high risk, and troubled teenagers. It tells the story of a twelve year old runaway, named Erik, who finds himself lost and alone in an patchwork, alien world. It's the story of how he tries to piece together a new life for himself while trying to grow up in a dangerous world.
SE: Somebody described it to me as 'Wizard of Oz for boys' … and yeah, it's kinda like that. It's targeted for more of a mass market, young adult audience. It's got monsters, insect princesses, mermaid warriors, and all that crazy kind of stuff our readers know us best for.
3. Will we see the return of High Moon or Box 13?
DG: Sure. I can't promise we'll see them this year though. HIGH MOON is currently parked with DC Comics. Though, in 2010, Jim Lee expressed interest in doing a Batman/High Moon crossover for their digital first line. So who knows. I think that's be fun.
SE: I can't wait to get back to the world of High Moon. Conroy Macgregor has a lot more story to him. Its the project that brought us together as a working team and it's what we're best known for so far and holds a special place for me. I'm hoping someday soon we'll have some news on it.
As for Box 13, we definitely have a lot of plans, a new trade and some more story to be exact. Right now, we're embroiled in the Only Living Boy production, but the Pandora Process trade will be coming soon. I'm looking forward to drawing more Olivia as well.
DG: More importantly, for now, we're continuing to take the digital tricks and techniques we pioneered with those two projects to our other digital projects.
4. What will Bottled Lightning offer that Monkeybrain and Image do not?
DG: I think that's like comparing ice cream, hamburgers, and pizza.
Ideally, we all create delicious, satisfying stories. More specifically though, we're a small entertainment company, that works mostly with a variety of properties, developing them into print comics, digital comics, webcomics, apps, and more. We're about finding the best formats and best delivery methods for the stories we're telling. Some days, we operate a lot like Image, other days Thrillbent, Man of Action, Madefire or Monkeybrain. We look at the best format for the stories we are telling and we take it from there.
5. With High Moon on Zuda and Box 13 on Comixology, you have been on the forefront of the digital comics revolution. How happy have you been with the results in that arena? What do you think of the way that market has evolved? What would you like to see in the future?
DG: Even before that, actually. I've been working in the arena of digital comics as far back as 1999 with Marvel Comics, but yes … it's been a while.
But, I've been pretty thrilled with the results. When we first started – both at Zuda and at Comixology, there were not a lot of people paying attention to digital comics. Our digital numbers were pretty staggering – far in excess of what many print titles were doing at the time.
It's funny to think that the The iPhone debuted the same year that Zuda launched. I remember talking to Paul Levitz at the Zuda Launch party in 2007 about how Apple was going to change the way people read comics. It's amazing to see that level of development and evolution – beyond what we did with High Moon and Box 13, you see innovation in stories like Valentine, Power Play, Eldritch!, In Maps & Legends and the Thrillbent titles. I think you're starting to see signs of it with the Monkeybrain books. Marvel, of course, has taken to digital is pretty stellar ways too. They've made content designed for specific formats, included digital as added value to the print editions, and made some tremendous in-roads.
I'd like to see other publishers follow their lead instead of trying to fit a circle peg into a square hole.
Digital Comics, after all, are not just print comics distributed digitally.
SE: If you take standard webcomics out of the equation, I think we're waiting for the first REAL digital hit. I mean — something that gets new audiences and really drives serious numbers of readers to the platform — by the millions.
DG: Steve and I also spent a great deal of time last year laying out plans for how digital creators could subsidize their work with sponsorships and advertising. We discussed those plans with a handful of companies and organizations. And it'll be interesting to see where those models go in the future and how they can help more creators generate some revenue for their work.
6. You have an ingenious method of laying out your comics to optimize them for digital platforms. Could you explain your methodology?
SE: What we did with Box 13 was to look at the phone and consider what would be the best way to read and understand any given story. For us, we decided that too many panels on a screen was a problem, so we reduced it to one. Since that one panel was a certain ratio we decided that that should be the ratio we would build the entire story on. We took the iphone panel and built a grid system for pages with panels all in the same ratio as the iphone screen. what we ended up with was a panel by panel experience for the phone, with a grid system for printed comics. While this made it more difficult to do elaborate panel designs, it meant that the movement between panels became more about storytelling. In the case of the iphone, the "gutter" disappeared as a physical space to be replaced by the timing of the readers swipe. The reader controlled the pacing with her swipe, so we had to learn to manipulate the timing of the swipes by how much or how little information would be given in any particular panel. More info delays the swipes and builds tension, less info makes the swipes faster. Our action sequences are very fluid and follow an almost storyboard-like pattern which allows us to show every detail of a fight over the course of many panels but will be swiped through quickly adding the speed to the action of the scene, whereas the more story driven panels with more detail encourage the reader to slow the pace, read more carefully and thus add more story gravity to those situations, Working this way with the phone really changed the way I looked at comics. I've heard a little criticism that the print version of Box 13 might be too "Boxy" in it's panel design, but I think it gives the book a traditional reading feel, which people who are less familiar with comics insider panel design can read easily. It also nicely rounds out the idea of "Box" 13.
7. What are you reading and enjoying currently?
DG: Digitally, I really enjoyed The October Girl by Matthew Dow Smith. I'm following the stuff on Thrillbent with baited breath. And Eldritch! is pretty fantastic! In print, I love Daredevil. I almost wish it were weekly.
SE: The Thrillbent stuff is very exciting. I was just reading "Luther" and the experience was seamless and compelling. I was a bit worried there would be too many bells and whistles to interfere with the "reading" experience, but so far I think the Thrillbent guys have been getting it right.
Our Twitter address is: @bottlelightning
Our website: bottled-lightning.com