The Locust Moon Comics Festival Doubles In Size, Returns To Philadelphia, October 5th By Hannah Means-Shannon
After a successful inaugural year in 2012, taking over the same space as the previously running Philadelphia Alternative Comic Con, the Locust Moon Festival is returning on October 5th, moving to a bigger venue at the Rotunda on Walnut Street, and adding twice as many creators to its list of guests and exhibitors. It'll be a full one-day event running on Saturday from 10-6 and takes a time slot as one of large slate of mid Atlantic region cons leading up to New York Comic Con the following week, from Baltimore Comic Con to Small Press Expo being held in September. The Locust Moon comic shop, gallery, and publishing house will still be the ring-leaders behind the festivities, and aim to create "more than just a convention" but to put the spotlight on "independent and creator-owned books".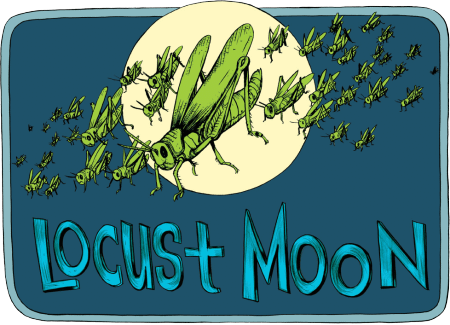 But it's clear they're gaining on their previous lessons learned by expanding, not only in their guest list, but in their programming and satellite events. Guest this year will include Box Brown, James Comey, Farel Dalrymple, J.G. Jones, Todd Klein, Michael Kupperman, Benjamin Marra, Tom Scioli, Robert Woods, and Chrissie Zullo, but more recently the festival has announced the underground greats Jay Lynch and Kim Deitch will also be supporting the event.
Robert Woods' 36 Lessons in Self-Destruction (a collection of Depressed Punx mini-comics) and Locust Moon's anthology Quarter Moon #2 will debut at the festival, and programming promises to include workshops, panels, discussions, and a focus on the "art, business, and history of comics". Satellite events throughout the weekend will consist of a Drink and Draw gathering, a release party for 36 Lessons, and a post-con pancake breakfast.

The Locust Moon Festival appears to be not only gathering steam, but following a similar pattern to the expansion of the Brooklyn Comics and Graphics Festival which rapidly became an institution of the Brooklyn comics scene from 2010-2013, and after announcements of its cancellation in Spring of 2013 is slated to be replaced by The Comics Arts Brooklyn Festival in 2014. The BCGF became a home event to launch new works and thrived on a low-key atmosphere that made it accessible to both fans and creators, a kind of estuary breeding ground for new and creative work. Locust Moon may well be on their way, building up a stable of strong underground and indie voices to give Philadelphia its own hotbed of up and coming innovation for indie comics, particularly if it becomes a focus point for launching new works.
Hannah Means-Shannon writes and blogs about comics for TRIP CITY and Sequart.org and is currently working on books about Neil Gaiman and Alan Moore for Sequart. She is @hannahmenzies on Twitter and hannahmenziesblog on WordPress. Find her bio here.