"The More Black Ink, The Less Likelihood Of Being Coloured Badly" – Mignola Sets Out His Plans At Thought Bubble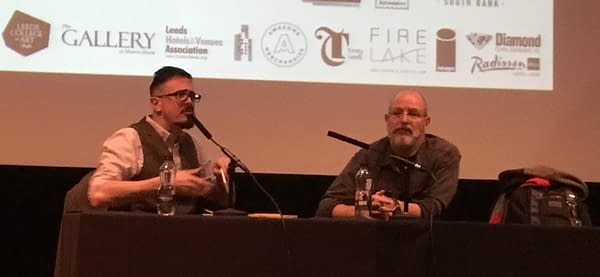 Mike Mignola was talking to 2000AD's Mike Molcher at Thought Bubble earlier today, on stage with a packed house, about his career – and his future.
Molcher talked about reading Mignola's Rocket Raccoon when young, but only encountering him again on Hellboy. "You skipped a lot of terrible comics." says Mignola. So how did his Hellboy style come about? Mignola put it down to "ten years of trial and error. Years of being coloured badly, the more black ink, the less likelihood of being coloured badly. I became as bulletproof to a colourist as possible." Back then he had no communication with the colourist, or even knew who they were.
These days it's very different and he and colourist Dave Stewart talk through every panel between them. And what started, talking about brown, green and blue panels, have now changed to speak in emotion.
He talked about working on Hellboy with a previous colourist, Mark Chiarello, on a story where he was choosing to stay away from yellow, because the arc would end in fire. it will end in fire. But Mark Chiarello coloured a burst of electricity yellow against green, because it looked great but narratively was wrong.
Mignola was asked about moving from artist to becoming a writer, and talked about how he drew stories to suit himself, whereas working with writers gave him both a crutch and a reason to move outside his comfort zone." He says that he is more ambitious as a writer. And that Hellboy would never have driven a car if he was drawing it. While BPRD would have still have been haunted houses, but is now more militaristic.
He talked about his scripter on the first Hellboy story, "we had a great working relationship, not something you always hear with John Byrne" but after that first mini-series, Byrne told him "son, you're on your own." He needed that confidence boost to write and draw all his work. But he also noted that, for him, some of Byrne's script was too stylised, he wanted less polish. Because Hellboy is just a regular guy, he's Mike, put in extraordinary conditions.
He talked about his influences, but Michael Moorcock was only a recognised one for him in retrospect. "A cursed hero who will bring about the end of the world? Hmm, I wonder where I got that from."
He also talked about visiting Whitby on his journey to Britain, which saved his wife the job of bringing his ashes after his death, since he planned to visit here one way or another due to it's connections to DRacula, the harbour in which the count came to Britain. And he was pleased to discover that "it had less cheesy Dracula sh-t than I thought."
He also spent time there arguing with Richard Starkings over where the boat would have come into Whitby, with a dead guy at the wheel. But Dracula's transformation as a dog was much easier explained "Has to be easier to run up those stairs as a dog" as Mignola only managed it, hacking and wheezing.
We also got a little psychoanalysis, with Mignola seeing the source of his work as an unhappy childhood as a result of his mother dying when he was so young, leaving him a super shy kid and finding escape in Victorian literature, folklore and swords'n'sorcery.
Talking about the most recent series Hellboy In Hell, bringing Hellboy to an end – there are spoilers here. "It changed a lot." Originally the series was going to be odd little stand alone stories, including one killing Satan as a sideplot – but it grew and took over the plot, and the series expanded into twenty planned issues. Until he got to issue 8 and, as he put it "my brain said that was it. The story's done." He'd plotted sevem more issues but his brain decided he wasnt going to draw them, and neither was anyone else.
He knew he needed two more issues to fill a trade paperback, so he drew two from the planned eight, including mocing issue 15 to be issue 10, and crammed everything else into issue 9, dealing with the newly revealed x-wife of Hellboy and decided to just "let them have a conversation." It also enabled him to find the missing motivation for Hellboy to kill Satan. "Hellboy was so much like me, you need his wife to say, this is what you're here for, do this." And that his own wife made him do more Hellboy in the past, rather than go back to Batman. So having Hellboy walk into Mike's own living room, with shapes that he'd made for this daughter when the ideas for Hellboy began, hanging there. And putting everything away, neat and tidily, in his own head as much as anyone else's so he isn;t tempted to return. And no one else has to either, even after his death.
And while he has changed his life to become a painter, he still has comics in his head. He is plotting a "non-Hellboy comic that I'll be doing in the next couple of months" and he wants to do a "gothic vampire thing" but he wants to keep his paintings in the mix.
As to the continuing Hellboy universe currently published by Dark Horse that he oversees? "Yeah, we'll see how much further that goes on…" The tone, and the laughter that followed suggested it might not.
To see other coverage from Thought Bubble over the show, click here.