The Saga of Stella & Bennie Dickson in True Crime Comics #3 at Auction
One of the most famous crime comic books of the Pre-Code era, True Crime Comics #3 features work by the legendary Jack Cole.
---
True Crime Comics #3, cover-dated July-August 1948 and published by Magazine Village, has long been considered an important issue for fans of crime comics. It features the real-life saga of Stella Mae and Bennie Dickson, a Bonnie and Clyde-style husband and wife team who went on a multi-state crime spree in 1938-1939, adapted into a comic story and cover by legendary comic book creator Jack Cole. A key crime comic book from an important series and by a noteworthy creator, there's a copy of this issue up for auction in the 2023 January 29-30 Sunday & Monday Comic Books Select Auction #122305 at Heritage Auctions.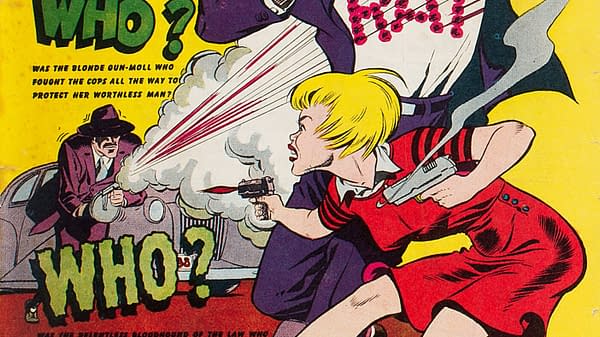 Stella Mae and Bennie Dickson were a couple whose eight-month crime spree in 1938-1939 captured the attention of the nation. They stole cars, robbed banks, and traded gunfire with authorities across several states, including South Dakota, Kansas, Iowa, Michigan, Missouri, and Indiana. As depicted on Cole's cover for True Crime Comics #3, Bennie was gunned down by the FBI in St. Louis on April 6, 1939, with Stella being captured the following day.
True Crime Comics #3 's "drug story," titled Joyce McAllister, is another noteworthy inclusion in this issue. This story centers around drug use, which was a favorite taboo subject of comics of this era. But perhaps more interestingly, it is the real-life tale of a mysterious woman whose undercover work was instrumental in leading to drug raids by local and federal authorities in Reno, Nevada in 1937. There appears to have been widespread confusion about McAllister's true identity and whether or not she was a government agent of some sort. True Crime Comics #3 also includes a text story credited to O.J. Peterson, a U.S. Secret Service agent who worked in their Chicago office in the 1930s and 1940s. Peterson relates the story of Paul Massilotti, the leader of a ring of check forgers who was captured and convicted in 1937.
Jack Cole was a wildly creative and important Golden Age artist whose most famous creation is the character Plastic Man for Quality Comics. He was also a regular cartoonist for Playboy magazine later in his career, and did a wide variety of material for comics before then, including working on the Golden Age Daredevil and creating The Claw for Silver Streak Comics. The short-lived True Crime Comics was the only comic book title from publisher Magazine Village, owned by Arthur Bernhard, who had launched the foundational Golden Age title Silver Streak Comics in 1939 and later partnered with Lev Gleason. Magazine Village was also the publisher of a number of true crime magazines such as Police Detective Cases, Special Detective Cases, and similar titles, and a line of paperbacks in this same vein.
This copy of True Crime Comics #3 has been graded Good by Heritage Auctions. While this copy is unslabbed, there are 50 entries for this issue on the CGC census, and copies are eagerly sought after by crime comic collectors. Notably, this issue is currently listed at #9 on Overstreet's Top Ten Crime Comics list, and there's a copy up for auction in the 2023 January 29-30 Sunday & Monday Comic Books Select Auction #122305 at Heritage Auctions. If you're new to Heritage Auctions, make sure to check out their FAQ on the bidding process and related matters.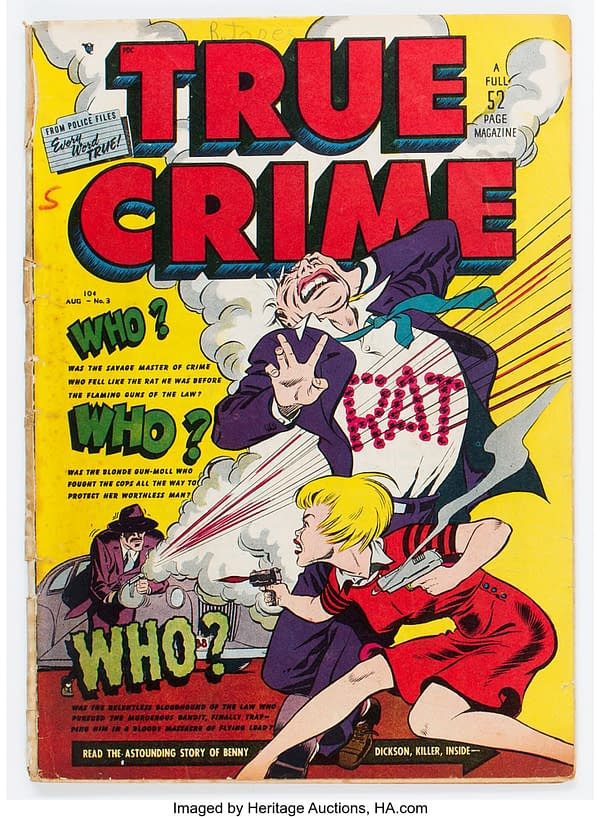 Affiliates of Bleeding Cool buy from and/or consign to Heritage Auctions.