The Tick Has Exclusive Comics, Mugs, and Spoons, For Comic-Con@Home
The Tick has been a regular at San Diego Comic-Con for decades, always publishing, before the first TV show, between that show and the more recent Amazon Prime series, and afterwards. The Tick is The Tick, it is always going to be the Tick, and it has a small but loyal fan following not swayed by the whims of multi-media. Created by Ben Edlund, he always has exclusive comics and merch available at the show in his New England Comics booth. And even though we have no San Diego Comic-Con this year, New England Comics will be there, remotely, with a virtual booth at the Comic-Con@Home edition of the 2020 San Diego Comic-Con. And Bleeding Cool has a look at just what they are offering up, with new comic books by Jeff McClelland and Ian Nichols, as well as homeware too. Shipping may, of course, vary.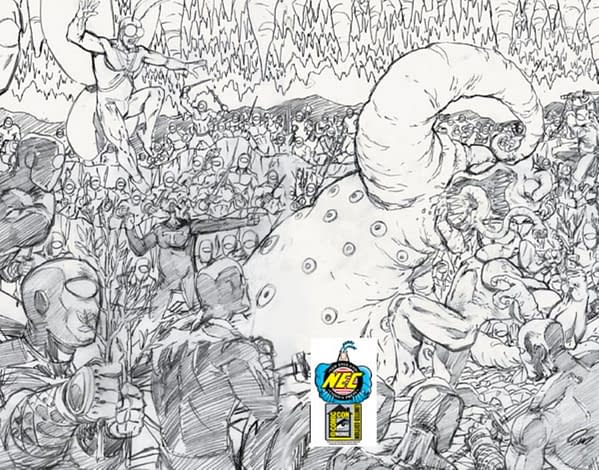 SDCC FCBD 2020 Exclusive The Tick Variant Cover. Presenting The Tick FCBD Sketch Variant comic This 32 page ltd ed comic has an all new 13 page Tick story. This issue highlights a sketch wrap-a-round cover which has yet to be offered ANYWHERE! Limited to 300 copies, serial numbered and autographed by Ian Nichols! Written by Jeff McClelland and Illustrated by Ian Nichols. Price $9.99
2019 Limited Edition Tick Comic Book Special. This variant cover from the 2019 Con season which was produced only for the New England Comics comic shops. This is the first time the 2019 Limited Edition Tick Comic has been offered anywhere else! Limited to 1,000 copies and serial numbered. Written by Jeff McClelland and Illustrated by Ian Nichols. Price $5.99
NEW Tick Mug. The NEW 2-sided Tick mug is the most colorful mug we've produced to date! Great for taking breaks while patrolling roof tops, stake outs and questioning suspects. Comes with its own spoon! $14.99
Who's up for a brew?