The War Of The Realms #1 is published on Wednesday, the official kick-off of the big event that Jason Aaron has been building for years, with Thor, Mighty Thor, Avengers and Marvel Legacy.
Written by Jason Aaron, drawn by Russell Dauterman, coloured by Matthew Wilson, lettered by Joe Sabino, edited by Sarah Brunstad and Wil Moss with symbols created by Patrick McGrath.
In which Malekith invades Earth. Notably New York. And we basically get a reprise of Avengers Assemble meets Inferno… with Marvel's heroes and anti-heroes reacting to the invasion as if it's another Tuesday. Which it probably is.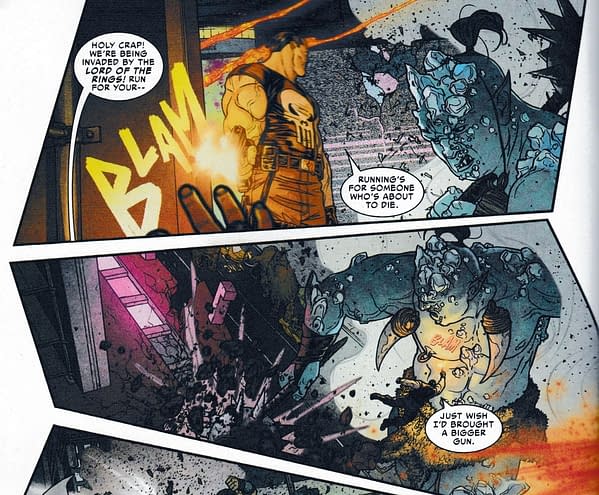 The Punisher vs Frost Giants. This is what you pay your six bucks for. In fact all the New York street fighters come out for this one. Not just the cosmic boys.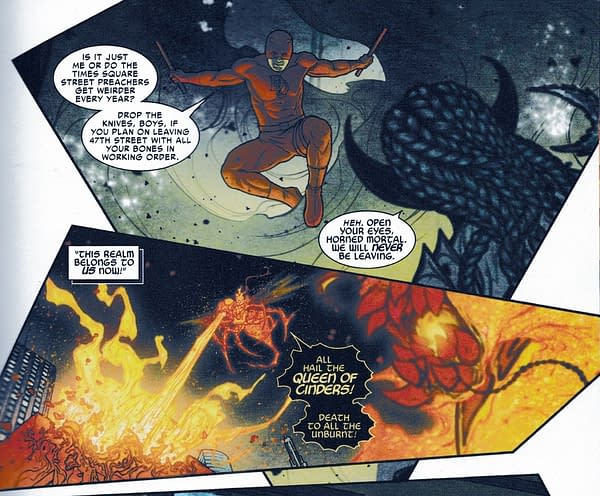 And we get some very-fun playing with the terminology as well.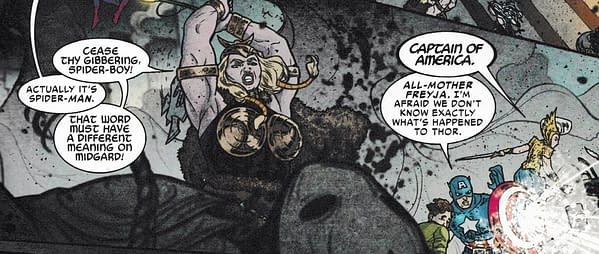 I do like 'Captain Of America'. Sometimes you just need a simple rephrase to draw attention to what you knew all along. And sometimes there's just Tony Stark. Who exhibits the super power he's always had at his disposal, whatever suit he's wearing. Or not wearing.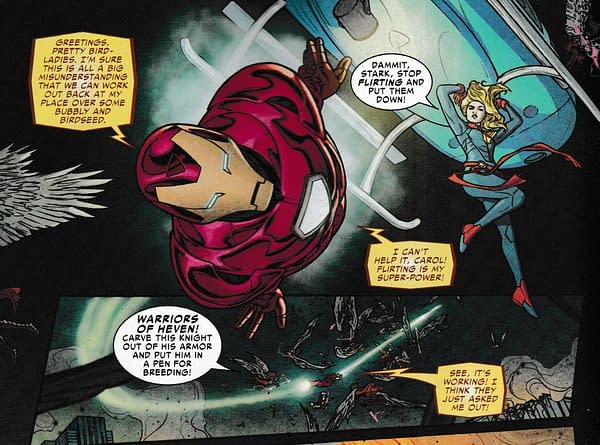 I mean… is that meant to be a punishment for Tony? That sounds like his chosen life.
But while all this action is going on, Thor and Loki are getting to the heart of things. As Loki continues to play all sides against each other, he is given an ultimatum by his half-brother – and yes, all the familial interplay comes out in this issue.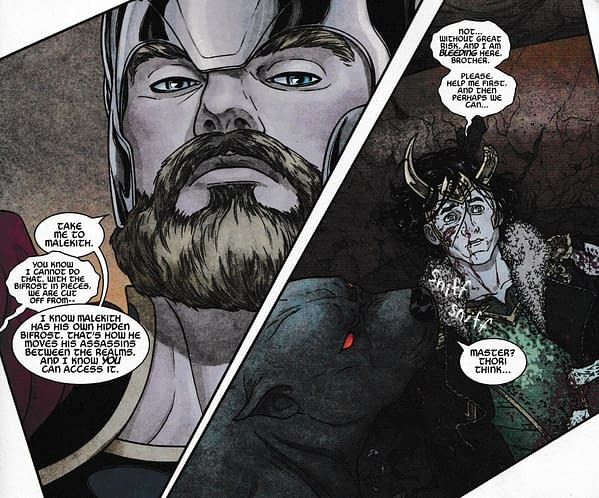 Just keep an eye on the dog.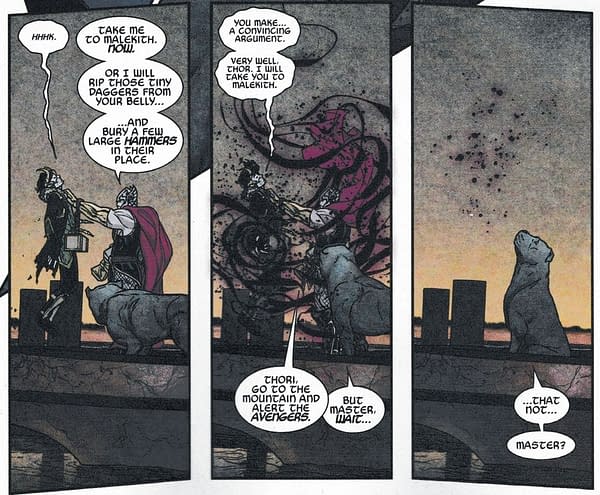 And as Loki does as he is bid, and takes the battle to his biological frost giant father, so his trepidation gains some kind of reality.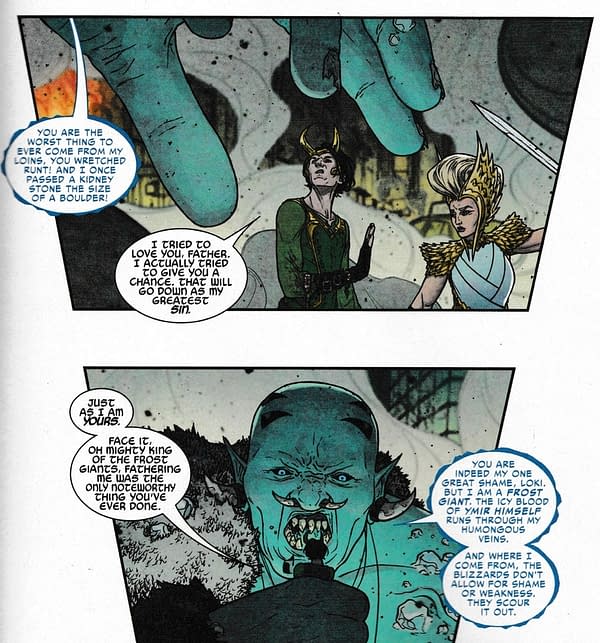 And it leads to what may be the biggest spoiler and gamechanges of The War Of The Realms #1 – and certainly tends towards where this all may be heading. Which means one of these has to come into play… As Loki goes on the menu.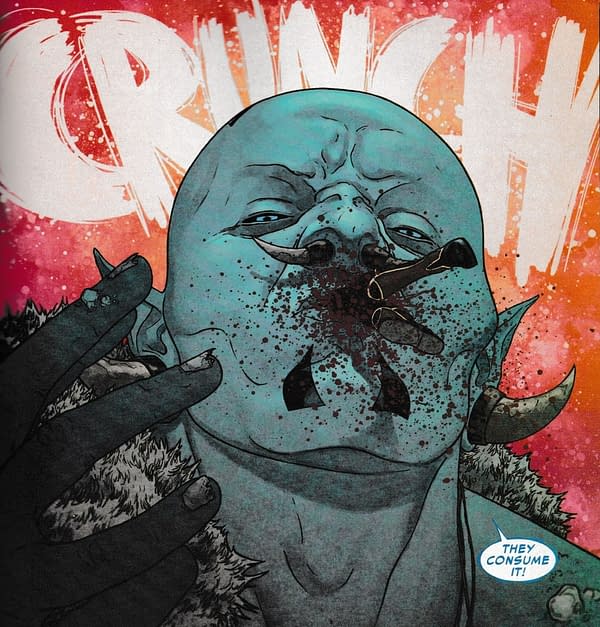 That's why mum's gone to Iceland. I mean, I am all for Loki being a tasty treat, but that's a bit much even for me.Now this is not the first time Loki has died. He is a Norse God, it comes with the mythology. But this looks a rather physical on-panel death – with sound effects to match.
Though as Thori, the helldog who would know Loki better than anyone, sniffed, it may be someone else entirely under that particular candy wrapper…
WAR OF REALMS #1 (OF 6)
(W) Jason Aaron (A) Russell Dauterman (CA) Arthur Adams, Matthew Wilson
Asgard. Alfheim. Heven. Jotunheim. Muspelheim. Niffleheim. Nidavellir. Svartalfheim. Vanaheim. All of the Ten Realms have fallen to Malekith and his army except one: Midgard. Home to Thor's beloved humans. Home to heroes and gods alike. Now, at last, it burns. And Thor won't even be there to see it.
All hell breaks loose in New York City as Malekith and his allies begin their invasion – and the greatest heroes of the Marvel Universe watch as the Earth falls!
Rated T+In Shops: Apr 03, 2019
SRP: $5.99
Enjoyed this article? Share it!