The Witcher: of Flesh and Flame #1 Lacks Magic
[rwp_box_recap id="0"]
The Witcher series of books and video games bring epic fantasy, monsters and magic in the form of their protagonist, Geralt of Rivia. Geralt is a monster hunter, who was trained and mutated from an early age to track down and slay creatures for coin. Dark Horse holds the reigns on the Witcher's forays into the comic book realms, and it's sadly nothing worth celebrating.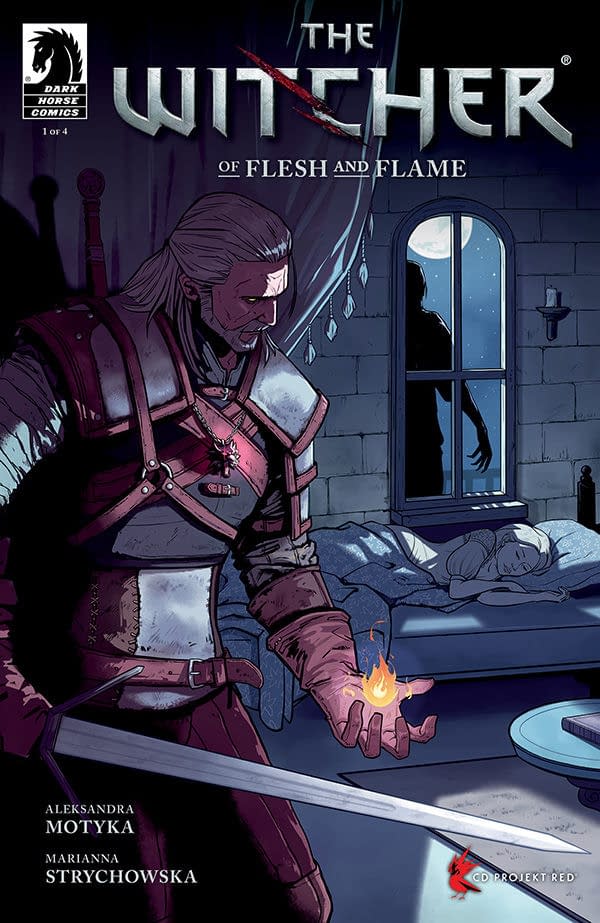 Aleksandra Motyka's story finds Geralt riding towards the town of Novigrad at the behest of an old friend, who's daughter, Celia, has been receiving a visitor late at night to her father's dismay. The father suspects a monster of some sort, and Geralt believes it may be a suitor. Regardless, Geralt takes on the Witcher's contract to get to the bottom of the mystery.
The plot is pretty standard fare, yet nothing stands out as exceptional. The dialogue carries the reader from point A to point B without any heavy lifting required of them, and the whole affair is over and done in ten minutes. Fans of The Witcher franchise will probably enjoy a few of the cameos, but nothing about this issue felt like more than set-dressing for a franchise that deserves more.
The artwork from Marianna Strychowska is passable, but it feels rushed. Strychowska is obviously capable of illustrating a book to a deadline, but it would be nice to see some of the magic of Andrzej Sapkowski's world rendered on the page. When reading a story with a magical setting, one expects to see something invoking that magic; instead, the reader is offered villages without depth, fortresses plotted in simple one point perspective, and characters that lack any characters. Her Geralt is consistent throughout the book, and the story is never side-tracked by the art, but it all feels largely lacking.
This is the first of a four-part story, hopefully future entries will be more worthy of the franchise. As it stands, this is pretty average fare for what should have been an amazing outing.
[rwp_box_reviews id="0"]
[rwp_box_form id="0"]