Valiant Entertainment is looking to get themselves some of that sweet murder comic money in 2020 with a new five-issue series called The Final Witness, billed as "A Crime-Noir Serial Killer Mystery" and teased today in a press release with the caption: "Can You Solve the Case?"
We don't know the who, what, where, or how, but we definitely know the why: $$$$.
The image shows a chalk outline of a decapitated person with the Golden Gate Bridge in the background. You can tell it's the Golden Gate Bridge because of all the traffic.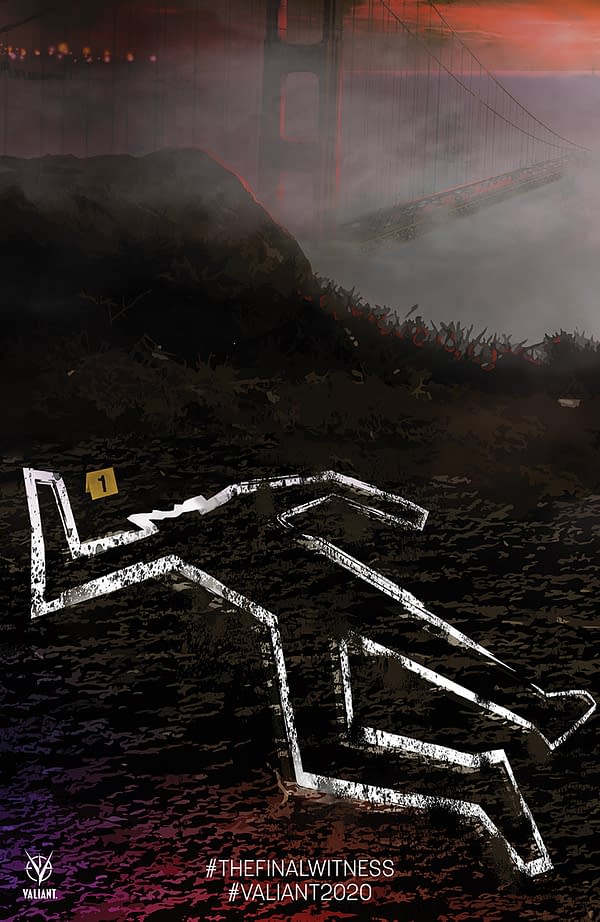 In addition to the teaser, Valiant gave EX-X-XCLUSIVE details to an EX-X-XCLUSIVE article EX-X-XCLUSIVELY on Syfy Wire, where mastermind editor Heather Antos refused to reveal the creative team, but did say that the comic will allow readers to "meet new characters and different types of people and see how they cope with superheroed crime in a grounded way. San Francisco is a city we haven't explored much in Valiant and for anyone who has knowledge in true crime, knows that it's a city with a colorful past." The series is inspired by the popularity of true crime podcasts and documentaries, and will not star a single lead character, with the mystery itself taking the lead role and four lead characters described as "a police force that is front and center, an investigative journalist looking for the truth who understands that what we see might not be real, an arsonist and a new superhero, whose origin is tied to the arrival of a villain."
Of course, Bleeding Cool EX-X-XCLUSIVELY scooped the name of the comic months ago. Pip pip!
We should find out more about The Final Witness in the coming months, so stay tuned.
Enjoyed this article? Share it!