Three Stan Lee Street Murals Spring Up – More to Come?
Stan Lee died less than two weeks ago. Much has been written about him and his legacy, since. But there are also more visual and visible tributes to The Man.
Red Cinemas in Greensboro, North Carolina commissioned this mural.
Here's the finished version.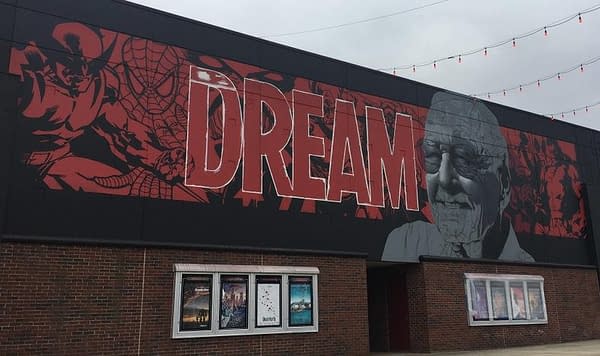 And there's this Los Angeles mural on the corner of 48th St and Saint Andrews, from the local latino artist group SopitaGvng and you can see it going up here:
There is this mural by Jim Visions, on Rhoda Street n East London, away from the main roads.
And at the University Of Florida, this appeal was posted on Reddit.
34th St Stan Lee Mural
Hey this is kind of a weird place to put this but do any of you guys want to organize and paint a Stan Lee memorial on the 34th St wall? I would love to get some people to join even if you aren't good at art or even if you don't really care about Marvel. I'm thinking something in comic book style but I'm open to ideas. I have never done anything on the wall so if you have any tips please let me know! I'll DM my contact info or make a groupme depending on interest level.
More to come?