This morning, Bleeding Cool ran the solicitations for IDW's comics coming out in January 2019, including this particular one:
Magic: The Gathering: Chandra #3

Vita Ayala (w) • Harvey Tolibao (a) • Siya Oum (c)

Tibalt's attacks on Chandra get more personal—and closer to home—as he thrives on her anguish. Meanwhile, Ajani tries to help her make peace with the events of her past, but will Chandra's outrage be enough to overcome the devilish Planeswalker's empathic onslaught? Vita Ayala and Harvey Tolibao continue their exploration of one of Magic's most popular—and powerful—characters, pushing her closer to the brink than ever before!

Features a story spinning directly out of January's new Magic card set, Ravnica Allegiance™, and the yet-to-be-revealed spring 2019 set!
Fan-favorite villain Tibalt returns, after a long absence from Magic's story.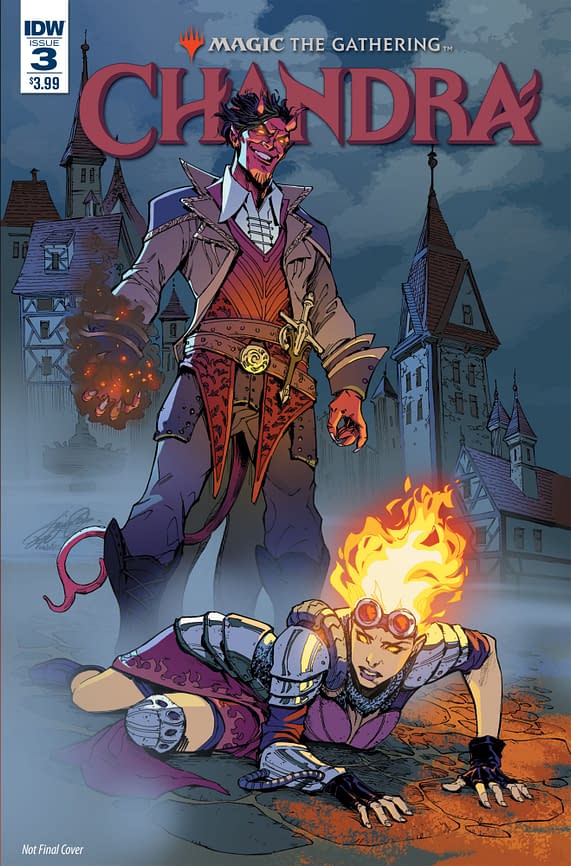 And suddenly Bleeding Cool started getting a tonne of traffic, directly to that image. The cover depicts the character Tibalt in the fashion seen on the infamous Magic: The Gathering card 'Tibalt, The Fiend-Blooded'.
The card is often mocked as being useless for playing with, and has given Tibalt the reputation as 'the worst planeswalker'. The card is so bad that the character became a joke as well, mocked for his lack of backstory and even his clothes. You can enjoy a little of the reputation the character has gained in this video.
And now he is getting a greater presence in the Magic The Gathering comic books – and, it seems, the card game as well. Could this be an attempt by IDW and Magic to reclaim and rescue Tibalt to glory. Lots of people have wanted more planeswalker action – possibly not this particular planeswalker though.
If nothing else, it should provide plenty of content for further memes.
Thanks to Reddit users Armoric and vaqari and for filling us in…
Enjoyed this article? Share it!