Today, Lois Lane Tells Clark Kent The Importance Of The White House Correspondents' Dinner (Action Comics Special Spoiler)
From this side of the pond, I have been utterly baffled by the reaction to Michelle Wolf's speech to the White House Correspondents Dinner. It's a roast, people are there for that very thing, it's consensual, and the current President skipped it again. Previous holders of that title have received far worse and took it – remember Stephen Colbert and George W Bush? He may not have laughed along like Obama – but he went. And nothing Wolf said was in any way out of order compared to previous speakers. And for the organisers themselves to state "Last night's program was meant to offer a unifying message about our common commitment to a vigorous and free press while honoring civility, great reporting and scholarship winners, not to divide people. Unfortunately, the entertainer's monologue was not in the spirit of that mission." Which made me think… have they listened to other White House Correspondents Dinner speeches? Or watched Wolf's set? Or read the first paragraph of their statement in which they used the words 'free press'? As everyone continues to kick off about this, maybe it's time to listen to Lois Lane.
Who, in today's Action Comics Special #1 in a story published today by DC Comics, written by Mark Russell, drawn by Jill Thompson and coloured by Romulo Fajardo Jr. And it could not be timelier.
It is set an unstated number of years ago. In the DC Comics universe, Lex Luthor served as President Of the United States for a short period and this predates that. Though the Hunger Games reference dates this to either Bush or Obama.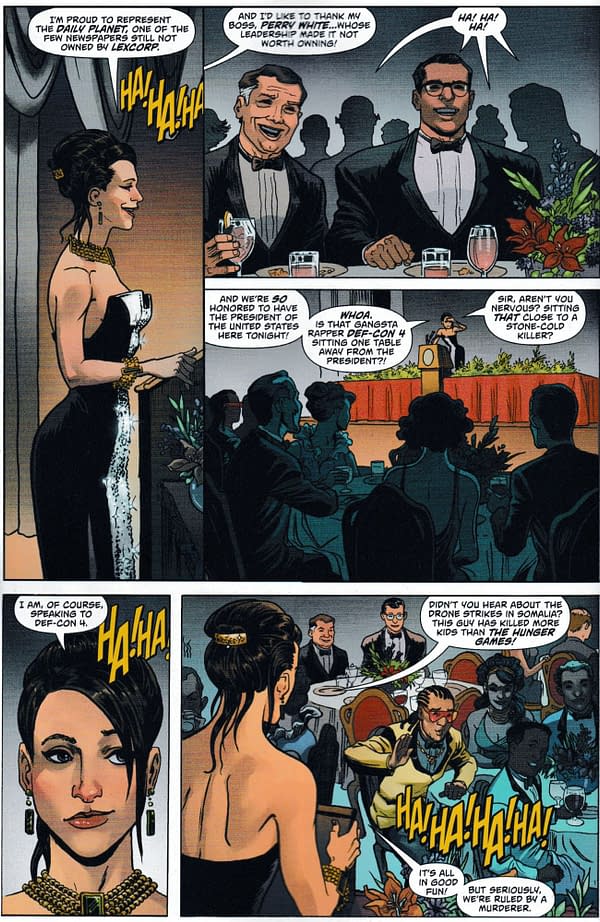 And then we get a flashback to Lois explaining the White House Correspondents Dinner to the innocent bewildered Clark Kent.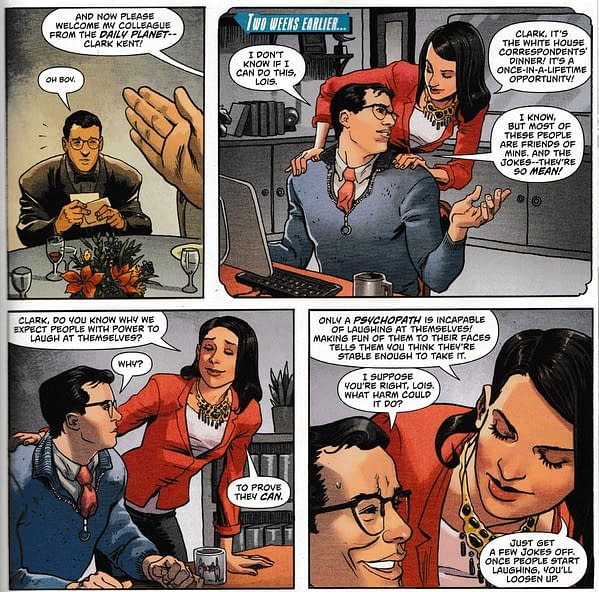 Only a psychopath is incapable of laughing at themselves… who might that most describe in recent days? Of course in the DC Universe, that's targeted at one person…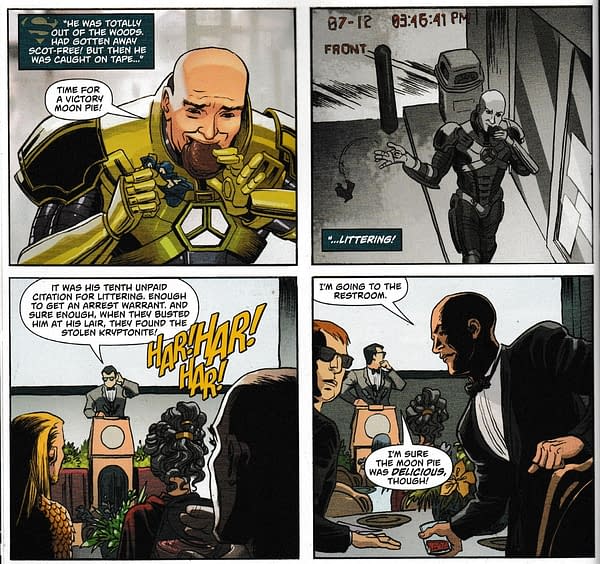 As we all know, Lex Luthor stole forty cakes. And that's terrible.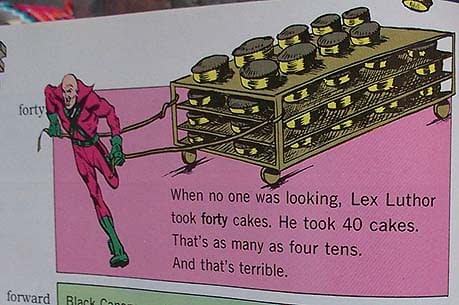 But it seems he only got caught for ten.
It is said that President Obama's jokes about Donald Trump at the White House Correspondents' Dinner in 2011 so offended Trump, that it persuaded him to double down and win the election, as well as destroy any legacy of Obama's Presidency.
And in today' Action Comics Special #1 from DC Comics they portray Lex Luthor in much the same way, underlining DC's reputation for portraying Lex Luthor as a long-running analogue to Donald Trump. Action Comics Special #1 is published today. As is Exit Stage Left: The Snagglepuss Chronicles also written by Mark Russell which could very well work as a companion story to this one.
ACTION COMICS SPECIAL #1
(W) Dan Jurgens, Max Landis, Mark Russell (A) Francis Manapul, Jill Thompson (A/CA) Will Conrad
"The Last Will and Testament of Lex Luthor"! When Superman's world was reborn, his greatest enemy became his most unexpected ally. But does that truly reflect Lex Luthor-or was it all a sham? Now, as Lex Luthor's path toward righteousness reaches its apex, he finds himself involved in an adventure in which Superman stands to be destroyed. What choice will Luthor make? Will he save Superman or watch him die at the hands of a foe he could not possibly imagine? This oversized special also features stories from the acclaimed teams of Max Landis and Francis Manapul (in a story previously slated to appear in the DC UNIVERSE HOLIDAY SPECIAL 2017 #1) and Mark Russell and Jill Thompson!In Shops: May 02, 2018
SRP: $4.99