Today's Travel Guide To The Multiverse – Futures And World's End, New And Secret Avengers, Infinity Man And Multiversity
When holidaying through the multiverse, it is sometimes tempting to elieve the grass is always greener. So in New 52: Futures End, the new Batman Beyond persuades Brother Eye to look across the multiverse to another reality… And in Earth 2: World's End, that's exactly where they are… …and the Green Lantern looks back again. Maybe sometimes you should just be happy with the universe you have travelled to? But it also gives a potential for timelines to change…
Of course, sometimes the place you travel may not be as advertised in the catalogue, such as in New Avengers #32.. And also be aware that electronic devices that work at home, may not work in your chosen destinations. And when you do return home from your dimension of vacation, you may be tempted to bring something home with you, such as in today's Secret Avengers, without gong through the correct quarantine procedures.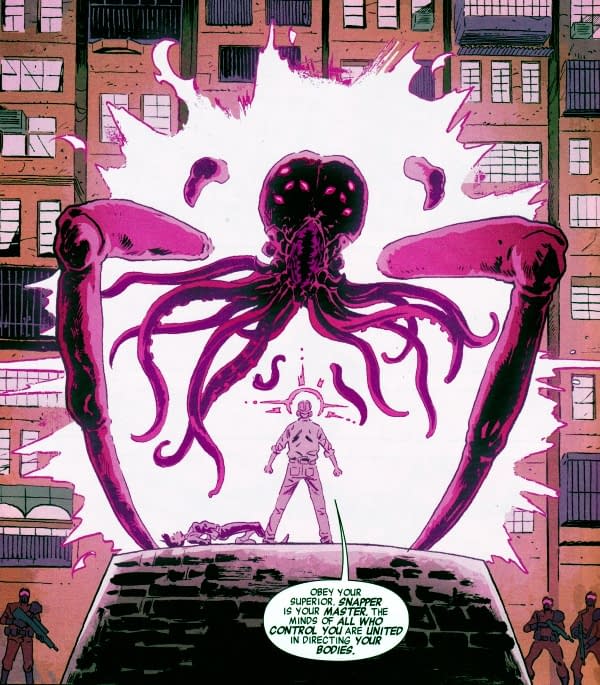 And it's probably time that quarantine was stepped up to the mental as well as the physical plane. After all, the things you really don't want to come into you country from abroad are ideas… But whatever you do, as the final panel of the final page of the final issue of the Infinity Man And The Forever People tells you, take care getting home…
Comics courtesy of Orbital Comics, London. Who, this Saturday, are hosting John Allison for the release of his new series Giant Days from Boom! Studios.