Written by Amanda Gurall at New York Comic Con
Todd McFarlane gave a passionate spotlight panel today where he implored anyone who wants to create a comic to do it now. He proposed that this is the best time to make your project because the major corporations own so many licenses that the only way they or the smaller companies can get new content is to look at the independent and new talent. It's happening in television as well, because of the sheer number of outlets being financed both traditional and non. They are all scrambling for fresh content because they are locked out of most of the biggest titles by Disney and Warner Brothers, etc.
He spoke a bit about the founding of Image and how the power of numbers allowed them to create their own path between Marvel and DC and to attract the artists who were bouncing between them, unhappy. One of the keys to their success is allowing the artists to retain control over their own properties and to encourage them to make their own decisions. He mentioned that people like Robert Kirkman and Brian K. Vaughan are artists making their own way with their own control and doing it now, under modern circumstances.
"The average artist does one book a month, writers can do 2-5 a month. So I go, here's why you will fail: you are popular writer A and you do five books. You do Thor and The Avengers for Marvel, you do Batman and The Flash for DC and you go do your fifth book, your own Rutabaga Man. Ok? Now I know you have a lot of fans but a lot of fans don't have the money to buy everything you do. Are they going to buy big brand A,B,C or they going to buy this unknown book? It becomes low priority. If you had shut this spigot (big titles) off and did five books of Rutabaga Man, they will buy all of your stuff. Robert Kirkman came along and did this on his own for awhile and I said wow, he's playing the game the way it should be played. He was doing it the way it should be done and advocating for other people as well."
He also lamented that it's getting harder to hire people to do comic books because they are making more short-term money drawing other artist's work for conventions and on small commissions. Long term though they are hurting their career.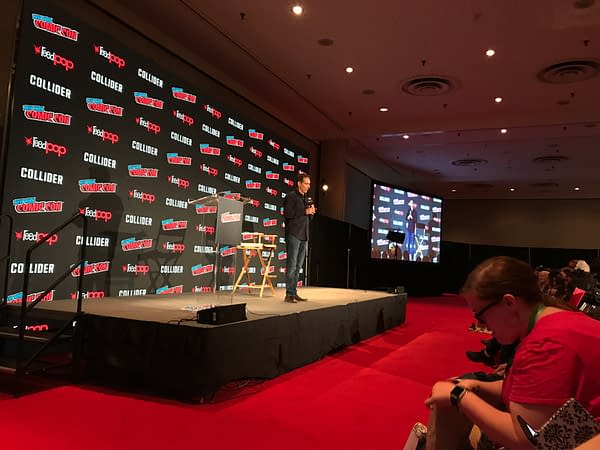 "If you never do any body of work they will never know who you are so you'll only be able to raise your prices based on inflation. Where I can go do a sketch and it's worth ten times as much because of my body of work. So I would put in a little bit of hard work and then take the easy street. As long as I have one eye and my hand moves I can theoretically make money as long as I have breath."
McFarlane talked a bit about the meetings he is having with AMC for Sam and Twitch with Kevin Smith, they are waiting for the green light but next year we should be able to be discuss that show at next year's NYCC.
He did not reveal anything new for the new Spawn film as they are in the budgeting stage now with production starting in February. He intends on doing one Facebook live each day of filming to show us behind the scenes "stupid stuff". The film will be a fully R rated drama and not a super hero movie.
"It's going to be dark, and it will come, and you will never, ever see Spawn's full anatomy. I will have a shark in black water and if you're not looking, and you're swimming..then you are gone and he will fuck you up."
Look for the new Stranger Things line of toys, an untitled project with HBO, more books and Of course Spawn, directed by McFarnane himself coming soon.
Enjoyed this article? Share it!