We've noted that Tom King seems to be having fun with his comics, coming up with new and different ways — or just not often used techniques to tell his stories. I mentioned earlier that tomorrow's Mister Miracle #2 seems ripped right out of Alan Moore and Bill Sienkiewicz's Big Numbers.
But it doesn't always go down well. Take Batman #10 on Twitter:
dude his batman since #10 has been horrible. The repetition? Something is off or he just doesn't get these

— AquamAnder 🐠🔱 (@AquamAnder) November 20, 2016
On Reddit:
[Opinion] Is Tom King's dialogue repetition annoying anyone else from DCcomics
What repetition is this? Well, in Batman #10, Batman begins his assault on Bane's lair. And he has something to say.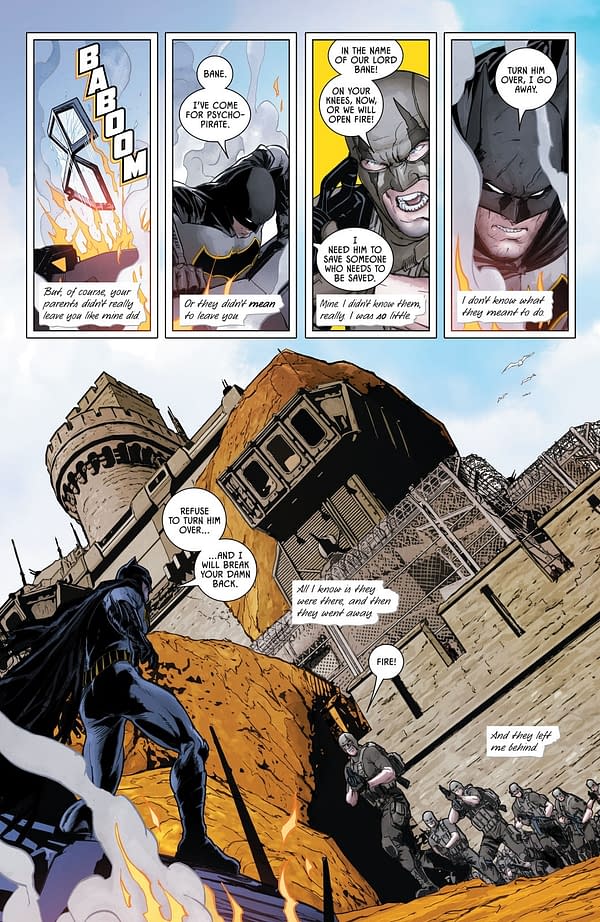 And… I confess I got a bit of a Princess Bride vibe from "Bane. I've come for Psycho-Pirate. I need him to save someone who needs to be saved. Turn him over, I go away. Refuse to turn him over and I will break your damn back."
You know…
But now that the book has been collected in hardcover, something changed. Take a look at this edited page from the collection. Batman shuts up? Looks like Tom King took a step back…
Batman: The Rebirth Deluxe Edition Book 1 (Rebirth) Hardcover – September 5, 2017 by Tom King (Author), David Finch (Illustrator), Mikel Janin (Illustrator)

The first two volumes of BATMAN as a part of DC Universe Rebirth are collected here in hardcover for the first time ever!

The Caped Crusader has never been stopped. Not by the Joker. Not by Two-Face. Not even by the entire Justice League. But now, in the wake of DC UNIVERSE: REBIRTH, Batman must face his most challenging foe ever–a hero who wants to save Gotham…from the Batman!

From one of the biggest breakout writers in years and former CIA analyst Tom King (GRAYSON, THE SHERIFF OF BABYLON) and superstar artist David Finch present BATMAN VOL. 1! This collection features the first two paperback volumes of the series, combined to make a deluxe edition graphic novel in hardcover for the first time ever. Collects BATMAN: REBIRTH #1 (co-written by former Bat-scribe Scott Snyder) and BATMAN #1-15.
Enjoyed this article? Share it!