IDW is putting the launch issues of both of its current Transformers crossover comic books back to a second printing. Both Transformers Vs Terminator #1 by David Mariotte, John Barber, Tom Waltz and Alex Milne, and the tonally diametrically opposed My Little Pony/Transformers #1 by James Asmus, Ian Flynn, Tony Fleecs and Jack Lawrence will be getting second printings, both in stores for the 2nd of September. Given this success, how long will it before we join the cross-continuity triangle together and get a Terminator/My Little Pony comic book? Come with me if your friendship is magic? Hasta la vista, BFF. Could we have Skynet in the future making robotic ponies with steel skeletons, and rainbow coloured combable hair? It's only a matter of time, surely? As these pre-publication sell-outs at the distributor level, with reprints to follow, attest. Someone should totally pitch it and now seems to be the time.
TRANSFORMERS VS TERMINATOR #1 (OF 4) 2ND PTG
IDW PUBLISHING
JUN208291
(W) David Mariotte, John Barber, Tom Waltz (A) Alex Milne
It's Skynet vs. Cybertron in a crossover for the ages! 1984: When a deadly race of machines emerge from another time, will a robotic guardian be able to protect the Earth from a dire future… or will the T-800 fail in his mission to prevent the world from becoming a plaything to the Decepticons? In Shops: Sep 02, 2020 SRP: $3.99

MY LITTLE PONY/TRANSFORMERS #1 (OF 4) 2ND PTG
IDW PUBLISHING
JUN208290
(W) James Asmus, Ian Flynn (A) Tony Fleecs, Jack Lawrence
SECOND PRINTING ! When Queen Chrysalis casts a spell looking for more changelings, she accidentally interferes with a malfunctioning Spacebridge! What's this mean for our favorite fillies? There are suddenly a bunch of Autobots and Decepticons in Equestria! And as the dust settles, Rarity and Arcee find themselves teaming up against a hostile Decepticon force… In Shops: Sep 02, 2020 SRP: $3.99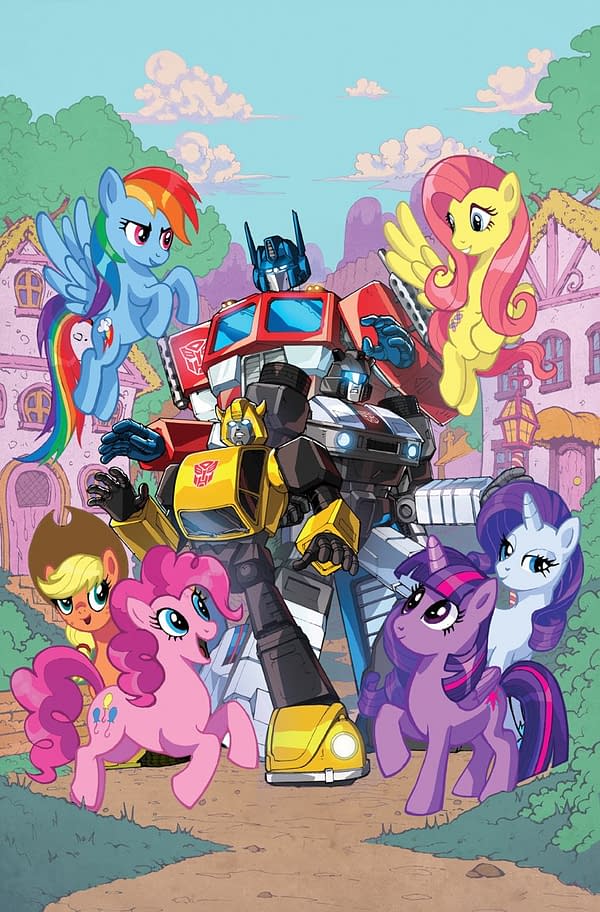 Enjoyed this article? Share it!