TRESE Comic Debuts in English at Ablaze With a Netflix Anime to Follow
ABLAZE, the comics publisher known for releasing Mirka Andolfo's Un/Sacred and attempting to publish Conan comics, has announced a new series of graphic novels that already has a Netflix anime deal. TRESE debuts in English this September from writer Budjette Tan and artist Kajo Baldisimo. The series, which focuses on Philippine mythology, was originally published to acclaim, winning the Philippine National Book Award for Best Graphic Literature of the Year three times. This new TRESE comic will, in addition to being translated to English, will feature new content.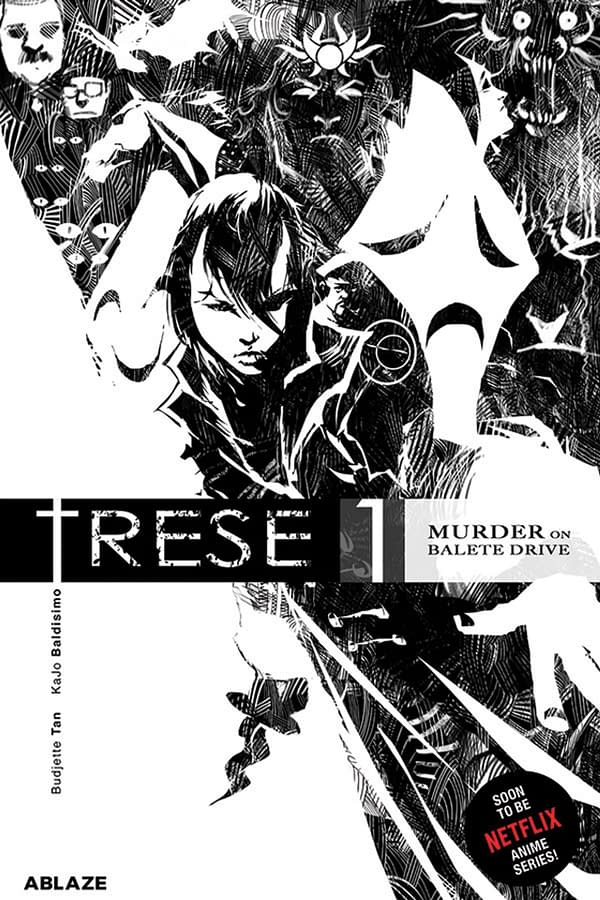 TRESE has a unique success story that harkens back to the do-it-yourself indie comics scene of times gone by. The series went from a run of comics made on a photocopier, to scoring a deal to be turned into a forthcoming Netflix anime. Writer Budgette Tan says:
"When we started TRESE back in 2005, we did it for fun, because we wanted to tell stories about Philippine myth and folklore through the lens of a detective story. We photocopied 30 copies and sold it for less than a dollar. Most of copies ended up with friends. Thankfully, more people wanted to read our stories. So, we are extremely excited to have partnered up with ABLAZE and now have a chance to share with the world the wonders and mysteries of Philippine mythology to a new set of readers."
Artist Kajo Baldisimo, a storyboard artist and zinester, adds:
"With TRESE, we would like to contribute to the trillions of stories shared all over the world. Other talented Filipino artists and writers will be sharing their stories too as we slowly find more readers across the globe curious for tales set in the various seven thousand islands of The Philippines."
In addition to their unique success story and original take on Philippine mythology, Baldisimo and Tan have received the elusive, coveted Neil Gaiman endorsement. Gaiman, who can make or break a book with one word from that drawling, velvety, can't-beleive-he-isn't-a-member-of-the-Watchers-Council voice, says of the TRESE comic creative team: "I feel like you and all the smart Filipino writers and artists out there are doing something really brave and powerful, making a whole new wave of Filipino art and story."
The series kicks off this September at Ablaze with TRESE Vol 1: Murder on Balete Drive, including redrawn, remastered pages, and a promise of more to come in the series. On the Netflix anime front, the series will be executive produced by Tanya Yuson and Jay Olivia, the latter of which will also direct.