Two New Cullen Bunn Horror Comics For May, Lamentation & Ghostlore
Two New Cullen Bunn Horror Comics For May, Lamentation with Arjuna Susan from Oni Press, and Ghostlore with Leomacs at Boom Studios.
---
Lamentation, by Cullen Bunn, Arjuna Susan and Hilary Jenkins, is a new horror comic for May, Oni Press's first major title for 2023, courtesy of new President & Publisher and former Boom, Hivemind, and Valiant exec Hunter Gorinson. It was at Oni Press that Cullen Bunn saw his first notable successes with The Sixth Gun and Hellheim more than a decade ago.

Lamentation is a theatrical inspired slasher series inspired by Italian giallo cinema set inside the cloistered confines of a mysterious theatre with a cast that can't seem to remember how or when they first arrived: "After weeks of gruelling rehearsals, a new production is set to begin at the famed Requiem Theatre: Razide's Lament, three acts of gothic horror set inside a haunted castle…with a story that some say is more than mere fantasy. Under the stern rule of a dedicated but temperamental director, the script seems to be ever-changing, and, more mysterious still, our lead actress has found herself cast in the role of a lifetime without so much as an audition. Her grand debut is fast approaching–and, with it, a barrage of razors in the night that will terrorize audiences and actors alike. There is no exit, no escape, and when the curtain finally rises, Razide himself will take centre stage to cross the threshold into the unholy darkness that lies just beyond…"
Oni is going for a maximalist format for the series – three double-sized issues with more than 40 page of story content apiece with the first arriving on shelves on May 3, 2023 … just in time for Free Comic Book Day … with a series of covers by Maan House, Yanick Paquette and Kyle Hotz. Oni is also offering retailers returnability on the first issue. Something we can almost certainly expect to hear more about when Oni kicks off the first day of the ComicsPRO retailer conference next week in Pittsburgh, PA, alongside Marvel, DC, Diamond, Lunar, and Boom Studios. More to come.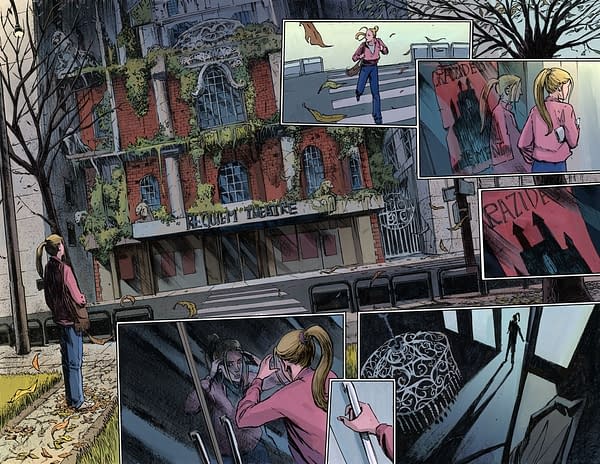 But it's not just Oni. Talking of Boom Studios, they have just announced another Cullen Bunn horror comic launch for May, with Ghostlore, drawn by Italian artist Leomacs, and coloured by Jason Wordie.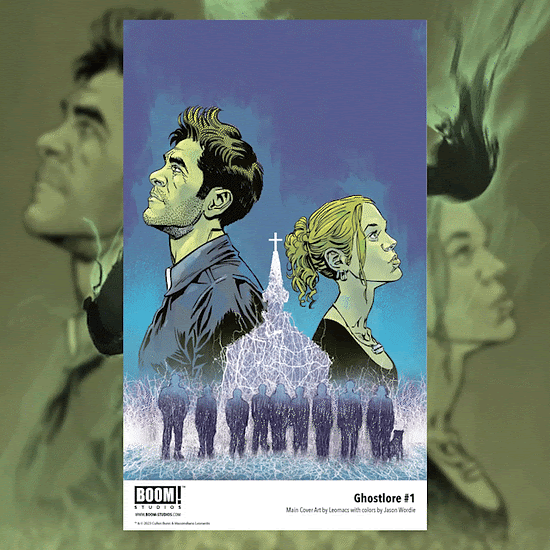 "A ghost story from the point of view of the unquiet dead. Set in an average American town where disquieted spirits endlessly drift in search of justice, Screen Rant has the exclusive preview of this newest horror saga by two of comics' most proven architects of fear. Ghostlore, set to release in May, tells the tumultuous tale of Lucas and Harmony Agate, a father/daughter duo with a troubled past brought together in the wake of a deadly accident. Finding themselves imbued with the ability to see the ghosts of their town's deceased and hear their warnings for the living, the two are set to tangle with other "nearly-deads" like them, who might not be so charitable in how they use their abilities. "
Cullen Buss says "Ghostlore is something of an ambitious concept. It started with a simple question I asked myself. 'What ghost stories would ghosts tell?' From there, though, it spun into this epic story of family, loss, grief, and—just possibly—the end of the world. It's been in my head for a while, but I wanted to wait until the stars aligned, so to speak, to even give it a try. I'm lucky to be working with an artist as talented as Leomacs on the main story, and I couldn't be more thrilled with the cadre of amazing creators who will be illustrating the ghost stories in each and every issue. It all comes together in a book unlike anything else I've worked on.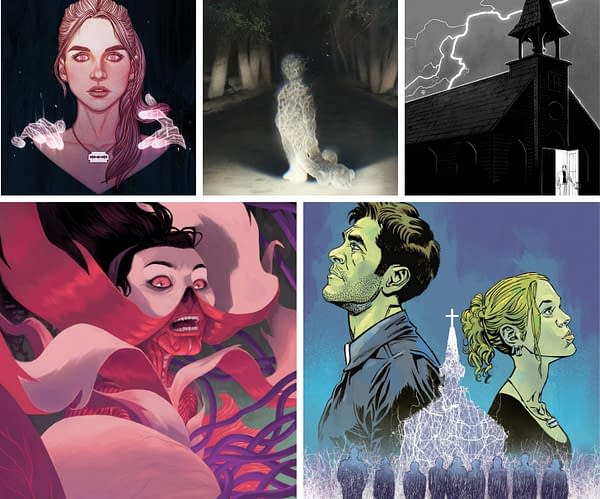 Leomacs says "I'm super thrilled to be drawing Cullen Bunn's Ghostlore for Boom Studios. This story has pathos, drama and plenty of thrills to keep everyone on the edge of their seats. As for me, I love a good horror story, especially when the human element is strong and very relatable. Here there will be many layers to peel, and underneath you'll find more and more elements that will draw you in, demand your sympathy, scare and move you… and I'm going to enjoy drawing every single panel of Ghostlore."
Each issue of Ghostlore will feature a short story by guest comics creators. Ghostlore #1 will contain a story by Brian Hurtt. Covers by Tonči Zonjić, Jenny Frision, Reiko Murakami and Brian Hurtt.