Back in April, following the release of Marvel's July solicits, we told you about the five comics whose solicits indicated they could be on the chopping block taht month. Those comics were: Uncanny X-Men, X-Force, Deadpool, Moon Girl and Devil Dinosaur, and Unstoppable Wasp. Out analysis was based on how "final" the solicitation text felt, along with ongoing sales numbers and, in the case of the X-Men books, Jonathan Hickman's upcoming relaunch.
Well, writer Jeremy Whitley has given us the first confirmation out of those five titles: Unstoppable Wasp is, sadly, no more after July's Unstoppable Wasp #10. But it is goodbye? Or is it "so long for now?" On Twitter, Whitley appears to offer hope for the latter.
First, Whitley confirmed what we suspected: that Unstoppable Wasp #10 will be the final issue of the series.
When I first talked to Mark Waid about Nadia as I started to pitch the series that would become The Unstoppable Wasp, I remember distinctly telling him that I thought it was exceptionally clever that he chose the name Nadia, as Nadia is Russian for "Hope".

— Jeremy Whitley (@jrome58) May 13, 2019
Nadia is a character, like so many superheroes, born of tragedy. Never knew her mother or father, raised in a bunker by The Red Room, kept away from the outside world. But unlike some of those other heroes, Nadia has never let that tragedy define her, in fact –

— Jeremy Whitley (@jrome58) May 13, 2019
Nadia's first inclination is always to extend a hand, to help, to be a friend. She assumes the best in people and wants to give them the chance to change. Between her kindness, her intelligence, and the occasional kick in the face, there's nothing she can't do. Nadia means hope.

— Jeremy Whitley (@jrome58) May 13, 2019
For me, going into this story, it was a terrifying idea. When Nadia had nothing, the one thing that set her apart was her mind and putting her in a situation where she realized she couldn't trust her own thoughts was the scariest thing I've ever written.

— Jeremy Whitley (@jrome58) May 13, 2019
And that some people saw themselves in Nadia in her microscopic crystal palace and reached out to tell me how important this story was and, in some cases, that it helped them understand something about themselves better is something I'll never forget.

— Jeremy Whitley (@jrome58) May 13, 2019
The Unstoppable Wasp came to an end once, after eight issues.
And something truly unusual happened.
It came back.
Through the love and support of its fan base, it came back.
And because of that, by July, we will have had ten glorious new issues of Unstoppable Wasp.

— Jeremy Whitley (@jrome58) May 13, 2019
But as Whitley said, Unstoppable Wasp has come back before (it's right there in the name, after all). And it could come back again. He offers a blueprint.
And issue 10, due out in July, will be the planned conclusion to this story. Don't get me wrong, I always want to tell more stories, but this was where @AlannaWrites and I planned to get when we found out the book would get to come back. So make sure you read these!

— Jeremy Whitley (@jrome58) May 13, 2019
1) Buy the rest of these single issues. Show Marvel how invested you are.
2) Buy trade copies. The first volume is now in a digest trade with 8 issues for $12. The first volume of the current series just came out in trade and can be bought at your local store now.

— Jeremy Whitley (@jrome58) May 13, 2019
4) Recommend it! Have a friend who likes comics? Tell them about it. Get it for them! Know a young girl who's into science? Know somebody struggling with mental illness? Spread that hope and let people know about the stories you've been loving.

— Jeremy Whitley (@jrome58) May 13, 2019
6) Continue to support creators! Alanna edits tons of great books. All the Wasp artists have great creator owned work. I personally have Princeless, Raven the Pirate Princess, and more coming out regularly and if you like Wasp, you'll probably dig them!

— Jeremy Whitley (@jrome58) May 13, 2019
I'm not a forced positivity guy, but looking out for each other and being one another's safe spaces in times like these can go a long way.

— Jeremy Whitley (@jrome58) May 13, 2019
So please don't think of this as the end, just the closing of another chapter. It means so much to me to be able to share The Unstoppable Wasp with you. It means show much to be able to share Nadia with you. It means so much to be able to share hope with you!

— Jeremy Whitley (@jrome58) May 13, 2019
I have one more suggestion of something you all can do for me! Copy and paste the following into your user name somewhere: Agent of G.I.R.L.

— Jeremy Whitley, Agent of G.I.R.L. (@jrome58) May 13, 2019
So that's it, for now at least. But there are four more titles we thought could be on the chopping block. We should learn more when Marvel's August solicitations hit later this month.
Unstoppable Wasp #8 is in stores next week.
Unstoppable Wasp #8
(W) Jeremy Whitley (A) Gurihiru (CA) Stacy Lee
What do you do when your quasi-adopted stepdaughter reveals that she's never had a birthday party, and doesn't even know when her birthday is? Well, if you're Janet Van Dyne – Original Avenger, Winsome Wasp, Pym Labs C.E.O. and Fashion Designer – you throw together the best last-minute birthday party the Marvel Universe has ever seen. But what happens when Nadia's fellow Red Room graduate Bucky Barnes, A.K.A. the Winter Soldier, crashes the party?
Rated T+
In Shops: May 22, 2019
SRP: $3.99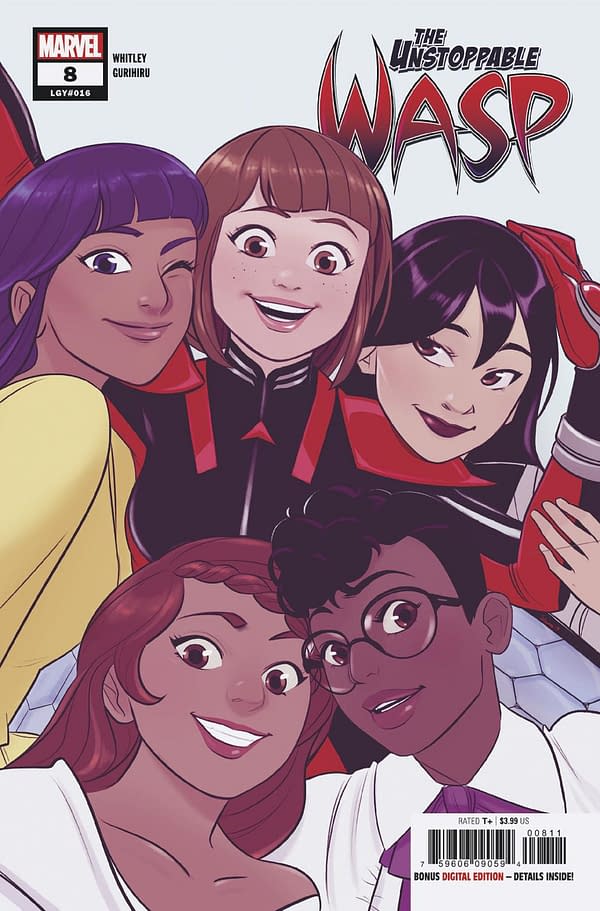 Enjoyed this article? Share it!