US Senators Accuse Ike Perlmutter Associate of Inappropriate Influence
The drama at the Department of Veteran's Affairs involving Marvel Chairman Ike Perlmutter continues to heat up. A letter signed by 11 members of Congress has called out Perlmutter's Mar-a-Lago associate, Dr. Bruce Moscowitz, for wielding inappropriate influence at the VA in connection with a planned electronic record system modernization program. Ike Perlmutter and Dr. Bruce Moscowitz have reportedly played a hand in halting a 10-year upgrade project due to opposition to the proposed contractor, a company called Cerner Corp. Moscowitz has experience with using an outdated version of the company's software at his hospitals and has concerns about the company's abilities.
The Congressional letter, dated May 15th and addressed to VA Deputy Secretary Thomas Bowman, calls for Trump to fill 33,000 vacant positions in the agency and expresses concern about the appointment of former Trump campaign staffer Camilo Sandoval as the VA's Chief Information Officer, citing both Sandoval's connections to Cambridge Analytica as well as allegations against him of sexual discrimination and harassment. It also goes on to discuss the implementation of electronic health record modernization, saying of Trump's "inner circle":
In addition to VA's inability to secure a qualified, capable professional to spearhead EHR modernization, we are aware that members of the President's inner circle are inappropriately influencing EHR modernization. This $16 billion overhaul requires input from specialized professionals to align the two largest federal agencies with an interoperable system. Reports that the Department of Defense's own modernization effort is facing challenges, highlight the critical need to understand the risks and requirements of this historic undertaking. Instead, the President is taking advice from his personal friend and member of his Mar-a-Lago circle, Dr. Bruce Moskowitz. As an internist with no government experience, Dr. Moskowitz lacks the expertise to provide the Administration with insight to address the challenges of developing an interoperable system. AS suck, we ask that you provide an update on the status of EHR modernization, including information on all contact with Dr. Moskowitz or any other individual who has provided input on EHR modernization outside of VA.
Though not mentioned by name here, Ike Perlmutter is the other most prominent member of Trump's inner circle who has "provided input on EHR modernization outside of VA," reportedly joining monthly phone calls along with Moskowitz and administration officials to discuss the upgrades. The letter is signed by Senators Richard Blumenthal, Mazie Hirono, Tina Smith, Kirsten Gillibrand, and Chris Van Hollen, along with Representatives Ann McClane Kuster, Tim Walz, Mark Takano, Julia Brownley, J. Luis Correa, and Elizabeth Esty.
Ike Perlmutter's involvement in government affairs goes back to the beginning of Donald Trump's presidency. Perlmutter, who donated heavily to Trump's presidential campaign, serves as an informal advisor to Trump on Veteran's healthcare, while Laura Perlmutter, his wife, served on Trump's inauguration committee. Perlmutter, an Isreali army veteran and medical philanthropist, takes a keen interest in the particular area of veteran's health care. Trump called Perlmutter "one of the great men of business" during a political rally/charity fundraiser staged to compete with a Republican primary debate that Trump had skipped, the same year that the Perlmutter family was known to have contributed more than 1/3 of all donations to the Trump Foundation. Later, at a public bill signing in one of his first successful legislative endeavors in April 2017, Trump gave Perlmutter the pen he used to sign the bill for VA health care reform. Dr. Bruce Moscowitz was also present at the signing. Perlmutter is pals with the Palm Beach doctor, and the two are connected in professional dealings as well. Both are connected to the Cancer Nutrition Consortium, an organization that studies and offers guidance on nutrition for people undergoing cancer treatment, the result of which appears to be to produce a line of microwave dinners called Vital Cuisine with food company Hormel, a member of the consortium along with New York University Langone's Laura and Isaac Perlmutter Cancer Center. Moscowitz is the CNC Chairman.

Though insiders worry about the appropriateness of Perlmutter and Moscowitz's involvement in VA EHR reform, that doesn't necessarily mean their concerns aren't valid or their motives corrupt. Cerner, the company with whom both men take issue, is also the company responsible for the modernization effort at the Department of Defense whose challenges the Congressional letter cites as a reason the project requires careful management. For Ike and Laura Perlmutter, giving money to medical causes is a philanthropic endeavor that seems to outpace even their financial support of Donald Trump's political aspirations. At NYU Langone alone, in addition to the Cancer Center, the Perlmutters have also funded the Laura Perlmutter Center for Women's Imaging and the brand new Laura and Isaac Perlmutter Cosmetic Plastic Surgery Center, featuring a world-renowned expert in transgender surgeries.
However, with 33,000 vacant positions, the influence of Moskowitz and Perlmutter, two men who are neither elected nor appointed officials, is considerably amplified. Perlmutter, it was reported, played a key role in the chaos that unseated VA Secretary David Shulkin. But while Perlmutter may be a kingmaker within the Trump administration, he has thus far avoided an official role. Perlmutter craves privacy, an obsession that prevented the existence of a public photo of Perlmutter for three decades before Trump took office.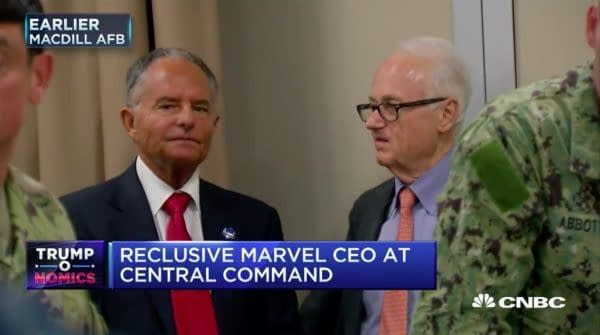 Perlmutter privacy has been the one casualty of the billionaire's support of Trump's presidency. A frequent companion of Trump at Mar-a-Lago who even spent Thanksgiving with the President, Perlmutter can't help but appear on camera at meetings, bill signings, or boarding and departing Air Force One. As current Chairman of Marvel and, as a result of that company's 2009 sale, one of the largest individual shareholders at Disney, Perlmutter has enjoyed the increased wealth of those companies' continued success, but he may yet suffer more blows to his cherished reclusion.
On April 30th, a group called Citizens for Responsibility and Ethics in Washington filed a Freedom of Information Act request demanding the VA release "records of any and all communications from employees of the VA with Ike (or Isaac) Perlmutter and Dr. Bruce Moskowitz, or any persons representing them or their interests between December 01, 2016 – Present," as well as "records of any and all communications mentioning 'Ike Perlmutter', or 'Isaac Perlmutter', or 'Perlmutter'; 'Dr. Bruce Moskowitz,' or 'Dr. Moskowitz', 'Bruce Moskowitz', or 'Moskowitz'; and 'Mar-a-Lago', or 'Mar a Lago', or the 'Mar-a-Lago' guts' between December 01, 2016 – Present." If the request is granted, it could result in the largest dump of correspondence with and about Perlmutter since the Sony Email hacks revealed his feelings on female superhero movies. Then again, as demonstrated in Perlmutter's ongoing legal battle against rival billionaire Harold Peerenboom, a fight which has included accusations that Perlmutter sent anti-semitic letters under Peerenboom's name to prisoners and letters accusing Peerenboom of pedophilia to neighbors, as well as the theft of Perlmutter's DNA by Peerenboom and his legal team, Perlmutter's lawyers have a knack for protecting his emails.