Valiant has three major ongoing series launching under the banner of its "Icons" initiative at the end of the year – Bloodshot Salvation #1 by Jeff Lemire, Lewis LaRosa and Mico Suayan in September; Ninja-K #1 by Christos Gage and  Tomas Giorello in November; and Quantum and Woody! #1 by Daniel Kibblesmith and  Kano in December – and, by the looks of things, they're going to be using Diamond's annual retailer lunch at San Diego Comic Con to whet retailers appetites with not one, but three special items…
But picking out which one is which might be easier said than done.
That's because retailers who attend the Diamond-hosted San Diego event will receive three "Valiant Icons SDCC 2017 Blind Bag Editions" – individually polybagged in opaque plastic "in order to preserve several distinctive, surprise elements inside the comics themselves that will not be made available in the final print editions for sale to the general public."
Based on the descriptions supplied by Valiant, there will be a number of these variations in the SDCC-only versions offered to retailers: raw art for Bloodshot Salvation, an advance look at the script for Ninja-K's first issue (and potential spoilers for the series' first arc), and, in the case of Quantum and Woody, new art by guest artist Joe Eisma that won't appear in the first issue at all.
Expect that to drive interest and demand for some of these issues more so than other in the eyes of Valiant collectors…if they can acquire the correct bag that is…
Here's a sneak peek at the exclusive comics that Valiant will be keeping under (literal)  wraps:
BLOODSHOT SALVATION #1 RETAILER EDITION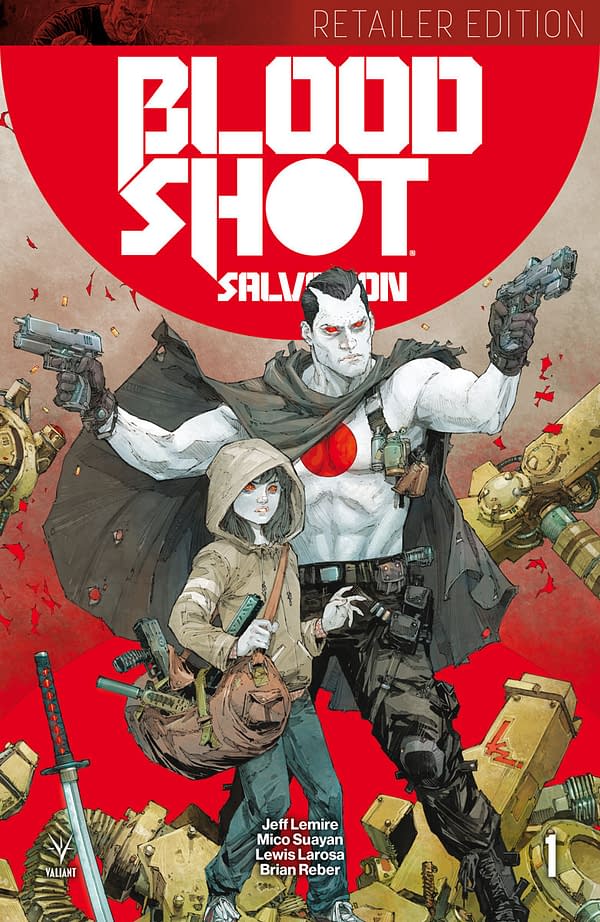 Featuring the complete colored artwork and jaw-dropping action of the first issue of Valiant's next pivotal ongoing series, the full-on sensory assault of September's blockbuster series debut from New York Times best-selling writer Jeff Lemire (BLOODSHOT REBORN, Black Hammer) and extraordinary artists Lewis LaRosa (BLOODSHOT REBORN) and Mico Suayan (BLOODSHOT REBORN) must be seen to be believed
NINJA-K #1  RETAILER EDITION SCRIPT BOOK
Go inside the classified history of MI-6's "Ninja Programme" with this one-of-a-kind look into writer Christos Gage's (Netflix's Daredevil) action-fueled first issue with heatseeking artist Tomas Giorello (X-O MANOWAR), set to clock in at a colossal 40 pages when it hits stands in November
QUANTUM & WOODY! (2017) #1 RETAILER EDITION BLANK BOOK


Don't worry – it's not really blank! (Well, kind of…) Before the world's worst superheroes explode back into stores in December, get a "look" at the superpower mayhem that rising star Daniel Kibblesmith (The Late Show with Stephen Colbert) and eye-popping artist Kano (Daredevil) are cooking up right here – plus a special surprise guest appearance by Eisner Award-nominated artist Joe Eisma (Archie)!
Enjoyed this article? Share it!