Valiant Teases Quantum and Woody Relaunch for #Valiant2020
Valiant Entertainment has sent out a teaser leaving no question as to its subject matter: it looks like we can expect a return of Quantum and Woody sometime in 2020. The teaser, which was accompanied by text reading only "Get ready for #VALIANT2020" features a quote by Woody, speaking to Quantum, which says "We're going to be superheroes again." That seems pretty cut and dry, doesn't it? Quantum and Woody's last series ended after twelve issues in November 2018. A Quantum and Woody television series is coming up from TBS as well.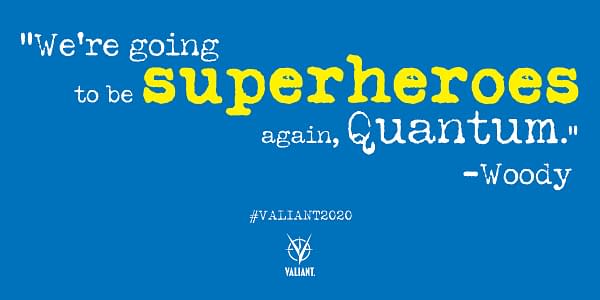 Valiant's December solicitations featured just three ongoing series: Rai, Bloodshot, and Psi-Lords, with the rest of their output being mini-series or collections. But to add to what appears to be a Quantum and Woody relaunch, Bleeding Cool recently reported on at least two more series yet to be announced at Valiant: Dead@21 and The Final Witness. It would be reasonable to assume we'll learn more at New York Comic Con next month.