In today's Jane Foster: Valkyrie #3 we get to meet Jane Foster's Pegasus. Known as 'Horse'. Or, rather, 'Orse. Bit racist but there you go. And why hadn't 'Orse spoken up until now? Because this pegasus is a Yorkshire pegasus. And in the manner of a Yorkshireman's advice to his son…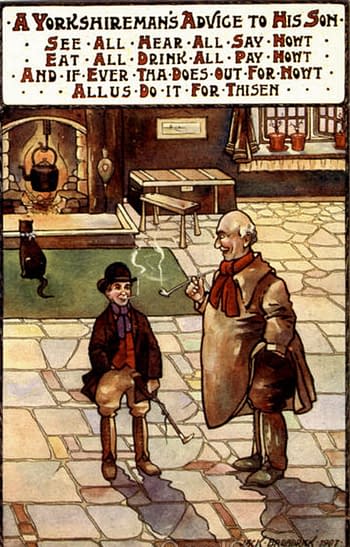 So this Yorkshire Pegasus has been biding their time, eating up the oats, and only speaking up now.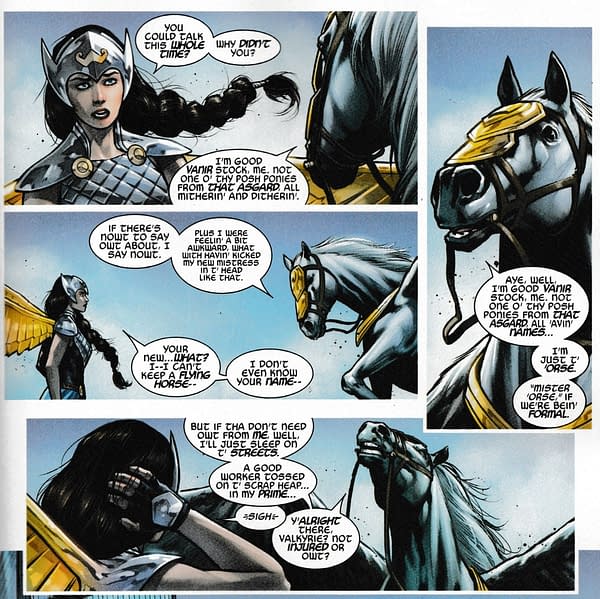 I'm a Yorkshire boy mesen'… I mean, myself. The accent has been knocked out after living in London for twenty years, But this reads just like my grandad spoke. For Americas, think the Stark men of Winterfell. I have to say, telling Americans I'm from Winterfell is a much better way of getting Yorkshire across.
Yorkshire. Gods own country. It seems to fit the horse of a Valkyrie, no?
How come he sounds like he's from the North? Lots of Asgards have a North. 'Appen.
VALKYRIE JANE FOSTER #3
(W) Jason Aaron, Al Ewing (A) CAFU, Cian Tormey, Frazer Irving, Ramon K. Perez (CA) Mahmud A. Asrar
VALKYRIE TAKES A BELOVED FRIEND ON THE JOURNEY OF THEIR AFTERLIFE!
When a longstanding Marvel character dies at the hands of Bullseye, Jane Foster must accept her new role and carry them to the world beyond. But she is not the Valkyrie of the past – nor is Bullseye's victim any ordinary hero. Valhalla is only one hall of the dead. The multiversal afterlife awaits.
Rated T+In Shops: Sep 18, 2019 SRP: $3.99
Enjoyed this article? Share it!