Fred Van Lente has just finished up his second prose novel, The Con Artist — a murder mystery set at San Diego Comic-Con.
The book is out on Tuesday, July 10th, just before this year's San Diego Comic-Con (which is handy), and this is your first look at the cover by Truck Torrence.
It is a prose novel, but will be peppered with illustrations from Tom Fowler throughout.
There's murder at San Diego Comic Con in this entertaining summer read from a Marvel/DC comics veteran Fred Van Lente, featuring illustrations in classic comic book style.

Comic book illustrator Michael Yoo is having a terrible week. He's just arrived in San Diego for Comic-Con — the annual nerd Mardi Gras that triples the beachside city's population with 150,000 fans. Michael hopes to spend the next five days working his booth in Artist's Alley, where he'll sign autographs and sell sketches for $40 a pop. Instead he's implicated in the death of his editor, the widely feared and reviled Danny Lieber. There are plenty of suspects onhand — from rival illustrators to burlesque cos-players. But the most valuable clues might be hidden in Michael's own sketchbook. He's spent a good portion of the convention illustrating people he's met and places he's visited, and he's inadvertantly captured some very important information. The devil is in the details, and readers who pay careful attention to this book's black-and-white sketches will be on the right trail to unmask the murderer.
And those are the sketches that Tom Fowler will be drawing. And here's his cover…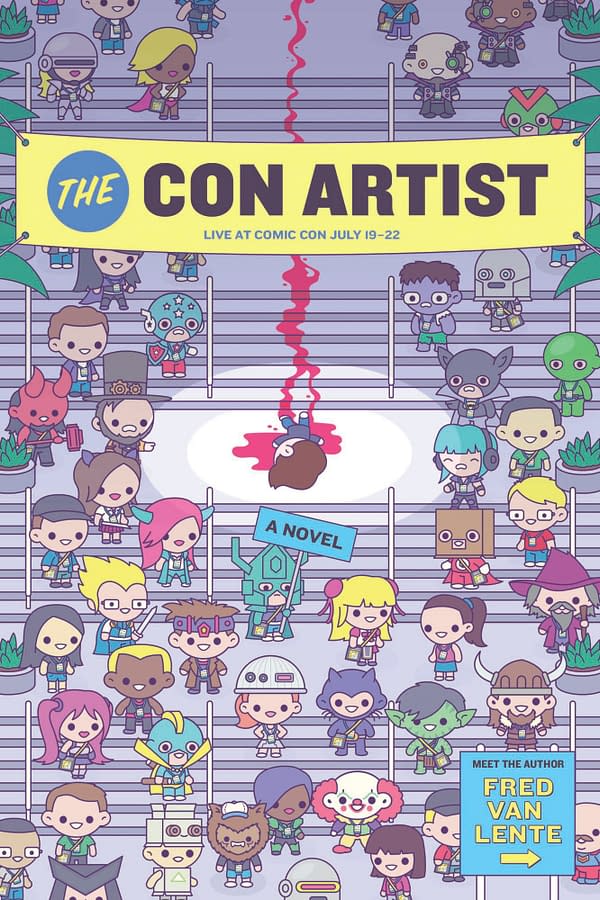 Van Lente is the co-founder, along with artist Ryan Dunlavey, of Evil Twin Comics, which produces his and Dunlavey's non-fiction comic books, the first and most famous of which is Action Philosophers. But he has gained further success working for Marvel, Valiant and Dark Horse Comics including The Incredible Hercules, Archer & Armstrong, Conan The Adventurer, Amazing Spider-Man, Magnus Robot Fighter, Big Trouble In Little China, Iron Man Legacy, Alpha Flight, GI Joe, and many more.
Enjoyed this article? Share it!