Vita Ayala and Leah Williams Will Write 2nd Wave of X-Men Books (But No Claremont?)
At the Marvel Next Big Thing panel at San Diego Comic-Con, Marvel revealed the creative teams and rosters for six new X-books to launch after House of X and Powers of X. All creative teams were hand-picked by Jonathan Hickman, who will stick with the line and guide it for several years, in addition to writing the core title.
But while we now know the status quo for this Fall, there's still more to come. At the end of the panel, Hickman revealed that Leah Williams and Vita Ayala have already written their own X-books to launch as a second wave of titles after these, though no date was given. Prisoner X, written by Ayala, and X-Tremists, by Williams, were easily the two best books of the Age of X-Man event, excellent books by any standard in or out of an event frame. So it's great news to see they're both continuing with the X-books. Hopefully the artists of those titles will join them as well.
As for the six titles announced today, this is what we're getting starting in October.
So far, we've seen Marauders by Gerry Duggan and Matteo Lolli, featuring Bishop, Kitty Pryde, Iceman, Emma Frost, Pyro, and Storm, and launching in October, as well as Excalibur, by Tini Howard and Marcus To, starring Rogue, Apocalypse, Jubilee, Captain Britain (Betsy Braddock), Rictor, and Gambit, and also launching in October. Then there's X-Force, by Benjamin Percy and Joshua Cassara, launching in November, and starring Sage, Kid Omega, Marvel Girl (Jean Grey), Wolverine, Colossus, Black Tom, Domino, and Beast. Fallen Angels, by Bryan Hill and Szymon Kudranski, starring Cable, X-23, and a new Psylocke (Kwannon?). New Mutants, by Hickman himself, handing off to Ed Brisson, with art by Rod Reis, and starring Wolfsbane, Sunspot, Chamber, Magik, Karma, Cypher, Mondo, and Mirage. Yes, three of those mutants were just killed in the past few months in Uncanny X-Men, and one had her mutant powers removed, causing her to go full Darkchylde. But that's all getting undone, we guess. And finally, X-Men, the main title, by Hickman and Leinil Francis Yu, with Cyclops, Marvel Girl (Jean Grey), Rachel Summers, Wolverine, Cable, Corsair, Havok (also back from the dead it seems), and Vulcan, on the cover at least. That one could star every mutant, dead or alive.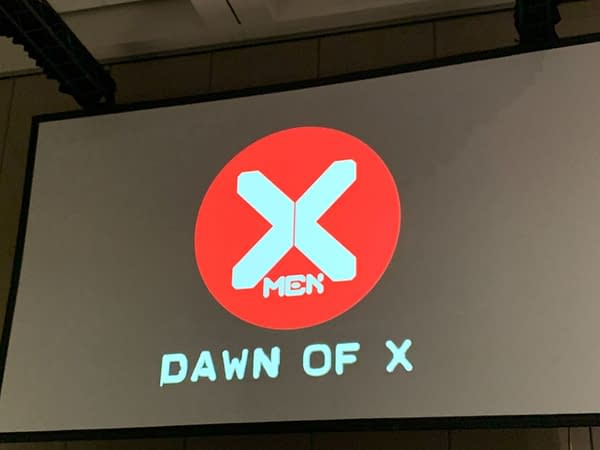 So… was it all you hoped for? And where the @#$ is Chris Claremont.
Find all the news about the X-Men relaunch from San Diego Comic-Con at our Dawn of X tag.