Viz Comic Asks… What if the Carry On Team Had Made Pulp Fiction?
The Carry On films are one of the strangest movie franchises going. Wehat began as a black-and-white fifties comedy Carry On Sergeant, saw a regular troop of British TV and radio comedians create spoof movies of every genre going, reprising versions of the same characters in different times and places, in a succession of innuendo-based gags. Basically old ugly men, saddld with boring wives, chasing young buxom women across the centuries. Unless they were gay. That's about it.
Along the way, they gave us some of the best gags going – Kenneth Williams as Julius Caesar in Carry On Cleo from 1964 exclaiming 'Infamy, Infamy, They've all got it in for me…', or from Carry On Henry in 1971, with Sid James plays Henry VIII, discussing his future wife with Kenneth Williams as Thomas Cromwell. "Has she been chaste?" "All over Normandy." But these were very much the exceptions. Grabbing Phil Silvers in to reprise his turn as Bilko in the Beau Jeste parody Carry On Follow That Camel was a highlight towards the end but the franchise died off in the seventies, aside from an even more ill-advised nineties revival, Carry On Columbus, with the surviving cast and somehow shaming the likes of Julian Clarey and Alexei Sayle into appearing.
And while the films are definitely out of kilter with modern tastes, they will remain nostalgically popular, and directly inspired the likes of TV sitcoms Doctor In The House, Dad's Army, On The Buses, Allo Allo, and Mrs Brown's Boys.
But was there another nineties revival that they could have attempted? The new issue of Viz Comic, one of the most popular English language comics in the world, and also a product of the British desire for innuendo filth comedy, but one that is more punk rock to Carry On's glam rock, is out today. With the Fat Slags preparing for a hard Brexit, Baxter Basics MP prepares for a local election and the Drunk Bakers stake out Aldi/Lidl for cheap cider.
But also a one-off look at a Carry On movie that never was, in the style of the Carry On cinema posters of old… and yes, Carry On movies never shied from blacking up either.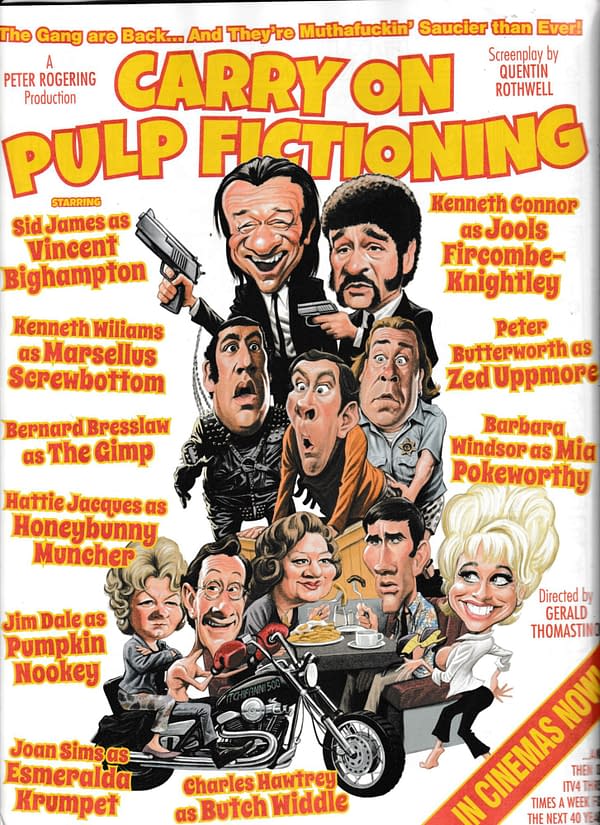 ITV 3 – not 4 – are currently showing French Revolutionary-set Carry On Don't Lose Your Head. Viz Comic #290 is in newsagents now.