 Project Title: Sidekicks
Co-Creators: Russell Brettholtz (Writer) and Miguel Mendonça (Artist)
Project Fund Date: Friday, February 28, 11:59 PM
Projected Publication Date: July 2014
In a world where Super-Heroes are celebrities, egos rampage out of control. Five of Chicago's most dependable Sidekicks are faced with the reality that despite their dedication, they will invariably be disrespected by the Heroes they work with and the citizens they protect. Taken for granted by society and ignored by the media, how much can the Sidekicks endure before they decide they've had enough?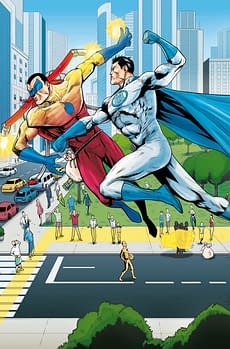 When I first conceived the concept for Sidekicks I was working at a credit union as the assistant to a financial planner. I made appointments. I made follow up phone calls to clients. I filed and kept track of important paperwork. But most importantly, I fixed problems created by the financial planner I assisted. And I was good at it. Very good.
So I did what any young, ambitious, career minded person would do: I asked to be put on a promotional track to become a financial planner myself.
And what did I get for my hard work, dedication and dependability?
I got fired.
Don't ask me to explain it. I can't. But it taught me a valuable lesson. The job of the assistant is to assist. Period. When the boss at the top of your employment pyramid is ruled by their ego and self-importance, your dedication and dependability will be met with disrespect.
It got me thinking about all the other jobs in which this is true. Nurses getting disrespected by doctors. Paralegals by lawyers. Secretaries by executives. The list goes on. But it doesn't always end with the boss. The people helped by our services are not always respectful, either. Patients, customers, clients. By them, we are either ignored or taken for granted. They're interested in the attention of the people at the top. Not the assistant.
There was a story to be told from my experience. But how best to tell it?
I have been reading comics since I was eight years old. My grandmother gave me an Archie and I was hooked. By twelve I had graduated to the X-Men and I was in love. The stories in the comic books I read were a perfect allegory for the world around me. They put the world in a context I could easily understand. And they kindled in me a desire to create my own stories.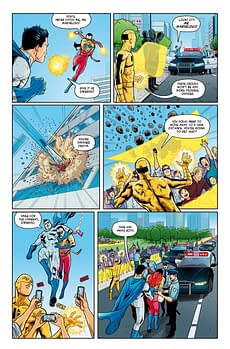 Through high school and college, fan fiction satisfied my creative desires. Even after I graduated, I always had a notebook handy should inspiration strike with a compelling story. And when I got fired from my financial assistant job, I knew containing the story to fan fiction wouldn't suffice. It wouldn't do the story justice.
Adapting the assistant/boss relationship to a sidekick/super-hero relationship was a no brainer. From there, the story poured out of me. It was my first full length comic book with original characters. I had my script.
It was a shame I couldn't draw. It was an even bigger shame that I didn't have the money to hire an artist.
Sidekicks collected dust for five years. Then one day, while stumbling around the internet, I found an article on a new crowd funding platform that was going to revolutionize the comic book industry. It was called Kickstarter. I finally had a method to raise money to pay an artist to draw my comic.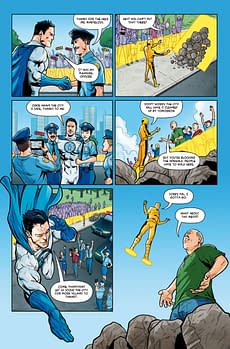 I started visiting forums dedicated to connecting artist with writers and encouraged discussion on the business and craft of making comic books. It was on one of these sites that I discovered Miguel. He was displaying some pencil work he did for another project. From the very first panel I knew he was the artist for my script. I e-mailed him immediately and over the course of one weekend we hammered out a contract.
The initial contract was for four pages (pencils, inks, colors and letters) and a cover. I had enough money saved that I could at least pay for that. These pages would serve as a preview so potential Backers could get a taste of the comic. But the money to complete the book would be a challenge. So I made one of the hardest decisions of my life. I would sell my personal comic book collection, a collection I had spent over twenty years building, and use that money to bring the initial costs down as much as possible.
On Kickstarter, only projects that meet or exceed their Goal amounts receive any funding. So keeping that amount as low as possible was essential. I spent most of 2013 selling my collection, and I was able to come within $1000 of paying for the art. On top of that, I would also need to raise enough money to pay for the printing and shipping of the physical comics. With a Pledge Goal set at $3000, I was ready to launch my campaign.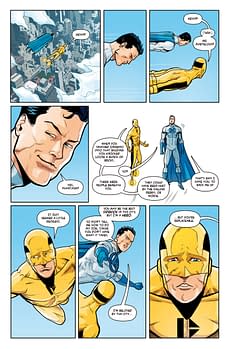 Aside from selling my comic book collection, I also spent 2013 spreading the word about Sidekicks. I set up threads on several comic book forums, I created a Facebook page and a Twitter account, all to showcase the art and story of a comic book that didn't even exist yet. Whenever I posted a new page of art from Miguel, the response was overwhelmingly positive.
The hard work paid off. When I launched the Kickstarter campaign, it only took four days to reach my funding Goal.
Now, with less than a week left in the campaign, Sidekicks is 189% funded (as of this writing). We are closing in on a Stretch Goal at 200% and I couldn't be more excited. But I'm still looking for Backers. Sidekicks is a three issue mini-series and every additional dollar goes directly to bringing down the initial costs for Chapter Two.
I will continue to sell my personal comic book collection to keep Sidekicks as inexpensive as possible, and I hope you will consider contributing as well.
If Bleeding Cool readers can help push funding for Sidekicks up an additional 10% (or $300) within 48 hours of the posting of this article, I will personally thank Bleeding Cool and its readers in a video Update (something I have never done during the course of this campaign).
The Kickstarter campaign for Sidekicks can be found at: https://www.kickstarter.com/projects/1507558932/sidekicks-0
You can "Like" Sidekicks on Facebook: https://www.facebook.com/sidekickscomics
You can Follow Sidekicks on Twitter: https://twitter.com/SidekicksComix
You can e-mail Sidekicks at: sidekickscomics@gmail.com
Thanks to you all.
–Russell Brettholtz
Sidekicks (Co-Creator/Writer)
Enjoyed this article? Share it!