Warrior Nun Goes All-Ages On Kickstarter, Thanks to Netflix
Warrior Nun is one of the longer independent comic book franchises going, alongside the likes of Hellboy, Sin City and Spawn. 16 years since Ben Dunn first created her for Antarctic Press, she is now published by Avatar Press, (who are also the publishers of Bleeding Cool). And, right now, she is also getting a graphic novel series, to be published alongside the release of the new Netflix series. Oh yes, she's getting a Netflix series, starting on July 2nd, a new show by Continuum's Simon Barry.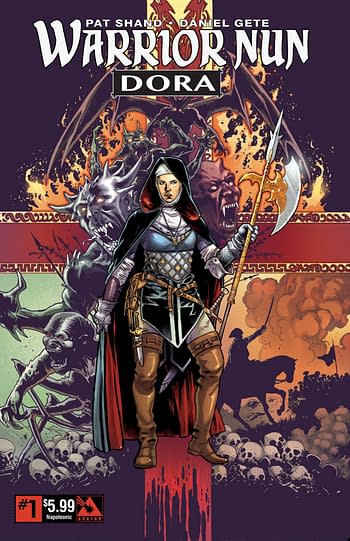 Comic book distribution is a bit funny right now, which is why Avatar Press has taken the graphic novel straight to Kickstarter, as they recreate Warrior Nun for a new all-ages audience, as Warrior Nun: Dora. Written by Pat Shand and drawn by Daniel Gete, Warrior Nun: Dora is set in the nineties of the original's publication – though with a little representation through the ages as these covers demonstrate.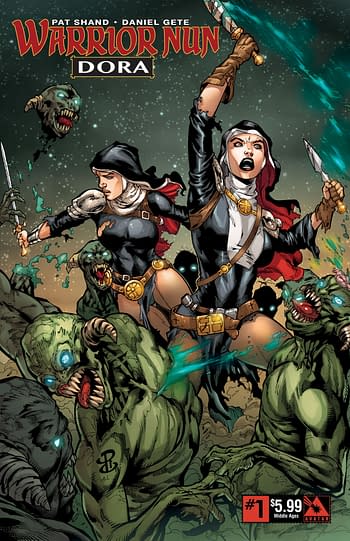 A new wave of rebellious kids in rural Pennsylvania in the 1990s. Dora, a grunge-obsessed teen, is caught in the middle of what appears to be a dark ritual, and is sent away to a secret school by her devoutly religious parents. There, Dora is shocked to find a group of nuns that fight against the forces of evil – but when undead horror comes Dora's way, what will this misfit do to protect herself? Looking for the next big thing? Have faith in Warrior Nun!
A 64-page graphic novella, Warrior Nun: Dora is creatively complete and will be published this year, as Warrior Nun Season One drops on Netflix in four days time, July 2nd. Digital drops will begin in August and September, with print publication expected in December.
While the Netflix show is more present day, "a 19-year-old woman who wakes up in a morgue with a new lease on life and a divine artifact embedded in her back. She discovers she is now part of an ancient order that has been tasked with fighting demons on Earth, and powerful forces representing both heaven and hell want to find and control her." The Netflix series stars Alba Baptista as Ava, Tristan Ulloa as Father Vincent, Toya Turner as Shotgun Mary, Sylvia De Fanti as Mother Superion and Lorena Andrea as Sister Lilith. Consider Warrior Nun: Dora a thematic prequel…