'Dear Rich', the letter wrote, 'can you explain why Marvel Comics has just switched the age guidance on Morbius The LivinG Vampire Omnibus from T to Parental Advisory'
It is quite a jump. Marvel Comics currently uses the five ages guidance notation:
ALL AGES – Appropriate for all ages.
T – Appropriate for most readers, but parents are advised that they might want to read before or with younger children.
T+ TEENS AND UP – Appropriate for teens 13 and above.
PARENTAL ADVISORY – Appropriate for 15 and up. Similar to T+, but featuring more mature themes and/or more graphic imagery. Recommended for teen and adult readers.
EXPLICIT CONTENT – 18+ years old.
So how did this Omnibus, initially solicited for most readers, suddenly switch to being appropriate for 15 and up, especially considering it contains Marvel Comics from the seventies and early eighties?
Morbius The Living Vampire was a character created to get around loopholes in the Comics Code, which forbade comic book depictions at the time of vampires.
The Comics Magazine Association of America was formed in 1954 in response to a widespread public concern over gory and horrific comic-book content. Fredric Wertham's book published that year, Seduction of the Innocent had rallied opposition to this type of material in comics, arguing that it was harmful to the children who made up a large segment of the comic book audience. The Senate Subcommittee on Juvenile Delinquency hearings in the same year, which focused specifically on comic books, had many publishers concerned about government regulation, prompting them to form a self-regulatory body instead.
New York magistrate Charles F. Murphy, a specialist in juvenile delinquency, headed up the organization and devised a self-policing "code of ethics and standards" for the industry, the Comics Code Authority. This code banned graphic depictions of violence and gore in crime and horror comics, as well as the sexual innuendo of what aficionados refer to as "good girl art".
Among its many edicts, the CCA prohibited vampires, werewolves, ghouls and zombies. When this was amended in 1971, Marvel wasted no time in bringing such characters to their comics, such as Morbius The Living Vampire in 1971's Amazing Spider-Man, created by Roy Thomas and Gil Kane as a product of science rather than supernatural intervention.
But given that such appearances collected in this Omnibus were all under the edict of the still-rather-restrictive Comics Code, how come the jump in age-appropriateness now?
I think it may be due to the inclusion of pages from the anthology series Vampire Tales by the likes of Steve Gerber, Pablo Marcos, Don McGregor, Rich Buckler, Klaus Janson and Tom Sutton, published as black-and-white tales and thus not under the edict of the Comics Code, and as a result having the tendency to go a little – but not too much – racier…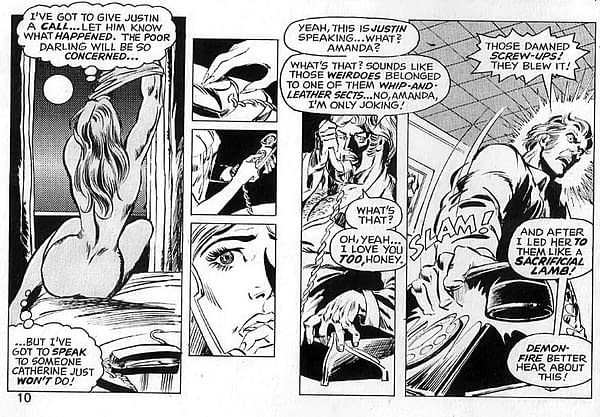 …or gorier…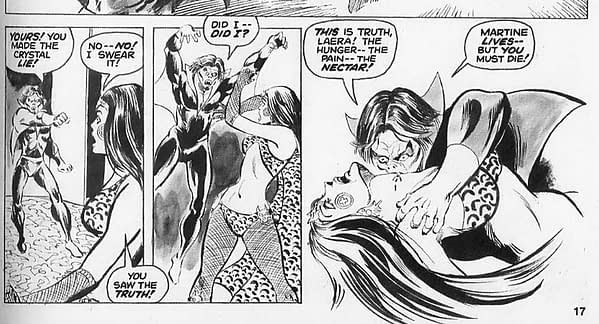 Apparently that's enough to get you a Parental Advisory rating in 2019. I dunno, there seem to be plenty of current Marvel titles around that level that avoid that label. I wonder what it was..
MORBIUS LIVING VAMPIRE OMNIBUS HC
(W) Steve Gerber, More (A) More (CA) Kyle Hotz (A/CA) Gil Kane
Cursed by an experiment gone wrong, Dr. Michael Morbius is possessed by an unquenchable thirst for blood – yet his heart beats like any other man. He is a living vampire! And in this amazing Omnibus, the complete original Morbius saga is collected – from his first appearance through both his first color comic and black-and-white series and into the rare stories that concluded his tragic tale. The sometimes mad, sometimes misunderstood Morbius contends not just with Marvel's heroes but also with bizarre cultists and satanic demons! Journey to the darker side of Marvel, a world of horror and the supernatural that overtook the industry in the 1970s and defined comics for a generation. Collecting AMAZING SPIDER-MAN (1963) #101-102; MARVEL TEAM-UP (1972) #3-4; FEAR #20-31; GIANT-SIZE SUPER-HEROES #1; MARVEL PREMIERE #28; MARVEL TWO-IN-ONE (1974) #15; PETER PARKER, THE SPECTACULAR SPIDER-MAN (1976) #6-8 and #38; SAVAGE SHE-HULK #9-12; and material from GIANT-SIZE WEREWOLF #4; VAMPIRE TALES #1-5, #7-8 and #10-11; and MARVEL PREVIEW #8. Rated Parental Advisory In Shops: Apr 29, 2020 SRP: $100.00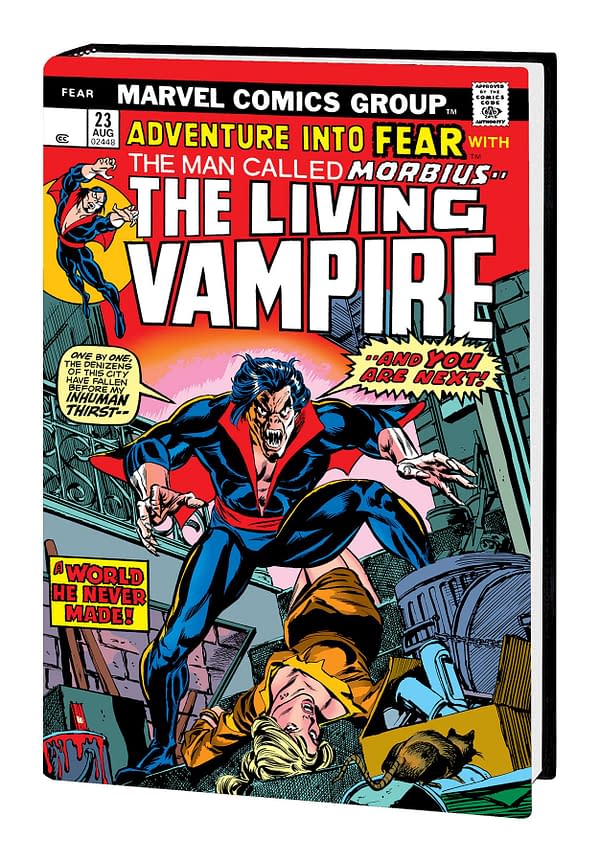 Enjoyed this article? Share it!