I originally liveblogged this panel on Thursday night at New York Comic Con, but here's the scoop in non-reverse order and picking out the announcements and the teasers.

Paul Kaminski, Executive Director of Editorial at Archie Comics, braved some intense crowds and lines to deliver the latest news from Red Circle Comics at Archie in their "Action Hour!" and distribute tickets for tons of comics swag. His line-up included Dean Haspiel (The Fox), Ryan Jampole (Sonic and MegaMan), Jamal Peppers (Sonic and MegaMan), and Mike Cavallaro (MegaMan).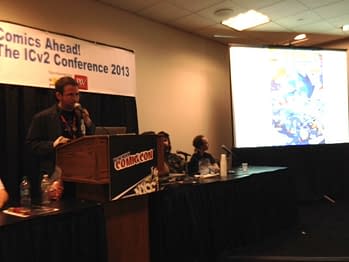 Kaminski started off by showing a pretty killer trailer for the new Haspiel/Mark Waid series The Fox, a hipster homage to silver age comics with plenty of psychedelic flair, full of some pretty sweet action in terms of color and movement, to the tagline "Just a day in the life of a Freakmagnet". Lots of guest artists are doing covers for The Fox, including Darwyn Cooke, and the first issue is coming out on October 30th. It forms a continuum with the series New Crusaders, which returned to Archie last year.
Haspiel spoke about the origins of The Fox, which began with a 6 page comic that Archie liked so much they asked him for a 5 issue miniseries instead. Initially, when trying to come up with an idea that linked to the New Crusaders, he searched through the Fox mythos and found that the character was first created in 1940, so decided to render the current Fox as the son of the older Fox like many of the New Crusaders characters.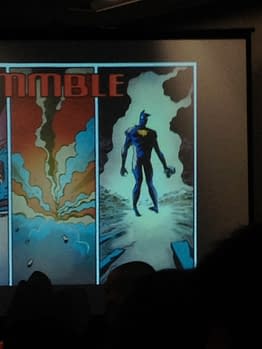 Then Haspiel devised a story about a superhero with no superpowers, fighting crime as a photojournalist hunting stories, but has reached the end of his rope and no longer wants to do it. As Haspiel said, the Fox is like Corleone in The Godfather; he wants to leave, but he keeps getting dragged back in. Unable to escape his destiny being a superhero, he faces a cross between Apocalypse Now and The Island of Doctor Moreau. Haspiel said the Fox is "begging for a boring life"; knowing all kinds of crime-fighting techniques makes him feel responsible to be involved, but it's an internal war to bow out of the game for the sake of his sanity.
[youtube]http://www.youtube.com/watch?v=HJTpa4EA7Pc#action=share[/youtube]
Moving along, Red Circle announced a special edition of back up stories of a related New Crusaders universe story called The Shield, which will be written by J.M. DeMatteis, and drawn by Mike Cavallaro.
Cavallaro explained that his work on an earlier idea and series, The Life and Times of Savior 28, may have brought him to Red Circle's attention for The Shield. Cavallaro comments that DeMatteis has basically written "everything" in his career but preserves a "real unique voice as a writer" and is able to get into a character to find what renders him unique. "It's great to have a front row seat on his work", says Cavallaro. The Shield will start as a backup story in The Fox in December before becoming its own series.
Cavallaro showed the audience original art designs for characters on The Shield, which featured three guys who basically represent the same thing for different countries, each being their nation's ideal warrior. The question is what happens when these guys meet, and what that means for the future as they meet "mind mutants" who threaten earth. Cavallaro added the tongue-twister: "Shield makes meat out of Mind-Mutants" which turned into a chant for the panelists. The prevailing atmosphere in the panel and among the packed audience (not everyone got in it was so crowded) was hilarity, and it only snowballed from there The Shield actually predates Captain America in origin as a character and was an influence on Cap, though Wikipedia might try to tell you otherwise, said Kaminski.
When Kaminski segued into the statement that Archie has "befriended another strange little creature", Sonic, the crowd went wild as plenty of Sonic fans in the panel started chanting and cheering.
The recent Sonic and MegaMan: Worlds Collide crossover graphic collection got a round of applause, and Archie Comics introduced the "mastermind" Ian Flynn to talk about it. "Stuff blows up…and there's a hedgehog in it", Flynn said putting on a deep southern drawl (one of many accents he put on during the panel). Flynn described going back to old continuity on Sonic, so after "Countdown to Chaos", which was a "huge crossover", they responded to fan feedback wanting real consequences for their massive event lines, so the crossovers now will have a "definitive impact" on the future of Sonic from here on out.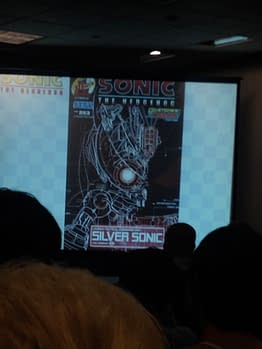 Artist Ben Bates inaugurated the crossover in #253 and #254, and Archie Comics revealed all the covers put together in poster format for fans. To create a poster for sale, they'll need "significant demand" from retailers and are asking that fans speak up to retailers if they want a well-deserved poster for the lavish artwork. Silver Sonic, last seen blown to smithereens, is back, "things have changed significantly" now, Flynn explained. Another event coming up in the Sonic world, partly under wraps, leads to some "world shattering consequences" after Countdown to Chaos. Haspiel jumped in to point out that the cover itself predicts "the end of the world". He was silenced for reasons of embargo, to more laughter.
Kaminski revealed a debut of Sonic featuring the Freedom Fighters, back again and Flynn explained that going into the crossover, the Freedom Fighters had stopped functioning as a team, and readers didn't like seeing their heroes like that, so it's time to bring them back to "kick Eggman's large butt". Kaminski debuted a variant cover to the issue, and showed some exclusive interior art on #254. Sister title Sonic Universe is now the "longest running spinoff in the comics history".
A cover from Ryan Jampole (who was dressed in cosplay camoflage and eye-patch), prompted some discussion of his "Chibi variant" of Sonic Universe #58. Sonic has a "large head", he pointed out, and anyone who draws Chibi art knows that transforming Sonic into a "super deformed look", although not easy, is a natural thing. His favorite character on the cover, by the way, is the Chibi squid.
Next up in the Sonic universe is a comic called "Shadow Fall", penciled by Jamal Peppers. Flynn was careful to keep things under wraps to some extent on "Shadow Fall". Fans have asked for it, and they are going to "deliver". The "alien invasion variant" cover shown got plenty of applause. The Sonic Super Special magazine, issue 9, on sale November 9th, will feature Sonic Lost World. Sonic Super Special issue 10 will feature "Sonic Dash", adapting a Sonic mobile game into comic form. In "Sonic Dash", Sonic runs "fast, forward, a lot", Flynn joked. He managed to create a 5 page story out of it, "squeezing every drop" of story out of the idea of "Sonic go fast".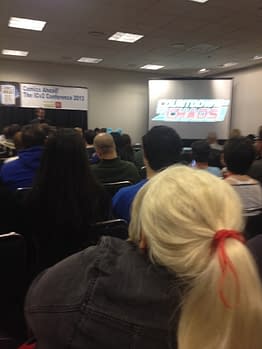 Flynn put on a professorial British accent to explain that "Sonic Dash" in the Super Digest will feature "Sonic go up". "I've been writing and talking blue hedgehogs for seven years now. I don't got much sanity left", Flynn commented.
Mega Man X was revealed to 8 bit music and a near melee from the audience. Issue #34 will be on sale in February 2014. "Things go boom in the future", Flynn explained. "You guys supported MegaMan and now we're getting…X", said Flynn. Flynn discussed Mega Man "Black Out", talking about the "giant spooky space eyeball" that's been teased earlier in the crossover. Now that the crossover's over, Ra Moon is free to black out the entire planet, according to Flynn. Flynn has been accused of writing "dark and scary storylines", and he admitted that he "kind of pushed the envelope" on Ra Moon. Ryan Jampole, Flynn said, "knocked it out of the park" on the artwork. Dean Haspiel's cover for MegaMan, and Mike Cavellaro's work on the MegaMan universe also got a spotlight. It's a big change for Cavallaro, who has no "background" in these characters and found it a "deep pool to jump into". It's "intimidating", he says, to keep up with previous artists, but to all appearances, he's aiming just as high.
Flynn explained that The Curse of Ra Moon is based on an obscure video game featuring anime and a "much darker" in tone story than the rest of the series. He wanted to "maintain some of that desperation" in the comic. It's not something you can "sugar coat" and make "rosy" and out of "respect for the readers", they'll allow the story's dark side. One of the big things about Ra Moon as a story arc continuing beyond four issues "a little bit" is that it will have "real consequences", said Kaminski. Previews of Mike Cavallaro's pencils and inks, including massive spreads of fight scenes from issue # 31, were shown to great anticipation from the crowd at the panel.
The Sonic graphic novel library is continuing to grow, and are some of the most successful trades in all of Archie Comics, Kaminski announced. He previewed some artwork and covers from books "yet to be approved" by Archie (some of which he had only received that morning), including Worlds Collide Volume One with artwork from Jampole. Speaking of graphic novels, said Kaminski, the New Crusaders trades, are currently available for those wishing to prep themselves for The Fox and The Shield.
The fun thing about the Red Circle heroes, says Flynn, including the New Crusaders, is that the characters have been around since the WWII era. Instead of just "starting over from scratch", says Flynn, the creators have "picked up the legacy" and used a "freedom to expand". "It's everything you could want in a superhero book, all together in one", says Flynn. Haspiel said that expanding these characters into modern iterations includes backstory in The Fox that speaks to the New Crusaders and then goes off "in another direction". "Do you know what happens to the old heroes?", Haspiel asked. "They died", he said, to laughter, and explained that these characters are their children. Haspiel teased "a special connection" between the Fox and one of the New Crusaders, to be kept under wraps for now.
The Question and Answer session was thrown open to the audience at this point and it was a good-natured but fairly rabid free-for- all as fans sent out a volley of specific demands.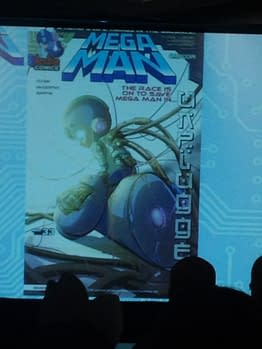 Q: What do you look for in your artists?

Kaminski: You need to be able to hit the model. It's the most important thing besides being a good storyteller. The one thing people don't expect is how close to the model we need people to be.
Cavallaro: There was a page up there that I've never seen inked or colored before. We should mention the inker. I found this to be a real challenge. We just can't underestimate the team. I don't often get to work with a team and the inks and the colors really are a team effort. Those guys do a lot to make these books gorgeous. I've worked on licensed comics before and they aren't always this good.
Kaminski: Hit the model and hit the deadlines. Those are the most important things about working in comics like these.
Q: Ian Flynn, when you're writing the script, what Sonic voice actor do you have on the script in your mind?
Flynn: I get that question a lot and honestly, it's kind of a combination of all the voices that have come before plus a little bit of my own. It's the only filter I've got. It's a little bit of everybody combined in one "snark".
Ryan Jampole interjected to reflect emotionally on how cool it was to draw Sonic and MegaMan shaking hands in the ten pages he took over from Peppers in Worlds Collide
Kaminski encouraged readers to write in with fan preferences for future comics and vote with their purchasing too.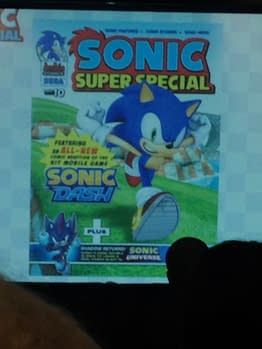 Q: What's next with all these video game characters, Mario?

Kaminski: No comment (smiled meaningfully)…
Q: Are Sonic and MegaMan the two True Blue Heroes? (laughter broke out in the crowd and among panelists as everyone considered this appellation and voted informally)
Kaminski: Yes!
Flynn: Yes, they are the two True Blue Heroes!
The Red Circle panel was not only packed, with a modicum of the mosh-pit in terms of fannish celebration, but also had a definite flavor of honoring the artists on these books above all, and giving due credit for their fan-inspiring work. Artwork got the big kudos alongside writing, and the energy these folks are bringing to the new books suggested that Red Circle is doing some of the most exciting things at Archie right now, and that's saying something considering the groundswell of interest in Francesco Francavilla and Roberto Aguirre-Sacasa's Afterlife with Archie right now.
Special thanks to Bleeding Cool contributor Kirk Staley for photography.
Hannah Means-Shannon is Senior New York Correspondent at Bleeding Cool, writes and blogs about comics for TRIP CITY and Sequart.org, and is currently working on books about Neil Gaiman and Alan Moore for Sequart. She is @hannahmenzies on Twitter and hannahmenziesblog on WordPress. Find her bio here.
Enjoyed this article? Share it!