Posted in: Comics, Comics Publishers, Marvel Comics, Spider-Man, Stan Lee | Tagged: marvel, mary jane watson, spider-man
---
Will Amazing Spider-Man 26 Spoiler Cover Hide The Death of Mary Jane?
Marvel Comics has been teasing they are going to kill off Mary Jane Watson for the fiftieth anniversary of the death of Gwen Stacy.
---
Okay, don't blame us here. Marvel Comics has for the last few months been teasing everyone that they are going to kill off Mary Jane Watson for the fiftieth anniversary of the death of Gwen Stacy. Yes, I know how stupid that sounds. And yes I know how such a thing would be received by the audience. But Marvel Comics knows the power of a hatewatch these days. So, no, I don;t actually think they are going to do it. But they are doing their best to suggest to everyone that they are and hope people buy enough copies to get the full outrage experience.
In that aid, Marvel Comics is running an Amazing Spider-Man #26 spoiler variant cover, the cover of which will spoil whatever is going on in this particular issue, when released on the 31st of May. So the cover needs a cover…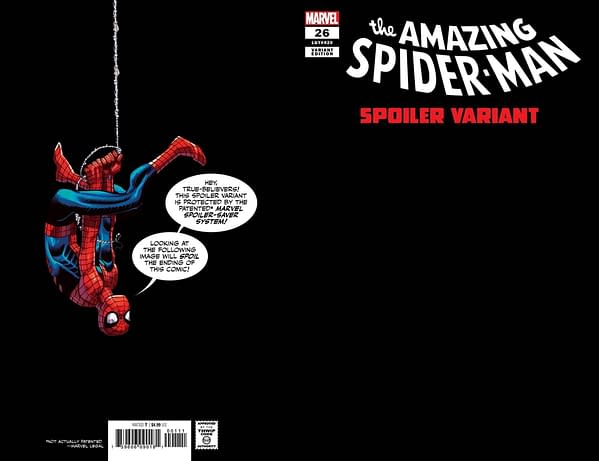 AMAZING SPIDER-MAN #26
(W) Zeb Wells (A/CA) John Romita Jr.
Now fully in the present, the Emissary has returned and his power is so far beyond Spider-Man's abilities. The heroes may figure out a way to win, but the cost of victory will be so immense that you may hope they don't… Rated T In Shops: May 31, 2023 SRP: $4.99
To recap, Marvel Comics has released the following teaser for something that looks rather final.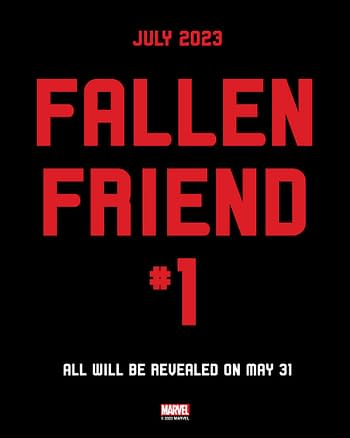 This July… Fallen Friend #1. A heartbreaking one-shot in July… Learn who it will spotlight on May 31.
Is this Mary Jane? Also being published by Marvel on the 31st of May is Amazing Spider-Man #26. While this is the solicitation for Amazing Spider-Man #27, to be published in June.
AMAZING SPIDER-MAN #27
Written by ZEB WELLS
Art and Cover by ED MCGUINNESS
Grief looms over Peter after last issue's shocking death! Spider-Man's villains are more than happy to keep him distracted… Your eyes don't deceive you, DOCTOR OCTOPUS IS BACK! On Sale 6/14
"Last issue's shocking death? Grief looms over Peter". Is that Mary Jane? Well, this is the are the solicitation and cover for Marvel's May issues from Zeb Wells and John Romita.
AMAZING SPIDER-MAN #25
(W) Zeb Wells (A/CA) John Romita Jr.
The past and the present collide in this oversized and monumental 25th issue! Your heart isn't ready for this one. Rated T In Shops: May 10, 2023 SRP: $6.99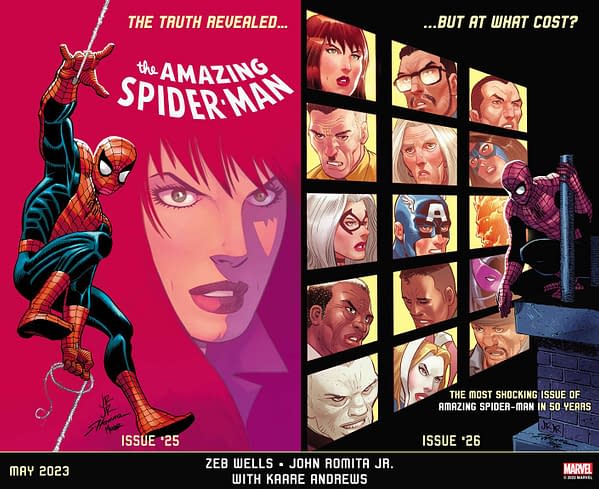 With these covers and Marvel PR promising the most shocking issue of Amazing Spider-Man in fifty years. Well, this is definitely the fiftieth anniversary of The Death Of Gwen Stacy. The Night Gwen Stacy Died ran in Amazing Spider-Man #121, published in June 1973 by Gerry Conway, Gil Kane, John Romita Sr. and Tony Mortellaro. Before this story, the death of a superhero supporting cast was not a thing. That changed, and this comic is considered a pivotal point for the end of the Silver Age of comics and the introduction of the Bronze Age. And for comparison, these are the covers of Amazing Spider-Man #121 and the Jeph Loeb/Tim Sale Spider-Man Blue that retold the same story.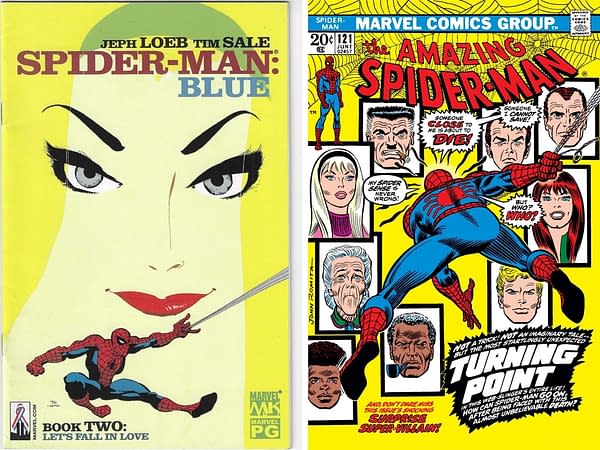 Similar, aren't they? Oh and then Marvel teases another variant cover by Simone Bianchi pointing out it features the same bridge that Gwen Stacy died falling from fifty years ago…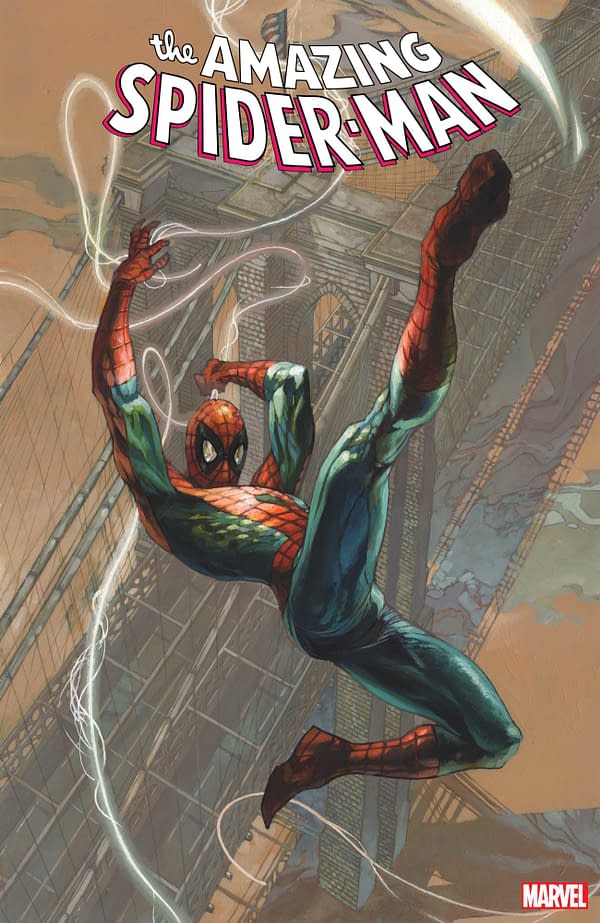 We have seen that Peter Parker and Mary Jane have been bonded by symbol and totem by the Emissary, we have seen them living apart for 18 months, and Mary Jane moves in with Paul, and becomes mother to two children, while Peter Parker looks onward mournfully, cursed by something he has done and everyone blames him for. And now Amazing Spider-Man introduces Paul as a mystical warrior and scientist, fighting The Emissary and all he brings with him.
Could the separation between Peter and Mary Jane have been to stop the Emissary from coming through? Forcing them to live apart, at a symbolical level, with Paul keeping that separation? Could the kids be fake simulacrums used to enforce that separation? With everyone having to know that it's over, and Peter Parker condemned for cruelly dumping Mary Jane? Could his recent romance with Felicia and Mary Jane with Paul be part of the totemic ritual to prove they are no longer together? Could this arrangement have been to stop The Emissary taking Mary Jane's life as an act of revenge against Spider-Man? Could he now be coming to take that life anyway, as Peter and Mary have failed in that task? And will Mary Jane Watson die – or appear to the rest of the world to die – as a result? And a story drawn by John Romita Jr, the son of the man who drew the death of Gwen Stacy, John Romita Sr? Hell of a fiftieth anniversary… but also remember, Marvel may have spoiled the spoiler by releasing this Amazing Spider-Man #29 Hellfire Gala variant cover featuring Mary Jane and Felicia Hardy attending, very much alive…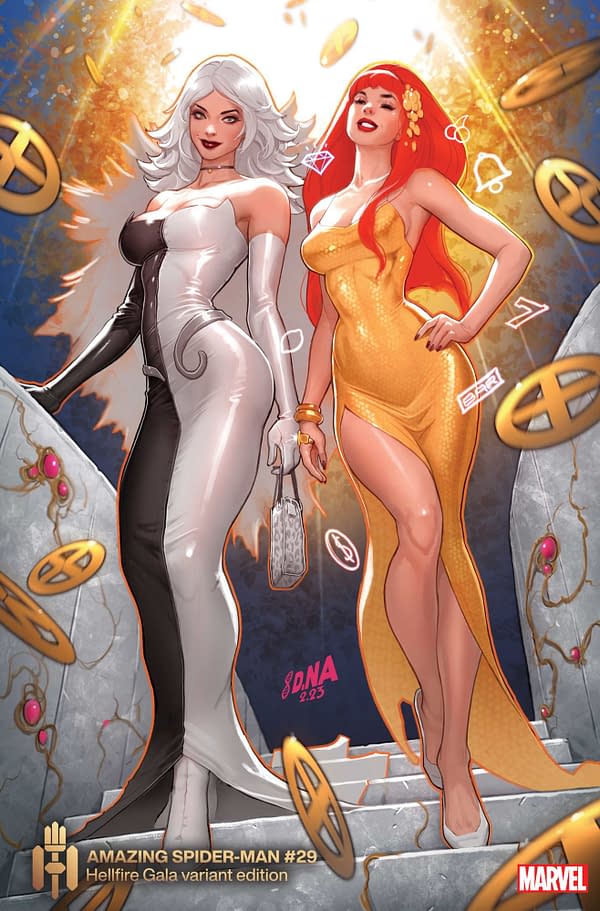 Is this all one massive bait and switch?
---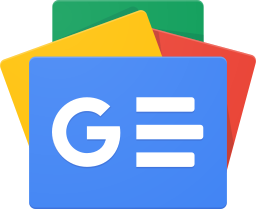 Stay up-to-date and support the site by following Bleeding Cool on Google News today!