Wolverine Continues to Walk Through the Marvel Universe Missing Everyone (Thor #703 Spoilers)
Two weeks ago, Bleeding Cool ran a piece on Captain America #697, the first to feature the Where Is Wolverine cover tag, promising a post-credit scene of Wolverine reintegrating with the Marvel Universe after he'd been dead, wrapped in adamantium, for quite some time. We hilariously called it "Is Wolverine Going to Miss Everyone in the Marvel Universe?" as it featured Wolverine turning up to a bar where Captain America had been playing pool, only to have missed him, Steve Rogers instead put back in the ice, to be awoken in the far future.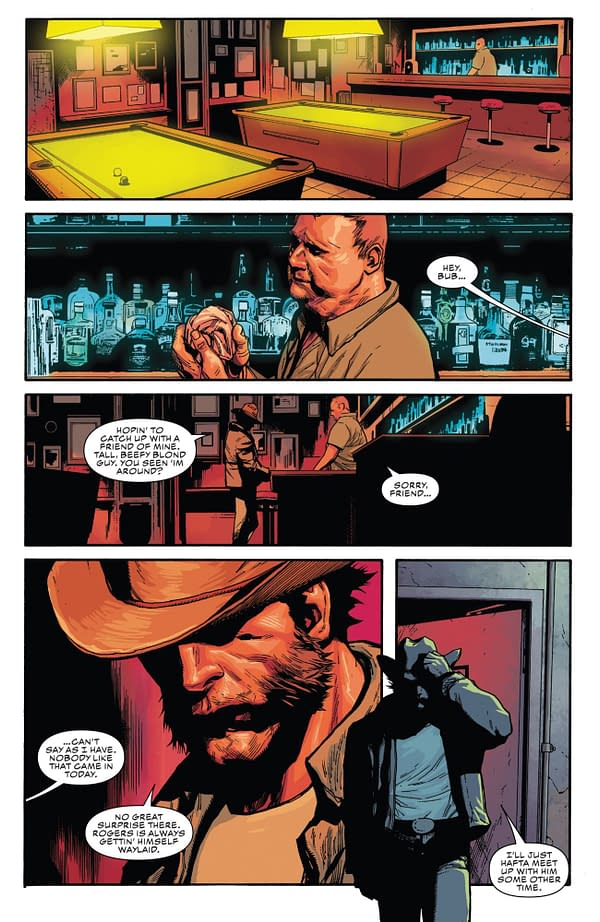 We joked that this may happen to Wolverine all over the Marvel Universe. But with today's Mighty Thor #703, that may be exactly what's happening.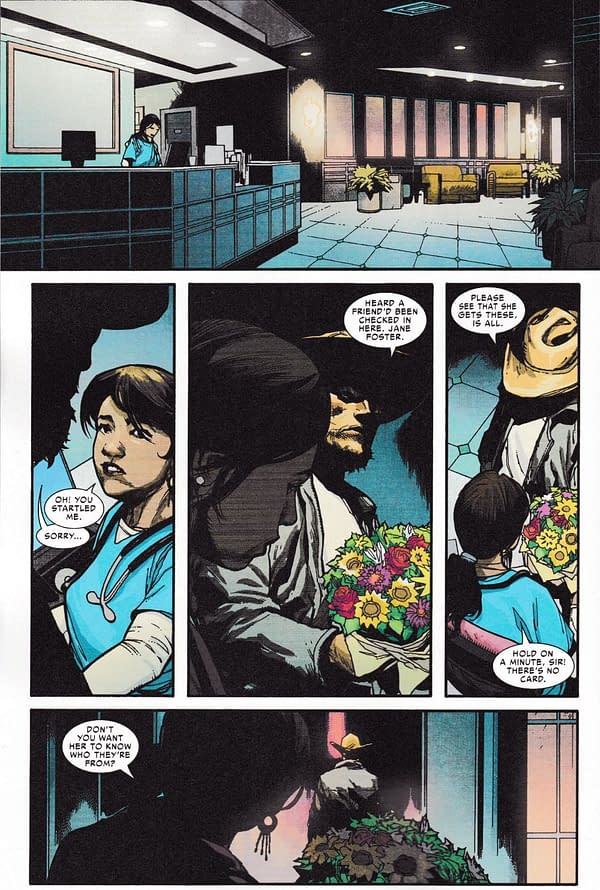 Dropping off flowers from a stranger for Jane Foster? Without attending during visiting hours? Also… did Logan and Jane Foster have much of any relationship at all, previously established? Logan went into the adamantium before she became Thor after all… We look forward to discovering how he will completely miss Spider-Man in Amazing Spider-Man #794, out in one week.
MIGHTY THOR #703 LEG WW
(W) Jason Aaron (A/CA) Russell Dauterman
THE DEATH OF THE MIGHTY THOR Part 4
• The Mangog has come to Asgardia. But as every god assembles to meet him, there is one noticeable absence.
• Where is Thor? Where is Jane Foster?
• Without their mightiest hero, who among the Asgardians can face the wrath of a billion murdered beings–and survive?
Rated T+In Shops: Jan 17, 2018
SRP: $3.99
AMAZING SPIDER-MAN #794 LEG WW
(W) Dan Slott (A) Stuart Immonen (CA) Alex Ross
THREAT LEVEL RED Part 1
• NEARLY ONE YEAR AGO Spider-Man hurled the dangerous madman called Zodiac a full year into the future.
• IN THIS ISSUE Spidey catches up to him, and Zodiac's had a whole year to prepare for their rematch!
Rated TIn Shops: Jan 24, 2018
SRP: $3.99