Mark Rahner, writer of the Avenger Special, talks with Brandon Jerwa about Bionic Woman: Season Four, both on sale now.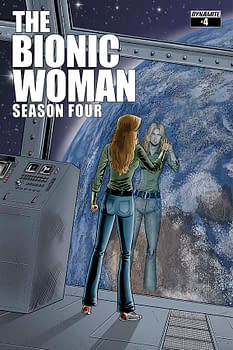 MARK RAHNER: Let's pretend we don't know each other or do a podcast every week in Seattle, and just do a "professional" interview for the nice readers.
BRANDON JERWA: Yes, because when the world thinks of you and I, Mark, "professional" is the first word that springs to mind.
MR: Can you describe your childhood feelings toward The Bionic Woman? I'm just checking to see if they were like mine.
BJ: I have a feeling that we had the same feelings. Listen, this was a well-dressed, attractive, modern woman who could reduce a man to cinder with a glance, and also kick the engine out of a Buick Skylark. What do you want from a 7-year-old boy when you put such a thing in front of him? This was a woman who had my attention immediately.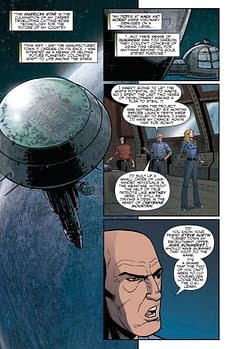 MR: Does writing a Bionic Woman adventure now give you a sick, godlike feeling? Or rather: How does it feel to write her as a grown man?
BJ: After you read the first discussion board criticism about Jaime not wearing a particular outfit from the show, you start to gain perspective very quickly. There are plenty of people out there with grand impressions of any and every moment of Jaime's life that wasn't shown on TV, but I'm just a guy trying to tell a good story. I make my contribution, and it goes before the people for judgment. I try not to be too godlike about it, because I know these toys are going right back into the sandbox when I'm done.
MR: Catch us up. Although this sounds kind of unsavory after the last two questions: What are you doing with her now?
BJ: Season Four is exactly what it says on the tin: a continuation of the TV series. Jaime was left at a crossroads in her life, torn between her sense of duty to O.S.I., and her desire for a normal existence. Of course, when Oscar needs a favor, Jaime can never say no. This is a story about a mission that starts off simply enough, but also opens the door to show Jaime that she's not the only one of her kind out there in the world. MR: What's your approach? And have you considered writing a comic book as an extra season of other 1970s show, such as Welcome Back, Kotter?
BJ: I should probably write a check to The Prisoner and the original version of The Stepford Wives, because I'm definitely paying tribute here. I wanted to do the kind of episode that a late-70s TV budget could never convincingly achieve. The story itself is a fairly simple "something-sinister-lives-in-every-house-but-mine" thriller, but the setting slowly unfolds to become a story point within itself. That changes the scale and scope of everything.
As for other 70s shows, I always felt like WKRP In Cincinnati was missing a strong coda. One more season would have really brought it home.
MR: Let's talk about the art. Did you and David Cabrera have long e-mail discussions about how to depict Oscar Goldman's toupee?
BJ: Some things are just universal, man.
MR: Have you given much thought to how Jamie Sommers might have used her bionics in normal, day-to-day situations? For instance, zooming in on her bionic ear, making the sound effect, and then showing her confronting another woman at a party? "I heard what you said about me!"
BJ: Right? And then she kicks her through the bathroom wall, and into the shower. THAT'S the next bionic thing I want to write: Easily Agitated Trailer Park Bionic Woman.
For more on The Bionic Woman Season Four, click here.
Enjoyed this article? Share it!