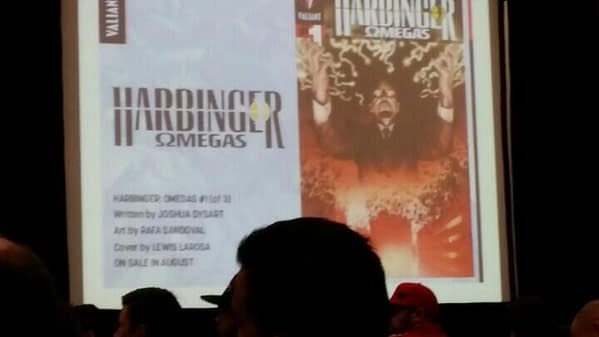 From Wondercon (and snapped by Andrew Sanford) it appears that Valiant Entertainment will cancel their Harbinger series with issue #25 in July, a 48 page double-sized issue.
But that's okay, in a case of All New Valiant NOW, it will relaunch with a three issue mini-series, Harbinger Omegas #1 in August.
That will be accompanied with the launch of the crossover that's been waiting to happen with Archer & Armstrong & Quantum & Woody, The Delinquents by James Asmus, Fred Van Lente and Kano, that was announced earlier this year. According to Asmus, "Kano brings the electric sex punch".
UPDATE: From Valiant…
Clocking in at a massive 48 pages, HARBINGER #25 will also feature the return of original series artist Khari Evans (Archer & Armstrong) – plus all-new stories and artwork from an incredible cast of talents, including Barry Kitson (Adventures of Superman), Justin Jordan (The Strange Talent of Luther Strode), Lucy Knisley (Relish: My Life in the Kitchen), Riley Rossmo (Bedlam), Ron Wimberly(Prince of Cats), and many, many more.

Then, in August – out of the ashes of HARBINGER #25's devastating climax – find out what happens next to the most powerful players in the Harbinger universe as Joshua Dysart and heat-seeking artistRafa Sandoval (Red Hood and the Outlaws) pick up of the pieces with an all-new, three-issue mini-series – HARBINGER: OMEGAS #1 (of 3) – that closes the door on one generation of Harbinger Renegades…and prepares the foundation for another.
HARBINGER #25 (ANNIVERSARY SPECTACULAR)
Written by JOSHUA DYSART with JUSTIN JORDAN, LUCY KNISLEY, and MORE!
Art by KHARI EVANS, BARRY KITSON, LUCY KNISLEY, RILEY ROSSMO, RON WIMBERLY, and MORE!
Covers by MICO SUAYAN and JENNY FRISON
Variant Cover by LUCY KNISLEY
Throwback Cover by SEAN CHEN
Variant Cover by BARRY KITSON
$4.99/T+/48 pgs.
COMING IN JULY!
HARBINGER: OMEGAS #1 (of 3)
Written by JOSHUA DYSART
Art by RAFA SANDOVAL
Cover by LEWIS LAROSA
Variant Cover by GLENN FABRY
$3.99/T+/32 pgs.
COMING IN AUGUST!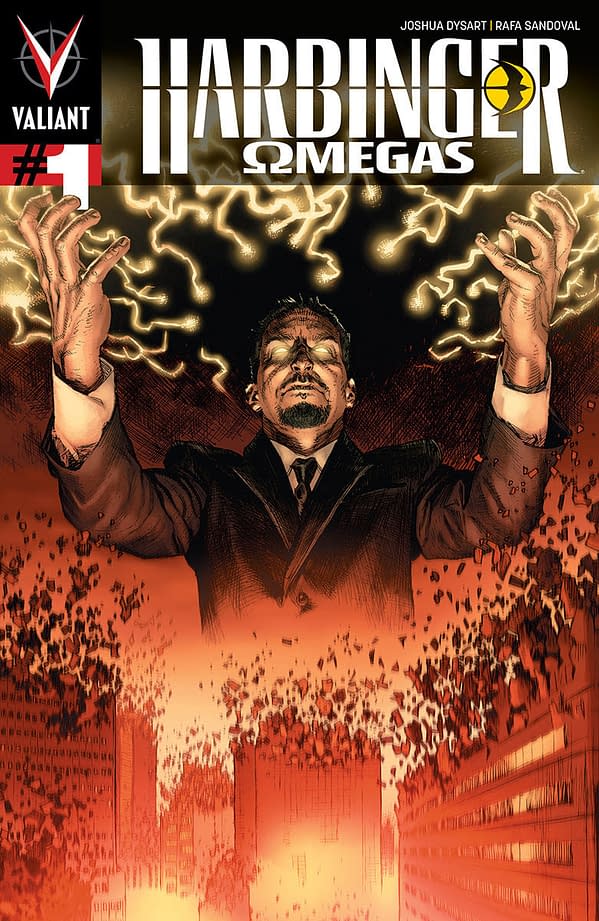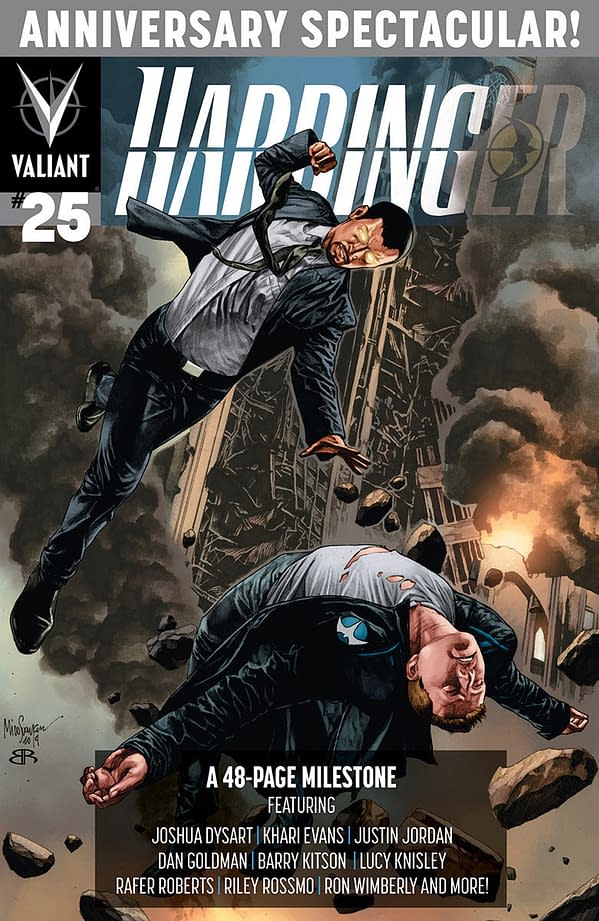 Enjoyed this article? Share it!