By Ben Lichius
Hello everybody! My name is Ben Lichius and I'm the Art Director at Dark Unicorn Games in Apex, NC. I've been a game artist and art director for almost 20 years now and it's really hard to understate how influential comic books, and a few comic artists in particular, were to my early development as an artist. As a kid, I spent almost all of my paper route money on NES games, action figures, and, of course, comics. After gobbling up the latest issues of Spider-Man and X-Men, I'd rush out to the comic store and dig up all the back issues I could afford. Then I'd sit and draw my own comics for hours on end. All the while dissecting the work of masters like John Romita Jr., Gil Kane, and Ron Frenz – learning to draw as best I could along the way.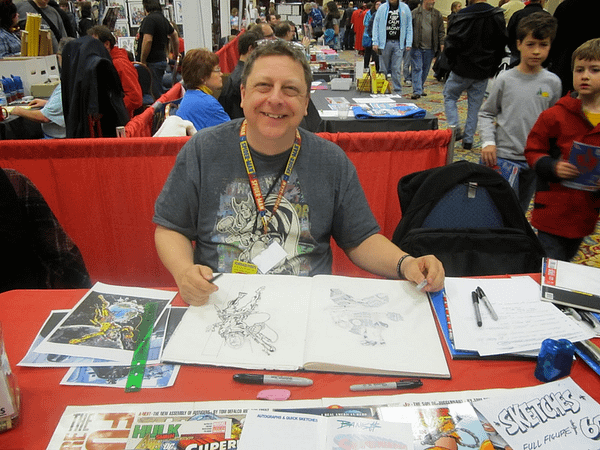 I'm sure many of you out there have a similar story. If you do, you'll know what I mean when I tell you that every time I meet one of these guys at a signing or a comic convention, I'm transported back to those formative days and I feel like a kid again – gaping in awe as they work their magic at the convention table.
I've been doing a lot more gaping lately in my role here at Dark Unicorn Games. We've been working on a new game that mixes my first love – comics – with another love of ours – card games. It's a brawling card game that lets you assemble a team of superheroes and fight them against other teams of heroes (because that's what heroes do…). The game is called "Super Powered Smash Masters" and it's a fun, family-friendly, tongue-in-cheek romp through the world of comics… but in a card game format.
In making SPSM, we wanted to pay homage to all of the things that made reading comics great as a kid. So when it came time to start drawing superheroes, we knew we wanted to drink from that well as deeply as we could and bring some honest-to-goodness comic book artists on board. It wasn't easy, but we've done it – and we're continuing to do it – and the results are awesome!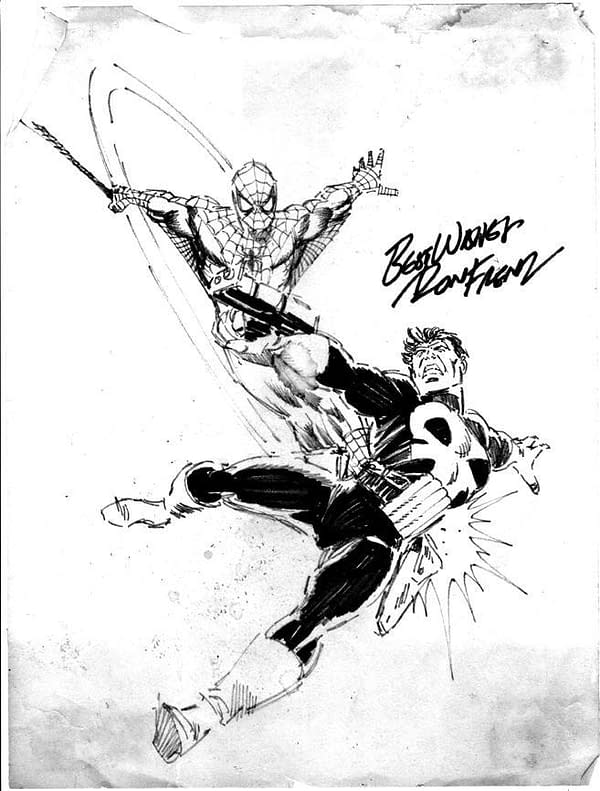 I met Ron Frenz at the first comic book convention I ever attended. I remember standing around a table for hours watching him draw one sketch after another for kid after kid. When it was my turn, he drew me a Spider-Man vs. Punisher sketch that hung over my desk until I went off to college.
His body of work speaks for itself. Ron was one of the top pencillers at Marvel throughout the 80s and 90s. He was a pivotal artist on tons of books like Captain America, Daredevil, Fantastic Four, Star Wars, Thor, Indiana Jones, X-Factor, Thunderstrike, and, of course, Amazing Spider-Man. He's a legend.
As SPSM was starting to take shape, I discovered that Ron was going to be attending a local comic-con in Pittsburgh and decided I had to go and give him the pitch. He's such a gracious guy. Even though we didn't have a lot to show, I was thrilled when he agreed to do a card for us. We exchanged contact info and a few weeks later we got in touch. Ron's a busy guy, so we figured out when he'd get a break in his schedule to fit us in. True to his word, when he had the time, he hit me up: "it's time we do this thing!".
Ron's an old-school guy so when it was time to go over the details, he opted for the phone call conversation instead of email. (And, I have to say, it's pretty cool to look down at your phone and see Ron Frenz's name pop up.) We had a slate of characters to pick from – ranging from archetypal heroes like Dark Unicorn, Ghost Pirate, and Cat Lady to weirdos like Battle Clown, Crimson Crustacean, and The Help Centaur – but we settled on the one and only Incredible Zebro – our quirky-yet-cocky safari-themed vigilante.

The visual design process for our all of our heroes is fairly wide open. For most of them we've been going the 'ironic' route; taking the outlandish concepts and giving them the all-too-serious superhero treatment. Zebro was no different so we asked Ron to come up with a design he thought would be fun and exciting at the same time. When he sent the pencils over a few days later, they were just what you'd expect from an all-pro… amazing!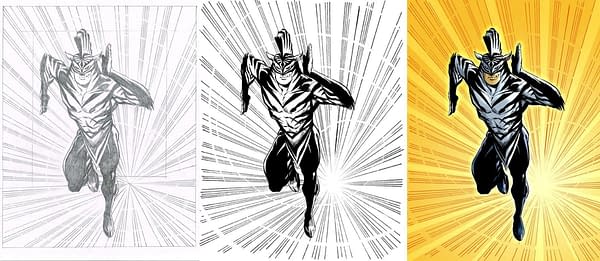 Working with Ron was the gift that kept on giving though, because I was personally in for a real treat. Ron had seen some of my artwork in the pitch and said that he wanted me to ink his pencils. I grew up reading this man's comics and collecting his work. I have every issue of Amazing Spider-Man that he ever drew. This was an incredible, yet terrifying honor!
I won't go into the particulars of it, but let's just say I did my best and stayed conservative over Ron's incredibly tight and detailed pencils (through which he made it easier on me. Thanks, Ron!). And finally, after a swash of color, we now have one of the jewels of our hero lineup – the Incredible Zebro! Getting the chance to collaborate with Ron Frenz was a real treat and, if our Kickstarter campaign is successful, I hope to get the chance to do it again and watch him bring more of our off-the-wall characters to life (and of course, share it with all of you!).
If you like what you see here, swing by the Dark Unicorn Games website for more or please consider backing the Super Powered Smash Masters' Kickstarter campaign going on now. We can't wait to share more awesome artwork with you and introduce a game that we think you'll truly enjoy.
Enjoyed this article? Share it!